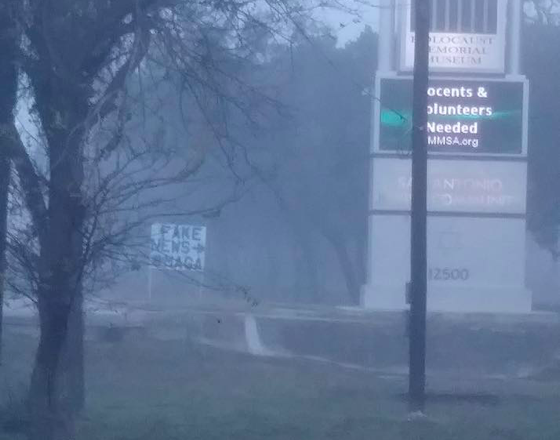 A spray-painted sign reading "FAKE NEWS" with an arrow pointing at the Holocaust Memorial Museum of San Antonio was removed from its grounds Tuesday morning.
The sign also included "#MAGA," the Internet hashtag associated with President Donald Trump's "Make America Great Again" slogan.
In a written statement
supplied to the Dallas Morning News
, Jewish Federation of San Antonio board chairman Harry Levy said the sign attempted to mock the memory of Jews who died in the Holocaust.
"This cowardly act is doubly harmful in that it laughs at the memory of all the millions of Jews who died in the Holocaust and is harmful to the precious few Holocaust survivors who witnessed the horrors of the Shoah first hand," Levy said. "The ignorance expressed by the perpetrators can only be countered by shining the light of truth upon our shared history."
Twitter users also decried the act of vandalism, many keying in on the Trump hashtag and pointing out Trump's divisive rhetoric and history of disparaging minorities. San Antonio tech industry guru Nick Longo even shared a photo of the sign in direct response to a tweet from the president.
For those of you who haven't seen it yet, a "FAKE NEWS MAGA" sign in front of the Holocaust Memorial Museum in San Antonio.

Make America grotesque again. pic.twitter.com/oCuAlY86hR

— Reindeer Leigh 🎄✨ (@robinskyleigh) December 19, 2018
Trump's America. Tell me again trumpies how he doesn't preach hatred when his base does sh*t like THIS, and feels totally comfortable doing so :( https://t.co/s5DMOzkAP8

— Jessica Markowitz (@rorybean1) December 20, 2018
Stay on top of San Antonio news and views. Sign up for our Weekly Headlines Newsletter.