Jeffrey Burton
Show your cousins how much cooler you are than them by taking them to Paramour.
When my parents (who will hopefully never, ever read this) come into town this week, they'll likely touch all my stuff, question most of my life decisions, grill me on how many oil changes my car's had this year and make passing comments about my friends. Even more unfortunately, they'll poo-poo the very thought of any drinking, so that's not an option. But if your family isn't made up of sober fuddy-duddies, you'll want to get them out of the house, and into these bars for quality time. Let me live vicariously through you.
For The Cool Cousins
If your familia is made up of cool cats and hipper-than-thou bar-hoppers, you have a few options. Go the cocktail route and head to
Paramour
(102 9th St., Suite 400, 210-340-9880) or
Sternewirth inside Hotel Emma
(136 E. Grayson St., 210-223-7375). The former promises great views of downtown while the latter sits inside the old Pearl brewhouse that's been turned into an industrial-chic leather-filled lounge. Both can accommodate larger parties, or intimate gatherings, and offer an extensive booze list. If you want to head the party route, but still want exceptional views, go to
Lush Rooftop
(4553 N. Loop 1604 W., Suite 1201,
lushrooftop.com
) and get some shots.
Courtesy
Take your family to grab a funky brew at Freetail.
For the Beer-loving Parents
If your mom and pop love their beers local and hoppy, go the craft brewery route.
Alamo Beer Company
(202 Lamar St., 210-872-5589) knows you'll need booze to get through the holidays so they're hosting a pre-Thanksgiving "Drinksgiving" celebration on November 25 at 3 p.m. to showcase their new Holiday IPA. Bonus: The brewery is big enough for you to get some distance from any creepy uncles. Head to
Freetail Brewing's Taproom
(2000 S. Presa St., 210-625-6000) if you want to get down with the funky flavors created by head brewer Jason Davis. Or do some shopping at the Pearl and take your beer-loving brethren to
Southerleigh Fine Food & Brewery
(136 E. Grayson St., Suite 120, 210-455-5701) where the brewers rotate the lineup almost biweekly.
For the Wine Connoisseurs
If my mom were a wino, I'd take her to
Nectar Wine Bar & Ale House
(214 Broadway, 210-375-4082), which just nails comfy-chic. In the best two stones, one bird scenario ever, the joint is also in Downtown proper so you can tire out the folks on the River Walk, have them take in the sights, get them nice and toasty and then put them to bed early so you can still enjoy a night out. It's a win(e)-win(e).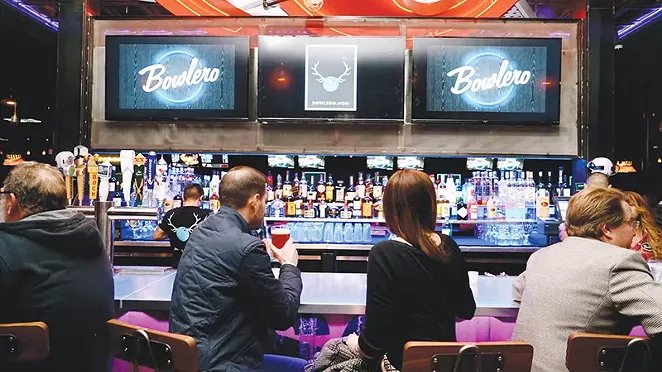 Courtesy
Don't get too competitive at Bowlero.
For When You Need Extra Space
Listen, sometimes you just need activities. If you've exhausted your Netflix, Hulu and HBO Now queues, bond over a round of golf. At
Topgolf San Antonio
(5539 N. Loop 1604 W., 210-202-2694) you can either swing a few clubs to burn off those calories, swig a few beers, gnaw on some pretty delicious wings or head to the arcade. Bonus: Topgolf will open their bloody mary bar on holiday Mondays. Along those same lines, you could let the family loose at
Bowlero
(13307 San Pedro Ave., 210-496-3811) where they've got plenty of lanes, a ropes course, boozy milkshakes (!) and an arcade, as well. Just don't let your competitive streak get the best of you.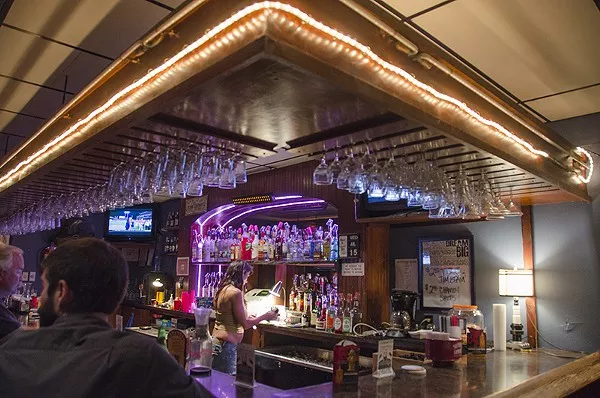 Sara Luna Ellis
Marty's Cocktails
Visit Your Favorite Dive
If your cousins/dad/uncles prefer the crisp allure of a freshly cracked Bud and the salty air that follows after a batch of popcorn is prepared at your favorite local dive, head there. Play some darts, people watch or just throw more quarters in the jukebox and catch up with your pop. The only rule is there's no pretension allowed here. Our favorites include
Crazy Ape
(9930 San Pedro Ave., 210-375-5813),
Marty's Cocktails
(603 Isom Rd., 210-341-9259) and
Texas T Pub
(121 Broadway, 210-271-1058).