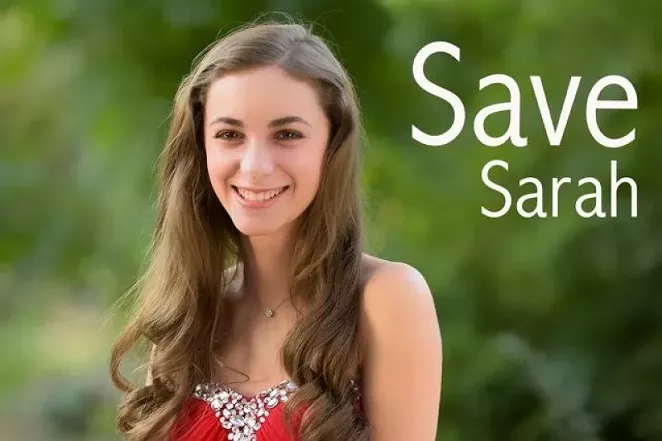 GoFundMe
Sarah is currently being held in a Christian conversion therapy center.
The extended family of a Texas teen is trying to free her from an East Texas Christian conversion therapy center designed to "cure" her of homosexuality.
The 17-year-old girl, identified on a
GoFundMe
page set up for her legal defense as "Sarah," was sent to the facility by her parents after she went to prom with her girlfriend. Texas law permits parents to keep their children in residential boarding facilities until they are 18. Sarah's aunt has sued to release her from the facility.
Sarah's cousin,
actor Jeremy Jordan
, said on the GoFundMe page that she "attempted to walk out of the facility shortly after being placed there, staff quickly apprehended her and returned her to the facility, and she was punished for her escape attempt."
"Instead of being surrounded by friends and extended family who love and support Sarah for who she is, she'll be isolated in a place where the fact that she is gay is treated as a sin and an illness," Jordan said.
Conversion therapy has been condemned by medical experts, including the
American Psychiatric Association
. The practice is not only ineffective, but can inflict harm on those its practitioners aim to "treat." It's banned for minors in California, Illinois, New Jersey, Oregon, Vermont and Washington D.C.
President Barack Obama has publicly
supported banning the practice
since April 2015. State Rep. Celia Israel, an Austin Democrat,
filed a bill
that same year to outlaw conversion facilities, which never got traction.
Still, pray-the-gay-away "therapy" is still fully endorsed by the Texas Republican Party. The state
GOP's 2016 platform
states that "no laws or executive orders shall be imposed to limit or restrict access to sexual orientation change efforts for self-motivated youth and adults."
The GoFundMe's goal is to raise $100,000 for Sarah's legal fees. Sarah's aunt has already spent over $20,000 to hire
Christine Andresen
, an attorney from Austin who specializes in LGBT and family law. Andresen's office confirmed to the
San Antonio Current
that the story about Sarah is true and that the information on the GoFundMe page is accurate. "I can't comment on pending litigation, other than to authenticate that to the best of my knowledge, the background information on the GoFundMe shared by Sarah's cousin is truthful," Andresen said in an emailed statement.
So far, just over 1,100 people have collectively donated over $42,000 to the effort. Any remaining money will be put in a college fund for her. A hearing for the case is scheduled for July.