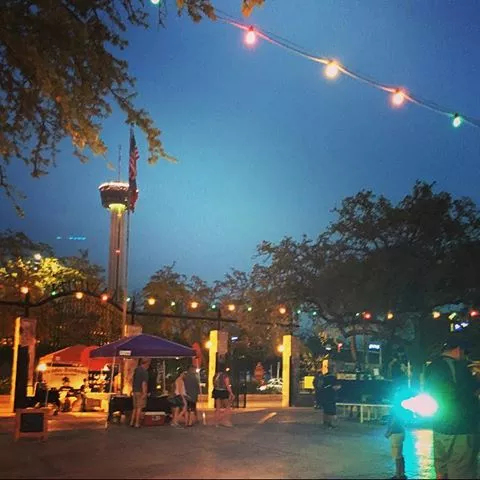 Facebook/The People's Nite Market
HIgh inspection fees could reduce the number of hot food vendors seen at new farmers markets around town.
Local farmers market organizers, members of the Food Policy Council of San Antonio and San Antonio Fire Department officials met to discuss impending amendments to the 2015 International Fire Code for food booths and mobile food establishments.
After SAFD agreed to halt a 30-year-old fire inspection fee per per market, per day of $36.05 for vendors preparing food on-site the groups discussed an amendment that would add scrap the daily fee in place of a $300 annual permit for a home base, with an additional fee of $125 re-inspection fee, per new location. The re-inspection would go up in October to $150.
Though the annual fee was something the market organizers agreed could help alleviate the stress of paying additional fees (market fees, health department permits, fire department fees and food costs add up quick), the re-inspection fees would continue to make it difficult for vendors to join new markets.
For Mashail Abdalaal, owner of the
Al Hijazyat
Saudi Arabian food booth that sets up at The People's Nite Market, Dignowity Meats and The Trinity Market, the additional re-inspection fees would price her out of doing all three markets.
Stephen Paprocki, a member of the Food Policy Council of San Antonio argued the merits of a $300 that mobile food trucks currently have, without the additional $125 re-inspection fee. To his point, trucks are initially inspected by the SAFD, but inspectors don't make routine visits because most trucks move around often.
While Carl Wedige, SAFD's Deputy Chief of Administrative Services, stressed that safety was the most important concern, he also pointed out the department's cost recovery with this new proposed fee is only about 50 percent of what SAFD is having to pay inspectors. Because of weekend overtime, inspectors earn anywhere from $55 to $80 an hour. Chris Monestier, the department's assistant chief for urban spaces, explained inspections usually take 15 minutes or so to complete, though the time is dependent on however elaborate the booth is.
"We can't relinquish the authority we have over this," Wedige said.
Michelle Griego, organizer and founder of the Dignowity Hill Farmers Market stressed the consequences of high re-inspection fees. For Griego, the steep re-inspection fees would make her vendors limit the number of markets they do. She worries once those hot food vendors go and thus the draw of a hot lunch or breakfast, so will other vendors and ultimately consumers.
"It's limiting. We want to show the East Side that there's more than just Jack in the Box," Griego said during the meeting, "Our people can't drive to the Pearl or La Villita."
The annual fee is also counterintuitive for farmers markets like Griego's at The People's Nite Markets, which only open seasonally. Dignowity Hill Farmers Market's second season began in mid-March and will go through November 13, while only operating every second and fourth Sunday. The People's Nite Market started its second season March 15 and will continue weekly on Tuesdays through December 3.
Educational courses, training seminars and certifications were also suggested as a way to alleviate the department's cost of having inspectors out every weekend, while Valeria Hernandez of The People's Nite Market also suggested a pamphlet with strict guidelines and diagrams as to what the annual permit would cover.
Again citing concerns of safety for both markets and market goers, Monestier provided a few examples of how market vendors increasing their fryers, or wattage could lead to hazardous conditions.
For now, Wedige and his staff will look at material collected by Griego to reach a compromise on the re-inspection fee.