By Desiree Prieto
South by Southwest's first ever fashion component, Style X, kicked off with a Shop Hop event—a tour of Austin's emerging boutiques.
By the end of the night, and after being shuttled around to several shops, I tallied up my own short list I'm calling Shop Stops: the places you and my friends would actually be interested in stopping by and checking out.
Here, in no particular order are the final three, Plain Ivey Jane, Estilo, and Stag—the "boyfriend" store also featured in GQ Magazine:
Surrounded by a variety of landmarks, Plain Ivey Jane is located in Austin's 2nd street district off Guadalupe and 2nd street, right next to the newest W Hotel in North America, the Austonian, and City Hall. However, Plain Ivey Jane is a landmark itself as it hosts the infamous feather extensions that are "all-the-rave" in Austin right now, according to a UT broadcast journalism student, and everyone else I kept running into also wearing them at Style X.
The locally owned boutique's "overstock" slogan, "It's okay to be a label snob. Just don't pay full price for it," resonates with my motto of making fashion your own at a reasonable price; within the baby-blue painted walls and just below the hanging vinyl records, Marc by Marc and other fave design wear were featured at a reasonable price.
The original jewelry designed locally includes thin gold and silver chains, gold cabbage patch kid doll necklaces, and more feathers! This store is all for women, sorry guys. For more info, log on to plainiveyjane.com. Feather extensions are only $20 and come in a variety of colors.
Estilo Boutique, located on 2nd Street and Willie Nelson Boulevard, is a fashion gallery for men and women, and is literally a gallery as the clothes hang from elaborate shifting rods fastened into the ceiling to showcase the clothes like art.
A projection screen featuring runway shows flanks the right wall and is a tribute to Austin—I'm told that projection screens are a fetish here, as they're in homes, venues, and now, I guess, boutiques. Unfortunately though, just like an art gallery, Estilo's clothes are expensive and you kind of have to wonder if buyers hang the clothes up on their walls at home in order to justify spending $350 on a dress that could probably only be worn a couple of times, on appropriate occasions. Even a fellow Shop Stopper who happened to be a professional, tenured model visiting from NYC, remarked on the price point.
Nevertheless, designers hanging include Mark Anthony, Nicole Miller, Yoana Baraschi, and more. For silky dresses in an array of colors or unique snake skin and sheath dresses, check out the website: estiloaustin.com.
Last but not least on the Shop Stop list is Stag which is located on South Congress and Elizabeth Street, conveniently next to that yummy walk-up Home Slice Pizza Place, because we all know that most men can only shop for a bit before they need to be fed.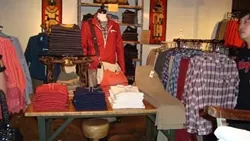 Stag, which I'm also calling the "boyfriend store" as your boyfriend will want to shop there as much as you'll love shopping there for him, is not only owned and made for men, by men, but according to one of the owners, it caters to the man's man in every man, "You know how men want what men want, and if they want the table that t-shirt is sitting on, it's theirs." As if the three motorcycles sitting outside the front door, deer heads hanging from the wall, and an old-fashioned drug store sign aren't enough to tell you this is a man's haven.
I imagined the conversation that took place in order for the owners to come to the conclusion that everything inside must be on sale: "Yeah, honey. I like the shirt, thanks. But while we're here I also need a table for my office and this cool ranch-like shelf. Oops. I think I broke it."
While the store carries a variety of brands, including Baxter, Red Wing, Levis and Life after Denim, the gem of the store are the Helms Boots. Helms, made by a designer from San Francicso now based in Austin, is often marketed by a Danish photographer who began selling the boots to his European friends a few years ago, only to find that not only was there a demand for the unique and stylish boot abroad, but that they're actually long-lasting and comfortable to wear years later.
According to one of the owners, that's one of the points of the store: to sell a piece of clothing that is still a guy's favorite ten years from now. For more information, or just to be nosey before going, check out their website: www.stagaustin.com.