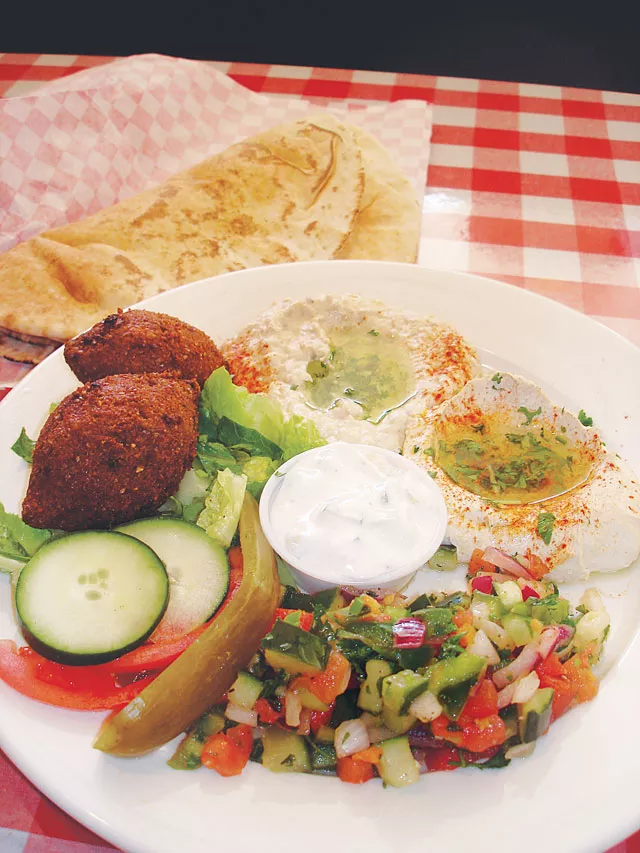 Scott Andrews
A plate of hot and cold summer treats at Jerusalem Grill.
On the drive to the far Northwest side of town to find the Jerusalem Grill, my mind wandered to memories of favorite Middle Eastern restaurants I have frequented over the years: several family diners in Boston, like almost all food purveyors there, no matter what ethnicity the cuisine, were run by Greeks; long-gone Tarzan's, a Turkish joint once open all night in the West Village of New York; an Israeli gyros joint, just north of Miami, famous for kosher turkey. After my first six months in SA, Demo's on St. Mary's was as close as I had come to food from the Levant, but I had heard great things about my destination.
Behind the glass display, long skewers of lamb and chicken beckoned, but I ordered kibbeh instead, with sides of both hummus and baba ghanoush. The kibbeh was done in the Syrian style — two torpedo-shaped croquettes arrived hot on the plate. The minced lamb hidden inside was, I was assured by my waiter, fresh and halal. Fresh meat, perhaps, but the tiny portions were overwhelmed by their bulgur wrapping. The hummus avoided the gritty chalkiness that seems to plague many American attempts at the famous chickpea dip; both hummus and baba ghanoush were creamy, scented with garlic and topped with olive oil and scattered mint. The spices in the baba ghanoush were savory, and to my relief, did not obscure the mysterious taste of eggplant. Tahini and a salad of cucumber and tomatoes, a bit like pico de gallo, rounded off the collection of textures in the meal, which ran from the fried crunch of kibbeh to the liquid velvet of the pressed olives. All in all, not a bad plate. But not what I had expected or had been recollecting in my mind's fond eye. Though artfully gathered together, the portions were uncommonly small, and though only priced at $4 apiece, the kibbeh and two sides ramped the not-large lunch up to 13 bucks before the tip. On the other hand, the cost of going without such delicacies would be higher still.