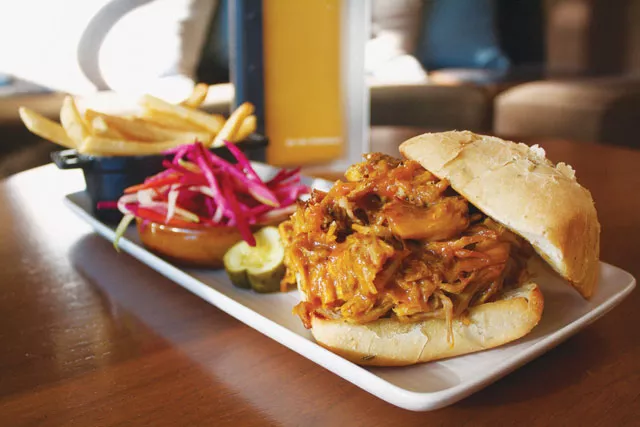 Veronica Luna
Pulled pork sandwich served with slaw, fries, and pickles from Q at the Hyatt
There are occasions, few to be sure, when a buffet is not evil incarnate. Most Indian/Pakistani restaurants can at least pull off 50 percent of the available items on any given day, for example. And though looks can be deceiving, at least you have an idea of what you're getting by virtue of being able to visually inspect the food ahead of tasting it.
From the visual standpoint, the $12.95 lunch buffet at Q in the River Walk's Hyatt, puts on a pretty show. World barbecue is the stated theme, and, yes, it's a little distressing to learn that, in the manner of if-this-is-Thursday-it-must-be-enchiladas school cafeterias, Monday is North American, Tuesday is generic European, Wednesday is Middle East/Asia, etc. I happened to be there on Mexico and Central American Thursday. Fortunately, no enchiladas.
There were several salads, each better looking than the next, but only one with nopales and corn had any real flavor. Roasted baby carrots with piloncillo were too sweet by far and managed to be both overcooked and fibrous. A carne guisada-like dish labeled "slow-braised beef tips" was tender enough but otherwise too dependent on tomato. Papaya-marinated chicken fajitas were equally tender but even less eventful. Brazilian rice? Uncle Ben's Mex-mix with added black beans. An albondigas soup boasted good balls but the broth was a bore. Desserts looked far better than they tasted. But some bacon-wrapped shrimp diablo being sautéed behind the counter would have been worth repeating. Surprisingly, there was also a good guacamole.
On a return visit, I rejected Friday's Coastal Fish of the World in favor of the a la carte menu and was quickly reminded of the modest virtues of preliminary inspection; with the exception of the horseradish-pickled cucumbers (which surprisingly arrived warm), nothing was quite as it had been described. If there was papaya in the chilled gazpacho bearing its name, it was definitely not in a starring role. A brace of quesadillas that suggested jack and goat cheeses with watercress were just jack. A sandwich of Carolina-style pulled pork with an alarmingly golden mustard-based sauce did offer up bounteous amounts of lightly smoky pork, but the bun bore no resemblance to the anticipated white cheddar ciabatta, and the slaw that was said to be jícama and chayote sure could have fooled me with its cabbage and carrot disguise. To be fair, the combination was actually pretty good. But to be honest, the pickles were the best part of the plate.