Bill Witliff saved J. Frank Dobie's most personal papers for all to see
Certainly, any "Texas Books" roundup failing to pause at least once within its pages to drop the weighty name of J. Frank Dobie should — and would — be taken swiftly and unflinchingly to task for such an oversight.
Assuming, of course, that anyone noticed.
Time was, Dobie, in a state persnickety about its heroes, claimed the vauntable nickname "Mr. Texas." Along with close friends and colleagues Roy Bedichek and Walter Prescott Webb, he constituted a "Texas Triumvirate" that helped trumpet the legitimacy of Southwestern regional literature. If there was a Rat Pack-ish, miniature-Algonquin Round Table of early Texas letters, this group was it — with Dobie at its head. Further, if there's a father of Texas folktales, it might well be Dobie, who helped give the nation a sense of frontier Texas through his collections of stories and observations.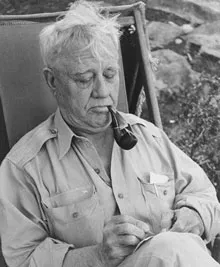 Texas writing legend J. Frank Dobie
Essentially: Had a star-studded cast of Tex-centric historians, naturalists, and folklorists got it into their heads to rob a string of Vegas casinos, Dobie'd have been their Danny Ocean.
Things change, though. Classics get re-made, and roots are forgotten. Nowadays, Dobie's name persists, but knowledge of the man is perhaps less widespread. To those fully aware of the writer-professor-storyteller's legacy: Texas State University has the exhibit for you. To everyone else: They may want you there even more.
In celebration of the 20th anniversary of its Southwestern Writers Collection, TSU is showcasing its archive of Dobie's writings and personal effects, which, when donated in 1986 by Austin screenwriter Bill Witliff and his wife Sally, served as the centerpiece around which the rest of the Collection was built. On display until the end of July, the Dobie exhibit contains letters, manuscripts, photographs, and Dobie's desk, typewriter, and white linen suit, among other intimate relics.
"Its sometimes hard to try to get to the human being behind the legend," says Connie Todd, curator of the Writers Collection. "With Dobie it's really easy, especially with this archive."
Among her favorite pieces, Todd says, are a series of World War I-era letters between Dobie and his wife Bertha, and a college diary.
"It's those personal moments that I enjoy the most," she says, adding that she "got to know his handwriting really intimately," due to her time studying what she has called an "extraordinary" collection.
Even more extraordinary, perhaps, is the near-miss tale of how the artifacts came to rest at Texas State: Witliff, a Dobie enthusiast and collector (and former friend), was at a Dobie estate sale when he noticed an out-of-the-way stack of boxes, and asked what they were.
"The person told him, 'Well ... those are, you know, Mr. Dobie's old papers,'" says Steve Davis, the Collection's assistant curator. While most of Dobie's papers were left to the University of Texas at Austin, where Dobie once taught, Davis says, Dobie apparently kept many of his most personal writings — perhaps because he had clashed with UT officials over such issues as segregation and free speech.
"My own theory is that Dobie just didn't trust UT," Davis says. He continues: "Witliff went and opened up a box and saw, you know, `a` manuscript from the 1930s and things like that. Didn't take him long to realize there was this great treasure trove of material."
"It was a thrill," says Witliff, who quickly bought the find, and donated it to then-Southwest Texas State University, when others didn't seem as interested.
"If he hadn't done that, they would've just been kinda scattered piecemeal," says Davis. "You know, whoever came to the big garage sale the next day."
But, again: How relevant is frontiersman Dobie in today's "mine-iPod-is-slimmer-than-thine" intellectual marketplace? Tough question, accedes Davis, who says Dobie's sometimes unpolished writings still hold truth, but recalls a comment that "reading Dobie's stuff is like reading stories of the Egyptian pharaohs" in terms of disconnect. Todd, too, allows that, at first glance, his germaneness isn't always clear.
"There's a lot of the universal in Dobie, but it's just a little harder to get to," she says.
Witliff sticks up for his friend.
"Dobie's great contribution, I think, was not in his writing so much that it was that he was a strong enough personality to say, Look: Texas is as legitimate a place `as any` to write about or from, as long as you're not provincial," he says. "I think Dobie's stuff will always be relevant, because it's where we came from."
Remake that, Clooney.