The revolution may have failed, but Rodrigo Moya's photographs outlived it
"Arresting" is an overused adjective, like "sublime," or "transcendental," that tells us as much about what the viewer is seeking as it does about the object viewed. But Rodrigo Moya's images truly are arresting; they stop you in your tracks, even when they are hung among works by some of Mexico's best-known photographers - Manuel Alvarez Bravo, Nacho Lopez, and Graciela Iturbide. In the jungles of Venezuela, five guerrillas stare at the camera with a mixture of resignation, wariness, and exhaustion, rifles not far from ready. A bus burns in front of the Mexico City Monumento a la Revolución as a well-dressed man exits the photograph stage right. Campesinos wait with hats in hand at the farm bureau, a large gentleman seated in the middle confronting the camera's lens. And deeper into the show, a portrait of El Che that could displace Albert Korda's world-famous image of the young revolutionary, hair curling cinematically beneath his beret, glaring fiercely into the future. In Moya's portrait - taken in Havana during a 1965 Mexican press junket - the 36-year-old symbol of la revolución is not posturing, not raising his chin defiantly, but looking tired and perhaps a bit bored, slumping forward a little as he smokes a cigar. "El Che melancólico," it is titled.
Moya's style is dramatic and unironic. Each image appears at once theatrically lit and posed, yet uncontrived, betraying one of Moya's acknowledged influences, neorealist Italian cinema of the '40s and '50s, which also focused on the poor and working classes as a form of social critique and enhanced its veracity by shooting on location and using non-actors in supporting roles. In a 2002 profile of Moya in Cuartoscuro, Mexico's prestigious journal of photography, Alberto Híjar wrote of Moya's need "to capture the real movement of things and people. Here, there is the paradox of fixing an image in a frame with the adequate amount of light at the moment in which an action takes place." Actions such as a woman in traditional Indian dress playing with a cat against a perfect canvas of saltillo tiles. Or two boys walking in architectural geometry that illustrates the plight of Latin America circa 1963: between a rock wall and a ledge.
Moya frames his subjects in a way that enhances their authority and legitimacy, a surefire recipe for populist appeal, but his image of Che does not appear on T-shirts and college-dorm tie-dye hangings. His work was unknown to me, as it is to most Americans, before I saw it displayed as part of the exhibit Testigos de la historia/Witnesses to History at the Wittliff Gallery of Southwestern & Mexican Photography. I remarked to Connie Todd, the Gallery's curator of special collections, that Moya's style is striking in part because it is so anachronistic in the postmodern age. She laughed and said that a recent exhibition of his work was titled Fuera de Moda, "out of fashion."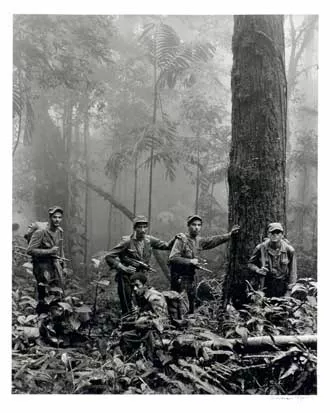 "Guerrilleros en la niebla," Sierra Falcón, Venezuela. In 1966, Moya traveled with guerrilla fighters in Venezuela, in search of Che Guevara, who had left Cuba in 1965 to assist Marxist revolutionary movements in other countries.
(Photos by Rodrigo Moya)
A resident of Cuernavaca, Moya was born to Mexican parents in Colombia in 1934. He grew up in Mexico, where he has been reincarnated several times: engineering student, magazine publisher, book editor, poet, award-winning author. His life as a documentary photographer lasted a mere 12 years, from 1956-1968, a period that coincided with extreme civil unrest in Latin America, within a century marked by rebellions, coups, violent repression of dissent, and military dictatorships, much of it driven by the United States' Cold War agenda. In 1954, when Moya was 20, a military coup backed by the CIA ousted the democratically elected president of Guatemala, Jacobo Árbenz Guzmán. In 1959, Fidel Castro's 26th of July movement seized control of Cuba. In 1967, the Bolivian Army captured and executed Castro's romanticized comrade, Che Guevara.
Moya's decade was the decade of Che, and it's no coincidence that El Che's revolutionary arc fits neatly within Moya's documentary arc. Theirs was a generation in which many young men and women in Mexico's and Latin America's middle and upper classes were animated by leftist politics. Moya says photography, which a friend introduced him to while he was a dissatisfied television reporter, affirmed for him a growing sense of unease about the state of political affairs in his country and the hemisphere. A young man interested in his times couldn't help but be influenced by the Cuban revolution and the proliferation of violent dictatorships supported by the U.S., says Moya. His work as a documentary photographer for the magazine Impacto brought him into contact with some of the major figures of his day, from Che to Diego Rivera to David Alfaro Siquieros, but his portfolio is filled with images of poor and working-class people. "My photography was always in contact with reality, with passing life, with people without power and without future," says Moya. "Ideology and photography in a daily feedback loop."
"Monumentos a la Revolución," 1960, Mexico City. "I doubt that any artist lacks ideology," says Moya, "although the majority declare themselves apolitical. A great fallacy, or a little cowardice."
In Foto Insurrecta, the first published major retrospective of Moya's work, the pages are filled with images of everyday people in the countries where he was assigned to cover the news: Mezcal being dispensed in Oaxaca, young boys horsing around on a rusted-out car in Panama, a pregnant woman working the entrance to a circus sideshow in Mexico City. But the images are not romanticized, they're not taken out of context in a glowing paean to the simple man. In an image from 1965, a mother and son stand in the doorway of a shack constructed with salvaged pallets and bead board. In the tree above the roof, a scarecrow soldier holds a sign that reads "Yanky go home." In another image from Panama, from 1964, a woman and a young girl walk past a building whose upper windows have been shattered. On the lower wall, graffiti spells out the spirit of the times: "Kill Kennedy. Yank es killers. Go Home. Soberania ó muerte!" `sic` Viewed along with Moya's more overtly political photos - of police beatings, of men lobbing projectiles at the PEMEX building, of demonstrators marching in the streets - they repeatedly answer the question "why"? Why would people risk a beating or death to join a demonstration? Why would Marxism appeal to so many people? Why do failed revolutionary heroes still hold so much cache?
They also, the photographer will tell you, answer the question why he abruptly stopped taking photographs in 1968 and began publishing Técnica pesquera, a magazine about marine biology. Guevara was executed in a CIA-backed military exercise in 1967, and with him died the possibility of armed reform and resistance, says Moya. But even more dishearteningly, the ideology itself seemed corrupt. "Their struggles were charged with utopias, myths and schematics without real historical perspectives. Their infinite mistakes leading them into the void." That realization coincided with, or even exacerbated, Moya's growing disenchantment with the media itself. In his Cuartoscuro profile of Moya, Híjar writes that his work embodies, "The contradictions between political militancy and esthetic precision, the pain of maintaining high dignity in the middle of agachón journalism," - "agachón," submissive. Internal and external contradictions fueled Moya's dissatisfaction. On the one hand, if he believes in the ideals of the revolution, art must serve its objective purposes. On the other hand, even if he can justify his role, a documentary photographer can document what he sees, but he must turn those images over to an editor.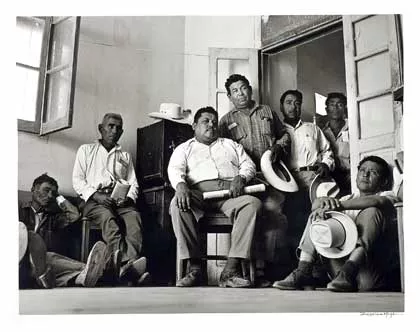 "Cacique" (Boss Man), 1958, Mexico City.
"The political thing was, for the most part, a convenient posture to align oneself with, especially as an intellectual or an artist," says photographer and critic Michael Mehl of Moya's generation. "For the most part these people would become politicized because it gave them a cause that they wouldn't have found otherwise as creative individuals, and most importantly, it gave them access to an arcane patronage system, still in vogue today, that supported their intellectual and artistic endeavors."
But for Moya, the ideals were not convenient; they created an unbearable personal conflict that caused him to quit his art when it was still young. "I can say that, just as I was creating a personal style, I abandoned my craft," says Moya. "That Mexico still persists, but TV owns the world image and has no interest in these things." And no interest in his way of seeing things. "Now speeches abound that insist on the unreality of the reality," says Moya, "and they prefer the camera as instrument of individualistic introspection."
Testigos de la Historia

8am-5pm Mon-Tue, Fri;
8am-7pm Wed-Thu;
9am-5pm Sat;
2-6pm Sun
Through Feb 12
Free

Texas State University - San Marcos
601 University Dr.
(512) 245-2313
Traveling as a photojournalist, Moya also saw the dark side of the armed struggles, images that could haunt a man for the rest of his life. Moya asked us not to print one set of photographs (which does appear in the Wittliff exhibition), from San Jorge, Guatemala, 1966. Lit by a stark bar of light, two campesinos, hands bound by a rope that is held like a leash by the captors, are shot and left lying against a pock-marked wall. Moya doesn't want the images taken out of context, says his wife, Susan Flaherty. But they bring into focus the lives of the magnetic men in camouflage and olive-green suits camping in the Guatemalan and Venezuelan mountains in the adjacent pages of Foto Insurrecta. And of the enigmatic man smoking a cigar in the 20 frames Moya snapped on that historic trip to Cuba. In the end, it had to come down to guns.
So Moya put away his camera, and his negatives, for more than three decades, until a battle with cancer caused him to reconsider his legacy. The time lapse has brought a fresh perspective to his work, and a full slate of one-man and group shows has followed the Cuartoscuro article and the book. Ironically, for the moment the U.S. - the country that fueled much of his youthful ideology - currently features the largest collection of his work outside of the artist's own holdings, at the Wittliff Gallery. As for the time spent away from his second eye, Moya says, "The 35-year parenthesis between abandonment and return is another story that does not fit here (maybe the previous story doesn't fit either)." •
Translation assistance provided by Michael Mehl.
By Elaine Wolff