Local criminal investigator Dean Wideman tries to crack the coldest cases
To detectives, it was a run-of-the-mill suicide. A Colorado woman had hanged herself in her shower. Case closed.
But to the victim's parents, their daughter's apparent suicide didn't make sense. She had been planning a church party for the holiday season. She had no history of depression, no previous suicide attempts. She was leaving behind a young son.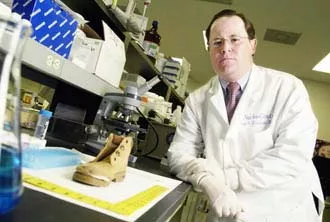 San Antonio native Dean Wideman travels throughout the U.S. and the world to help solve crimes once thought unsolvable.
(Photos by Mark Greenberg)
After years of doubting the detectives' conclusion, the victim's mother contacted San Antonio investigator Dean Wideman and gave him the case file, which consisted mostly of crime-scene photos and statements from those who had recently contacted her daughter. But there was very little biological eveidence because a full autopsy was never performed and the body was cremated against the parents' wishes.
"The scene itself looked staged," Wideman said. "There were other markings on her neck not congruent with someone hanging themselves, and the timeline of events of what the husband said and did `after the death` didn't add up."
In Wideman's office, there are no flat-screen TVs projecting maps that lead to the offender, no team of attractive scientists analyzing DNA strands. He doesn't race to the crime scene in a Hummer; he doesn't track down the criminal.
Evidence is usually missing, the crimes not always explainable. His workspace looks like a well-equipped college laboratory; his evidence is often in the form of a Polaroid.
Wideman is a real crime-scene investigator.
Sitting in his office, a red brick building on the Northwest Side that looks nothing like the settings of any CSI dramas, he says, "The reality is that these cases may never be solved, unlike the shows."
The bloodied shoe of a young girl, a stack of pictures from the murder scene, and a large binder of legal testimony in his office are reminders that this is not the set of a TV show.
Wideman, an independent forensic scientist, investigative consultant, and criminal profiler, reviews from 50 to 100 cases per year, some that law enforcement have given up on, others in which law enforcement ruled incorrectly, and some for which police or family members of victims need more answers.
Through NucleoGenix, the company he founded in 2002, Wideman offers expert testimony and investigative services for unsolved crimes. He has worked on hundreds of violent and sexual cases in which he collected and examined biological evidence and analyzed forensic and behavioral clues.
"I'm not just a DNA expert," says Wideman, a 34-year-old San Antonio native. "I do the whole gamut of stuff. If I do a blood spatter analysis, I can throw in a criminal profile."
Wideman aced his first criminal profiling case. He says that about 90 percent of his profile of a Harlem serial rapist was correct; the offender even lived across the street from where Wideman predicted he would.
Six to 20 people usually work on a crime scene, depending on the severity of the crime and the availability of trained staff. Each investigator working the scene has a specialty, ranging from blood-spatter analysis to controlling who enters the scene, both important jobs, according to Wideman.
"I don't care if the governor shows up, you don't let him in," says Wideman, explaining that unauthorized people in the crime scene can contaminate evidence.
Wideman's next case takes him to Houston, where he will gather evidence for a sexual assault case from a three-year-old crime scene. The time frame may seem insurmountable, but Wideman has gathered blood from water pipes in homes 10 to 20 years after the crime occurred.
"In an older case, usually I'll go to collect evidence, but I'll be doubling as a profiler," he says.
In order to correctly profile the killer, when Wideman visits old crime scenes, he traces the steps of the culprit, along the way taking lots of photos and notes.
"The most important thing in serial cases is to learn about the victims," Wideman says. "Profiling is more amenable to cases with multiple victims, and the first four or five cases are the most important because that's where the offender makes mistakes."
Wideman studied at a one-year program at the University of Strathclyde in Scotland, where he earned his master's degree in forensic science. He previously earned his undergraduate degree in microbiology from Texas A & M University and later got his MBA from Capella University in Minnesota.
Wideman began his career in the New York City Medical Examiner's Office, where he was part of the crime-scene investigation team and in charge of criminal profiling. Wideman described walking into his first real murder scene, an apartment complex where a bloody body had been dragged through various parts of the building, as "awesome."
"It was like, finally, we get to do the work," he says. "It's a great feeling to be able to put your knowledge to the test."
Wideman easily overcame any trepidation about the gory and unsightly crime scene.
"I think it's more academic to me," he says. "I look at it as helping someone. It's not great to see, but it doesn't gross me out to the point that I don't want to do the job anymore."
After his work in New York and a similar job at the Harris County Medical Examiner's Office, Wideman started working with prosecution and defense attorneys, among other clients, and has since testified in 20 to 25 cases throughout the United States and Europe.
"Once you are court-qualified, there are really no objections to your qualifications," he says. "Some attorneys want me to be a little more biased, but I won't do it because it hurts my credibility. It's an art - testifying - you can't go in there and talk over everyone's heads."
Mary Pat Moyer, who has known Wideman since he was a student at Taft High School, helped him start his company. She says Wideman's knowledge, from blood spatter to microbiology, is an interesting and marketable combination.
"We gave him an environment where his passion could be realized, then he took it to the next step" she says. "You don't get called to be an expert witness and get paid unless you are good at what you do."
Wideman focuses on the families he helps: families that have become consumed with the wrongful death of a loved one.
Families contact Wideman either through his website or non-profit organizations such as Parents of Murdered Children, Inc, for which he volunteers. Many families that contact Wideman disagree or are dissatisfied with police about their loved one's murder, and more often than not, they have a good case, Wideman says.
"It's not easy to say I don't see anything that contradicts the findings, but that rarely happens," he says. "I tell them up front that I'm unbiased, and sometimes that's what they're looking for: someone independent to give them an opinion."
In another case that had been ruled a suicide like the one in Colorado, Wideman started in the hallway of the house where the death of a teenage boy had occurred years before. Slowly, he made is way to the murder scene - the young boy's bedroom - and stood where the killer would have had to be standing according to the bloodstain pattern that had turned brown after years of exposure on the walls.
"You have to work yourself to the crime scene," he says. "I want to see what the offender saw."
Yet even after Wideman has reviewed the case and found evidence contradicting the police's conclusion, the families' battle to officially solve the case is not over.
Some law enforcement agencies put cases they feel are "solved" on the back burner and are reluctant to take a second look at them unless faced with overwhelming evidence .
"Every investigator has to be responsible for anything that may come back to haunt him. The key to any case is not to accept what you see at face value."
Dean Wideman
"Most of these families don't have the resources," Wideman says. "It's a matter of getting through and making `law enforcement` reopen the case. That's the last thing they want to do. It's more work."
Whether it requires muscling law-enforcement agencies to further investigate the case or awaiting more conclusive evidence, families remain determined to find the explanation of their loved one's death.
"It's amazing the resolve these folks have," says Wideman, who is usually only in contact with the families via e-mail or by phone. When he finally meets the people, the greeting is usually warm. "They hug you like they've known you your whole life," he says.
"It provides a sense of closure to the families just to know what happened," said Teresa Bean, co-chapter of the San Antonio chapter of Parents of Murdered Children, Inc. Her father was murdered. "A lot of detectives don't want to give the bad news that there's nothing new. It's just another case to them, but to us, it's your family. There's never enough that could be done."
Parents of Murdered Children, an organization for families and friends of those who have died violently, encourages victims' families to seek a second opinion on the information given to them by law enforcement agencies, especially if the case has gone cold.
Wideman received the Colorado case through the group. Because of his findings, the victim's mother is currently trying to persuade the new District Attorney to reinvestigate her daughter's death.
"If the police won't reopen the case, sometimes you have to find a way around them and go straight to the DA," Wideman says.
According to Wideman, many law-enforcement agencies cut corners in investigations if the death looks like a suicide. Police don't want to spend hours taking photos and collecting evidence if it looks like an open-and-shut case.
"A lot of suicides should be investigated as suspicious deaths," Wideman says. "Every investigator has to be responsible for anything that may come back to haunt him. The key to any case is not to accept what you see at face value."
Wideman ultimately hopes to start a foundation that helps families get answers about their loved one's death, although he can't do it now because it "doesn't pay the bills." Still, he says, he's not in forensics to make "a ton of money."
"You've got to have a passion about it," he says. "It's rewarding. There's nothing better than helping a family. This is my purpose in life. There's no doubt about it" •