GLBT-friendly churches are the antidote to the Religious Right
When discussing the issue of homosexuality, Christian leaders generally fall back on a familiar refrain: Love the sinner, hate the sin.
Even if you accept the first part of the statement — and that's hardly the look of love we see in the eyes of Jerry Falwell and Pat Robertson when they discuss gays and lesbians — the second part begs the assumption that same-sex couples are, by their very nature, sinful. It's an assumption that several local clergymen forcefully reject.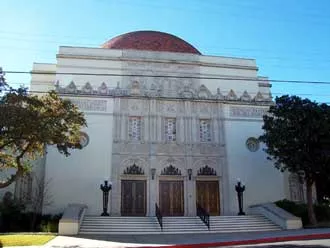 Temple Beth-El: home to San Antonio's Reform Judaism congregation
(Photo by Gilbert Garcia)
"We don't consider homosexuality to be a sin," says Barry Block, senior rabbi at Temple Beth-El. "For us, the same stringent sexual ethics apply to homosexuals and heterosexuals alike."
Temple Beth-El is not only San Antonio's oldest synagogue, it's also home to a congregation practicing Reform Judaism, a theologically liberal Jewish movement which emerged in the 19th century with the intent of adapting the essential lessons of the Torah to the changing demands of modern society.
"Reform Jews believe that it's terribly important for our congregation to be open and welcoming to the entire Jewish community," Block says. "So, really, full acceptance of gays and lesbians as members of our congregation is central to what we're all about. We've had gays and lesbians who've converted to Judaism. Some of them have been partners with a Jewish person. We've also had people come to our congregation from other congregations of every faith, in part because we were welcoming in ways that their previous congregations were not."
Block's commitment to inclusiveness at Beth-El has been expressed in a number of ways. He has devoted sermons to the subject, officiated at same-sex unions, and admitted children of gays and lesbians to the temple's religious school. Last year, Temple Beth-El's board of trustees joined its rabbis in publicly opposing Proposition 2, an amendment to the Texas constitution that effectively banned same-sex marriage.
Another local religious group that mobilized against Proposition 2 was the First Unitarian Universalist Church of San Antonio. "Our church voted as a congregation to officially oppose Proposition 2," says Art Severance, the church's minister. "That's the first time we've taken a stand as a church, probably since the Vietnam era. It's not like if you're Unitarian you have to accept that. You form your own beliefs, in a sense. But this was something we thought was very important."
Severance argues that societal changes are slowly moving church communities toward greater acceptance of gays and lesbians. He points to the 2003 confirmation of Gene Robinson, an openly gay clergyman, as an Episcopal bishop of New Hampshire. Severance is a native of New Hampshire and well-acquainted with that state's history of political conservatism. For him, the fact that New Hampshire would make such a progressive leap must signal some kind of sea change.
"My feeling is there are more and more GLBT (gay/lesbian/bi-sexual/transsexual) folks coming out of the closet," Severance says. "There are more and more who are sons and daughters of our politicians. As more of those folks come out of the closet, people start realizing that it could be almost anybody — it could be your brother or your sister, your daughter or your son. And it's something that I think is eventually going to be accepted."
If there is a cultural shift in progress, you won't see indications of it in the hierarchy of the Catholic Church, by far the dominant denomination in this city. The late Pope John Paul II once classified homosexuality as an "objective disorder" and early statements by Pope Benedict indicate that the only acceptable sexual union exists between a man and his wife. In light of such intransigence, Father Eddie Bernal, pastor of St. Benedict's Church, stands as a maverick. "We welcome everyone, we refuse no one," he says. "The purpose of Christianity is to remember that we're all human beings deserving of love."
Bernal concedes that Catholic teaching does not condone homosexuality but adds that "it doesn't condone the pill either, and many people who go to the church use the pill."
Biblical support for condemnation of homosexuality remains a matter of much debate. The book of Leviticus explicitly denounces same-sex coupling as a "detestable sin," but it also ventures into some territory that few modern churchgoers would dare to defend. For example, Leviticus states "if a man has sex with a slave girl," he can make things right by paying full compensation to her master and presenting a ram to the Lord as "a guilt offering."
Severance occasionally devotes sermons to Leviticus, humorously pointing out that along with homosexuality it also denounces the eating of shellfish. As he notes, Christians haven't stopped eating lobster as a result. "What we find is that people tend to cherrypick the parts of the Bible that are useful to them, and ignore that parts that they don't want to follow," Severance says.
In addition to inclusive churches such as First Unitarian, San Antonio also has a ministry specifically tailored to a gay and lesbian congregation: the Metropolitan Community Church. Formed in Southern California in 1968 by Troy Perry, a reverend defrocked because of his homosexuality, this Christian movement has grown to nearly 300 churches in 22 countries. Perry's roots were with the Pentecostal movement, and Severance says MCC's emphasis on a fire-and-brimstone brand of Christianity can be unsettling to some gays and lesbians.
"They're theologically very conservative, which sounds almost like an oxymoron," Severance says. "Many of the gays and lesbians who come to our church have been turned off by that church because it's too conservative for them, and we're much more open theologically. Occasionally I've done sacred unions for people who've said the language there was too fundamentalist."
Kevin Downer, Metropolitan Community pastor, says his church is moving toward a "more blended theology" that accommodates both conservative and liberal members of the congregation. He attributes the church's recent growth from approximately 70 to 110 members to this change of direction. Severance says he's never received criticism from the local Christian community over his policies. He finds signs of encouragement in the silence. "About a month ago, I did a lesbian union," he says. "It was down on the River Walk on that little island where they do a lot of weddings. Of course, the barges go by and everything, so you're right out there. And I didn't hear anything. So I thought that was interesting." •
---
Local lesbian and gay resources

ARTS

Alamo City Men's Chorale
Gay and gay-friendly, 18 and older
PO Box 120243, 495-SING,
acmc-texas.org,
webmaster@acmc-texas.org

EVENTS

PrideFest
Happens each June, location TBA
601-5243, pridefestsa@yahoo.com

PrideSA Block Party
Sponsored by North Main Street bars
Happens each June

Texas Gay Rodeo Association
San Antonio Chapter
823-2635, tgra.org

TGRA rodeo will be held in Seguin August 4-6. Details TBA

Cowtown rodeo is scheduled for March 3-5 at Watt Arena in the Will Rogers Exposition Center, Fort Worth

SA Webb Party
Fundraiser sponsored by
SA AIDS Foundation
April 21, SA Museum of Art,
300 W. Jones, txsaaf.org

CIVIL RIGHTS

Esperanza Peace and Justice Center
922 San Pedro, 228-0201,
esperanzacenter.org, esperanza@esperanzacenter.org

EDUCATION

Amethyst Scholarship Foundation
Resource for GLBT students
amethystscholarship.org

HEALTH

Alamo Area Resource Center
HIV/AIDS services
527 N. Leona, Bldg A, 3rd Floor,
358-9995, aarcsa.com

BEAT-AIDS, Inc
Emotional and spiritual guidance and financial assistance
218 W. Cypress, 212-2266, info@beataids.org

Hope Actions Care Agency
Food bank, shelter, assistance for clients with HIV
132 Grayson, 224-7330, opal_white@sbcglobal.net

San Antonio AIDS Foundation
225-4715, txsaaf@txsaaf.org

MEDIA

Gay & Lesbian Yellow Pages
GLYP.com

QSanAntonio.com
Website with LGBT-related news, links
QSanAntonio.com

Shout Magazine
Based in Austin with SA distribution
Don Jones, 826-5694

Texas Triangle
Offices in Dallas, Houston, and Austin
512-485-3126

WomanSpace
Lesbian information, newsletter
828-LISA,
womanspace@grandecom.net






MILITARY

American Veterans for Equal Rights
LGBT veterans
aver-sa.org or aver.us, rweeks@worldnet.att.net

POLITICS

Log Cabin Republicans
Yahoo group for potential members of future chapter:
http://groups.yahoo.com/group/SanAntonioLCR

Log Cabin Republicans of Texas:
http://texas.logcabin.org

Stonewall Democrats
Bryan Gerard, 590-7030 or 392-1640
http://sdsatx.org or info@sdsatx.org

RELIGION

Dignity
LGBT Catholics
340-2230, dignityusa.org,
dignitysa@aol.com

First Unitarian Universalist Church
7150 IH-10 W, 344-4695

Madison Presbyterian Church
319 Camden, 226-2654

Metropolitan Community Church
"The Rainbow Cathedral"
611 E. Myrtle, 472-3597

Soulforce San Antonio
Dan Graney, 494-7442

Spirit of Peace Church/United Church of Christ
Inside First Universalist Church
spiritofpeaceucc@aol.com,
spiritofpeacechurch.org

Travis Park UMC
230 E. Travis, 226-8341

SOCIAL GROUPS

Meetup Group
http://dfa.meetup.com/964

Out in San Antonio
outinsanantonio.com/default.asp

San Antonio Prime Timers
Social group for gay and bisexual men
primetimersworldwide.com, saprimetimer049@aol.com

SUPPORT GROUPS

Parents, Families, Friends of Lesbians and Gays
Education and dialogue
655-2383
geocities.com/pflagsanantonio, pflagsanantonio@webtv.net

San Antonio Gender Association
Peer support and social group for transgenders and loved ones
223-6106