A lawsuit caps the battle over SA's proposed toll roads
Once upon a time, to live near U.S. Highway 281 north of Loop 1604 was like residing on Pluto, its homes and ranches and dusk-to-dawn lights seeming faint and distant from the city center.
Now, San Antonio's uncontrolled northward push has transformed the netherworld into one of the city's fastest-growing areas; its hillsides are carpeted with homes and commercial development, and the highway, once known as the "fast way" to get to Austin, is regularly clogged like a stubborn drain.
Gridlock and an $8.4 billion shortfall in gas-tax and other transportation revenues have prompted Governor Rick Perry, the Texas Department of Transportation, and local mobility authorities to turn to toll roads as a way to pay for more lanes on congested thoroughfares. And additional capacity, proponents contend, encourages economic development.
But toll-road opponents, which include the unlikely allies of tax-averse conservatives and environmentally concerned liberals, are fighting a proposal that would allow a private corporation to widen U.S. 281, convert a portion of it to pay lanes, and profit from the tolls.
Last month, Aquifer Guardians in Urban Areas and People for Efficient Transportation filed suit against TxDOT and the Federal Highway Administration over the U.S. 281 toll-road project, part of which crosses the Edwards Aquifer Recharge Zone, the city's primary source of drinking water. The two groups also filed a request for an injunction to halt construction that has begun on frontage roads along the highway.
Not only would the U.S. 281 toll road potentially harm the environment, say AGUA and PET, but its promise of spurring economic growth is overstated.
"The statewide push has ticked off a lot of people," says Annalisa Peace of AGUA. "People are suspicious of companies making money off projects that have already been funded.'"
TAKING A TOLL ON THE ENVIRONMENT
Filed in U.S. District Court, the suit asserts that the proposed project "will greatly accelerate harmful trends," including degradation of the vulnerable Edwards Aquifer due to pollutant runoff; an increase in noise levels that have exceeded federal standards; and an increase in air pollutants that contribute to ground-level ozone, whose 8-hour levels also have violated federal standards.
But most egregiously, the lawsuit states, TxDOT and the Federal Highway Administration, which approved the project last November, neglected to conduct a mandatory Environmental Impact Statement on the toll-road project. Nor, the suit asserts, did they consider alternatives to the plan or list the possible cumulative effects, important requirements of the National Environmental Policy Act.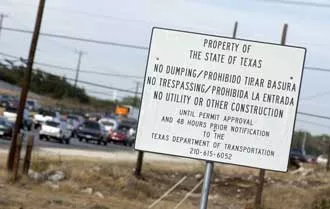 Construction on frontage roads has begun in the area near U.S. 281 and Encino Rio. These roads will be incorporated later into the toll-road project.
(Photos by Mark Greenberg)
The difference between an Environmental Assessment and an Environmental Impact Statement is that the latter requires public hearings on the findings and a list of alternatives to the proposed project.
"They are required to follow this process," says Peace. "An environmental assessment is just a piece of paper; there is no public component."
TxDOT declined to comment on the suit because of the ongoing litigation. The court granted TxDOT an extension until January 17 to respond to the lawsuit.
NEPA requires federal agencies and those entities receiving federal funds to prepare a detailed Environmental Impact Statement on projects that would significantly affect the environment. The statement must consider impacts on public health and safety, ecologically sensitive areas, and endangered species.
In a 1984 Environmental Assessment of the U.S. 281 expansion, state and federal authorities found there would be no significant impacts. However, the scope of the project was much smaller, didn't include tolls, and remained inside Loop 1604.
In 2000, state and federal authorities reevaluated their 1984 findings, but understated the transformation that had occurred in the rapidly growing area, noting the "only change" in the area is extensive commercial development at U.S. 281 and Loop 1604, and further growth near Evans Road.
A 2004 reevaluation outlines the toll-road project, but downplays its scope, stating that the "design concept and scope has remained the same as in the original documents." However, under the current plan, U.S. 281 will be widened to at least 12 lanes and to 16 lanes at its widest point.
None of the evaluations, the suit claims, adequately addresses the impacts of the highway project on habitat of the endangered golden-cheeked warbler, whose habitat is near U.S. 281/Loop 1604, or the impact of runoff into the Edwards Aquifer.
"This project has taken off without any consideration of how such a massive development will impact our water supply," Peace adds. "People don't want public infrastructure over their water supply."
OPINIONS DIFFER ON TOLL ROADS AND THE ECONOMY
In light of the lawsuit and increasing public opposition to the U.S. 281 project, the Alamo Regional Mobility Authority is embarking on a $300,000 "public information campaign" it contends will educate the public about toll roads. The Texas Toll Party's Terri Hall, who has launched an information campaign of her own, alleges the RMA's roadshow is tantamount to propaganda.
"There is so much misinformation," counters Alamo Regional Mobility Authority Executive Director Tom Griebel, referring to the Texas Toll Party's media blitz. "The key is, one, we're not going to take away free lanes. There will always be a non-toll component."
Toll road-related meetings
Greater Edwards Aquifer Alliance
Sat, Jan 7, 1pm,
1809 Blanco
Smart Growth-SA
Tue, Jan 10, 7pm,
Encino Park Community Center,
1923 Encino Rio
Alamo Regional Mobile Authority
Wed, Jan 11, Noon,
Kelly USA,
143 Billy Mitchell Blvd. Suite 6
San Antonio Toll Party
Thu, Jan 19, 7pm,
Reagan High School library,
19000 Ronald Reagan Drive
Metropolitan Planning Organization
Mon, Jan 23, 1:30pm,
VIA Metro Center,
1021 San Pedro
Griebel contends opposition to the plan has also been overstated, citing a recent poll paid for by the RMA that suggested 58 percent of those surveyed supported toll roads once the respondents were presented with detail about the toll system. These details included the carefully worded assertion that the "new toll lanes will help reduce traffic and have more time to do what they want."
Toll-road proponents are keying in on the alleged time-saving aspects of the project, as well as the purported economic benefits. In October, Joe Krier, president of the Greater San Antonio Chamber of Commerce and chairman of the San Antonio Mobility Coalition, which supports the toll-road project, wrote an opinion piece in the Express-News warning that additional lanes are necessary for the city's economy. "We must be proactive in solving our transportation needs so we can continue to improve the quality of life for all citizens and sustain economic growth."
But Bill Barker, a transportation consultant to governmental agencies and private companies and VIA's former director of planning, cites data that show Texas has four of the eight largest U.S. cities with the most lane miles of highway per person (including San Antonio); yet, no Texas cities on this list have the highest income per capita.
Barker says toll-road supporters aren't considering the time lost during years of construction delays, much like the relentless congestion during the improvements at I-10 and Loop 410. "It wipes out the time savings you get when it finally opens."
Even with the additional improvements in San Antonio — construction of Highway 151, new ramps at I-10 and Loop 410, upgrades to Loop 1604 — the average commute time hasn't decreased in the last 10 years, Barker says, a statistic backed by the Texas Transportation Institute. In 1982, the average San Antonio motorist was stuck in traffic for seven hours; in 2002, an average motorist idled for 36 hours.
After factoring in the residential and commercial growth that would inevitably sprout up near the highway, feeder roads would become congested, Barker says, and people would actually travel farther to access high-speed thoroughfares, crowding lanes that were supposed to alleviate the congestion.
The toll-road debate points to larger issues: San Antonians' dependence on the automobile, uncontrolled growth in the county, which has no planning or zoning authority, and the perception that the public has little say in the decisions of the appointed boards such as the RMA or TxDOT, a state agency. "They have no accountability," says the Texas Toll Party's Terri Hall. "They are appointed by elected people, but they don't pay any consequences."
"It's very important we give counties power," adds Peace. "This project has moved way too fast." •
By Lisa Sorg
---
The national push for toll roads
Texas isn't the only state lovestruck by toll roads. There is a national trend toward pay lanes, as cash-depleted state transportation departments view public-private partnerships as a method of building highways and generating income without bearing the brunt of financial liability. Meanwhile, according to The Bond Buyer, toll roads have attracted investors such as Cintra, a publicly held company, with steady, predictable cash flow.
"The challenge is how we fund things the state needs in order to be economically competitive," says TxDOT spokesperson Gabriela Garcia. "How do we bridge that gap? We use private-sector funding."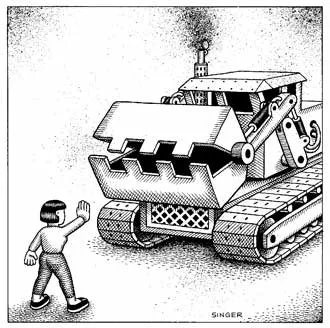 Aquifer Guardians in Urban Areas and People for Efficient Transportation have requested an injunction to halt construction along U.S. 281. They also have filed suit against the Texas Department of Transportation and the Federal Highway Administration over the U.S. 281 toll-road project.
The corporate-friendly Congress has passed laws supporting such privatization. Lawmakers reduced from six years to six months the time environmental lawsuits can be filed on road construction. Private corporations also receive public subsidies when states issue tax-exempt bonds to help finance private construction. Companies also can qualify for federal loans and receive large tax breaks by writing off the depreciation of a highway's value.
"There are legitimate jurisdictions for government that don't belong in the hands of private corporations," counters Terri Hall, regional director of the Texas Toll Party. "Elected officials are abdicating their role to private companies."
Concerns loom about the propriety of turning over a public good to private interests. Unlike public entities, private corporations negotiate the details of agreements with state and local officials without the requirement of public hearings; only signed contracts are public record.
Garcia says that state law protects any proprietary information from being released. "We want to attract companies and they have to be able to show they can do this. The down side is that to release their information doesn't provide a competitive situation. They're not going to bring their best and brightest ideas."
Although Cintra/ Zachry submitted the low bid for the project — its details remain secret — TxDOT's García cautioned that neither the state nor the Alamo Regional Mobility Authority has decided, "whether any private firm is going to be developing that project."
To evaluate proposals for Bexar County toll-road projects, the Alamo RMA received a $1 million no-interest loan from the Texas Transportation Committee — an amount the Texas Toll Party says is excessive. Alamo RMA Executive Director Tom Griebel says the loan will pay for staff and consultants to advise the RMA on the proposals. The RMA will use toll-road revenues to repay it.
Cintra is pursuing toll-road deals throughout the globe: It won the bid to pay Texas $1.2 billion for the right to build and manage the 300-mile Trans-Texas Corridor from Dallas to San Antonio for 50 years. It is bidding on a 150-mile proposed tollway in Indiana, paid Chicago $1.8 billion to operate the Chicago Skyway on a 99-year lease, and operates other toll roads in South America, Europe, and Canada.
Cintra paid Toronto $3.1 billion to operate a 42-mile tollway, but the company has been criticized for poor customer service, aggressively collecting money from motorists, and raising toll rates without public input, according to the Fort-Worth Star-Telegram. About 700 people have complained about Cintra, and a state parliament member has launched an investigation.
In one case, the Star-Telegram reported, a dead man was billed $91 including late fees, while other customers have been double-billed and tolls have increased 200 percent. The company also asked Ontario not to renew vehicle registrations for delinquent motorists; the government refused.
"We've heard of `the complaints`," says García, adding that the Texas Transportation Commission has to approve the toll rates and increases. Tolls are estimated to cost 14 cents a mile on U.S. 281 and will be paid through EZ Passes, not toll plazas. "And we're taking the lessons learned from that and making sure customer service is first and foremost. There are safeguards in place."
Texans won't know the details until the ink is dry. •