San Antonio's seminal cow-punk finds sobriety, launches a label, and adjusts to life without Taco Land
Jeff Smith was 14 years old when the Sex Pistols came to town. Smith, then a student at Texas Military Institute, was already an avid follower of the nascent British punk-rock revolution. He and his older brother Barry, a professional musician who had returned to San Antonio after a failed stint in New Orleans, faithfully pored over the pages of New Musical Express and Melody Maker every week, and when the latest punk import single became available, they faithfully trekked to North Star Mall to buy a copy at Record Hole.
As soon as the Pistols' January 1978 show was announced, Smith bought a pair of $3.50 tickets so he and his brother could share a piece of musical history. On the day of the show, however, Barry disappeared — with both tickets — and wound up taking "some girl that he dated for about two weeks," Smith says, adding: "I don't ever let him forget about that."
As a result of his brother's covert maneuver, Smith never saw punk's flagship band in their gobbing prime, but you get the feeling he picked up the message through osmosis. Over the last 25 years, while fronting a seemingly endless series of bands, Smith has dedicated himself to the punk principle that if you shock and confuse your enemies, you must be doing something right. The best known of those bands was the Hickoids, a maniacal mob credited by loyalists with setting the standard for cow-punk, a high-decibel mix of punk frenzy and honky-tonk twang.
Three years ago, nearly two decades after relocating to Austin, Smith returned to San Antonio. His chemical consumption was out of control, his dalliance with bar ownership had been a disaster, his attempt to revive Austin's Woodshock punk festival (a 1980s mainstay) had been an acrimonious victim of city red tape, and his fellow founding Hickoid, bassist Dick Hays, died on the very day the band members agreed to reunite.
Smith needed a change of scenery. As he puts it: "By the time I left Austin, I'd basically chased myself out of there. My health was suffering, and it was time to do something different."
So what becomes a punk legend whose legendary status is only known and appreciated by the small, graying cadre lucky enough to have experienced the mayhem at its peak? In Smith's case, it is doing what comes naturally: running a record label (Saustex Media), booking shows for old friends in the indie-rock community, and continuing to lend his elegant snottiness to high-concept bands (his current focus, a gay pirate punk group called The Swishbucklers).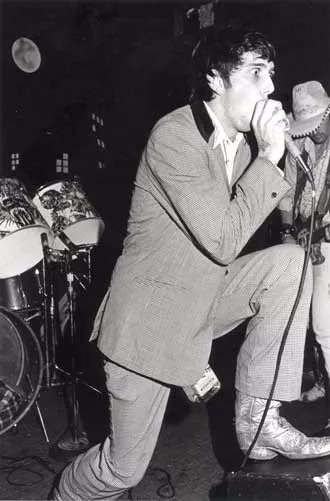 Smith as a snotty young punk with the Hickoids.
Smith, like the rest of this city's underground music scene, is also adjusting to a San Antonio without Taco Land or its beloved proprietor, Ram Ayala, who was gunned down in his own club five months ago.
Ayala liked to call Smith "the original punk rocker."
It's certainly not a title Smith would claim for himself, but if we confine ourselves to the borders of Bexar County, it just might fit. Now as he approaches his 42nd birthday, he remains determined to live out the promise of the kid who plunked down his money for those Sex Pistols tickets in 1978.
"Apparently, I just can't resist really long odds," Smith says of his decision to launch the Saustex label. "When you consider that every week there's about a thousand records coming out, and even people with marketing budgets that are hundreds of thousands of dollars sometimes don't succeed at selling 5,000 copies, you've got to be a crazy man. But I like the challenge."


It's not uncommon for the most extroverted, exhibitionistic performers to be quiet and detached offstage. In fact, that dichotomy represents one of rock's greatest myths, the notion that a nonentity in the real world can become a bolt of lightning when placed in front of an audience. It's the myth of Elvis Presley. It's also the conceit behind Andy Kaufman's Presley impersonator, a shy foreigner who discovers his confidence and masculinity only when he becomes the King.
Even so, it's hard to reconcile the crazed howler behind Hickoids nuggets such as "Queen of the Bar-B-Q" and "Corn Foo Fighting" with Smith's consistently placid demeanor away from the microphone. It's not that he's remotely meek or withdrawn. He simply conveys an easy confidence that offers little evidence of the pent-up hyperactivity within. Smith speaks slowly and deliberately, in a deep voice that always sounds emotionally neutral.
Tall and rail-thin, with flecks of gray in his long, stylish hair, Smith vaguely resembles X bassist John Doe, another well-preserved '80s punk-rock survivor. "He looks the same as he did years ago," says Gary Chester, guitarist for the Austin band Pong, and an old friend of Smith's. "He's rocking, and he's partied hard, but he's taken care of himself. It seems like he's doing better than ever now."
Smith was born in Tulsa, Oklahoma in 1963. His dad worked in the oil business for Tesoro, and when Jeff was 10, the company transferred his father to San Antonio. Smith's two brothers were 10 and 13 years older, and he recalls feeling alone as a kid. As a result, he says, he often attempted to win friends by acting out. His parents, hoping to instill discipline in their blossoming rebel, sent him to Texas Military Institute, which he attended from sixth grade thru his junior year in high school.
"It wasn't bad," he recalls. "There were enough like-minded troublemakers around. At that time, in the late '70s, there was kind of a post-Vietnam backlash against military schools. So TMI was making the transition from being strictly a male boarding school to being more of a parochial school run by the Episcopal Church."
While still in junior high, he formed a "fantasy poster band" called the Terrorists with two friends from TMI. A year later, the trio started an actual band called the Dwarves, playing occasional parties and school functions.
Smith as a snotty older punk this year with the Swishbucklers.
The band's sets leaned heavily on Ramones and Sex Pistols covers, but Smith always provided his own irreverent twist. When they covered the Pistols' "EMI," Smith turned it into "TMI," a rant against his school, while "God Save the Queen" became "God Save the Dean."
Wammo, lead singer for Austin's Asylum Street Spankers, has credited Smith and the Dwarves with turning him on to punk rock and recalls that when the schoolboy band attempted Jimi Hendrix's "Purple Haze," Smith refused to sing it and invited Wammo onstage to handle lead vocals. In a 2000 entry to his online diary, Wammo gushed: "I loved this band. I worshipped this band. I was so damn jealous of the Dwarves ... Jeff couldn't sing a note and it didn't matter."
After the Dwarves split, Smith began playing clubs with a group called the Smart Dads, though he soon discovered that few San Antonio venues would book a punk band for a return engagement after their first gig. One early '80s option for local punks was Randall's Texas Style Barbecue, a restaurant at which Smith briefly worked. "It was owned by these two guys who were yuppies before anybody knew what yuppies were," Smith recalls. "They had no business owning a restaurant, but they would sell beer to anybody.
"We had the Butthole Surfers out there but my boss wouldn't let them play as the Butthole Surfers, so they appeared as the Dick Clark Five. They trashed our drummer's drum set, and a little feud ensued."
The Buttholes, then in their formative Trinity University period, felt an obvious kinship with the equally anarchistic Smith. "They came to kidnap me one night," he says. "They took me over to their apartment and made me listen to their demo tape on this little desktop voice recorder, one of those old-style, flip-up cassette decks. It was the most God-awful cacophonous thing I've ever heard. If you would have ever told me they were going to sell hundreds of thousands of records, I would have thought you were crazy."
In 1982, Smith's next band, Bang Gang, found a solution to the punk scene's lack of suitable clubs. According to Smith, Arthur Hays, Bang Gang's drummer, knew some drug dealers in the neighborhood of a Grayson Street biker hangout named Taco Land. Hays and his bass-playing brother Dick approached Ram Ayala, the bar's owner, about booking a punk-rock show. "The regulars weren't happy about it," Smith recalls, "but Ram said, 'These people came here to party, so give them some space.'"
Taco Land quickly became San Antonio's preferred spot for the local underground scene, and over the next 23 years, Smith regularly performed or booked shows at the club.
Many of those gigs came with the Hickoids, a band that Smith formed in Austin with the Hays brothers and guitarists Davy Jones (most definitely not the ex-Monkee) and Jukebox. The Hickoids were the most musically advanced band Smith had fronted up to this point, but what really set them apart was their brazen, juvenile mockery of all accepted standards of human decency. They'd sucker-punch you with an authentic country tune like "Brand New Way," only to have Smith announce, with peerless false piety: "I was raised by a tribe of gay Indians/they owned a chain of bars called the Flaming Arrow/now I know a lot of people didn't understand them/but they was damn good folks."
"By the time I left Austin,

I'd basically chased myself out of there.

My health was suffering,

and it was time to do something different."
From the beginning, Smith had demonstrated a flair for conceptualizing, for devising a name, look, and shtick that would guarantee maximum impact. The Hickoids were his pièce de résistance. Decked out in shit-kicker boots and cowboy hats, bathed onstage in bales of hay, with tequila bottles always at the ready, they personified the dangerous extremes of both country and punk, with tongues planted firmly in cheek, although it was anyone's guess to whom the cheek belonged.
"I thought they were awesome," says Chester, who played at the time in the avant-garde Austin band Ed Hall. "They were one of the pivotal bands for us: The Buttholes, Scratch Acid, the Hickoids, and the SST bands. What stood out was that cow-punk energy. Plus, Jukebox used to make these crazy psychedelic sounds. It was a Texas mixture of psychedelic with punk rock, and it was really educational."
If every story of the Hickoids' wild antics translated to one record sold, the band would have gone multi-platinum by 1986. There's the tale of the band annoying Austin country musicians by winning Best Country Band in the Austin Chronicle's music poll, then wearing out their welcome at the Austin Music Awards by drinking all the beer backstage. There's the tale of one Hickoid mistaking a female fan's stereo for a urinal. And Chester vividly recalls Smith tearing off his clothes at the ungodly hour of 7 a.m. for a Hickoids sunrise set at the Woodshock festival.
The Hickoids splintered in 1991, and Smith subsequently indulged his love of sexual stereotype tweaking with The Gay Sportscasters, and also dabbled with the Dum Dum Boys and Wounded Turkey. He says, with a sheepish grin, that he managed to go at least five years without holding down a steady job, a feat that he sarcastically attributes to "my incredible powers with women."
After brief detours to Memphis and Minneapolis, he returned to Austin and became a co-owner of the university hangout Hole in the Wall. By his own admission, his three-year run with the club was not a model of savvy entrepreneurship.
"It was just a dysfunctional deal where we'd all get loaded behind the bar every night ... every morning, every afternoon," he says. "After I quit, the weekly order for Jim Beam went down about seven or eight bottles a week."
Asked if he had a drinking problem, Smith quips, "Other people had a problem with the way I drank." On a more serious note, he softly adds, "It was cocaine, too."
Three years ago, not long after his old bandmate Dick Hays died of a heart attack, Smith moved back to San Antonio and stopped drinking. About twice a month, he booked shows at Taco Land, often for old punk-rock friends such as psychobilly pioneer Stevie Tombstone, or Chester's band Pong. Two years ago, he launched his Saustex label with Tombstone's 7:30 A.M., and followed it up with a Tombstones compilation.
Next year, he plans to branch out with four new Saustex releases, including a CD from Snowbyrd, a local band featuring Manny Castillo, San Anto Cultural Arts executive director, on drums.
"He's a survivor," Castillo says of Smith. "He's battled his turmoil with drugs and alcohol, and now he's got so much energy and time. He's like a guru. We joke about it, but it's true, because he knows so much and has so much experience. Being with his label has been a double-blessing, because you're with a friend and someone who's really supportive."
Smith has also found time to revive the Hickoids, and he's considering putting out a new CD as a tribute to Dick Hays. He sorely misses Ayala and the community that formed around Taco Land, but says sobriety has helped him put the loss in perspective.
"For all the bands that played at Taco Land and the people who went there, for those people to quit, I consider that a dishonor to Ram," Smith says. "He was about having a good time. I'm sure wherever he is, he wants people to keep having a good time and playing their music. He spent a lot of his life giving people a place to play, and he didn't tell them how to play it."
He doesn't envision himself quitting anytime soon. "Some people like to play golf. I like to play rock 'n' roll," he says. "I don't really care whether it's for 10 people or 1,000 people." •