San Antonio's lacrosse community is a tight-knit family that speaks a language of its own
The team captains for San Antonio's Summer Lacrosse League gather around a large table next to the bar at Chris Madrid's. The polls have just closed on election night in San Antonio, but the subject never comes up at this table. After all, these guys are preoccupied with some tough choices of their own. They're here to conduct the summer league's player draft, picking from a crop of 60 local lacrosse zealots, and because neither Phil Hardberger nor Julián Castro are known for their nimble stick work or teeth-rattling body checking skills, they're irrelevant to this discussion.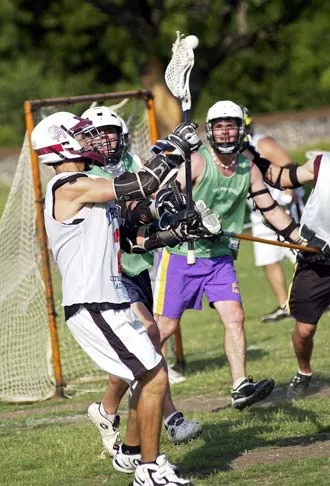 San Antonio Summer Lacrosse League players compete in a Sunday afternoon pickup game.
(Photos by Mark Greenberg)
Lanky league commissioner Jay McCracken enters the draft picks into his laptop computer while his comrades drain bottles of Shiner, Lone Star, and Corona. Most of the prime movers are here: Revolution captain Laurence Seiterle, a Canadian transplant who found lacrosse - or "lax," as its aficionados call it - after youthful troublemaking landed him at a New England boarding school; APintOStout captain J.D. Boswell; Fuzzy Buzzards captain Ryan Meegan; and Darling Pinkies captain Jason Lopez, a stocky Central Catholic and UTSA veteran affectionately referred to as J-Lo. These guys interact like fraternity brothers or charter members of a local Sanskrit club. They speak their own language, linked by their devotion to a game that is not only America's oldest sport (if we can believe legendary accounts of its popularity among Native Americans), but also its newest sports phenomenon.
For decades, lacrosse was regarded -when people bothered to regard it at all - as an esoteric indulgence for preppies on the Eastern seaboard, like crew or badminton. Wildly popular in cities such as Baltimore and Boston, it made so little impact nationally that when people talked about football great Jim Brown, whose 1950s exploits at Syracuse University inspired sportswriter Dick Schaap to call him the greatest lacrosse player of all time, the very fact that he played lacrosse barely merited a footnote.
But lacrosse's reputation has undergone a serious facelift in recent years. In the last two months, both Sports Illustrated and The New York Times have proclaimed lacrosse "the fastest growing sport in America," and statistics certainly back up the argument. According to US Lacrosse, the governing body created in 1998 to unify the sport's various associations, there are more than 364,000 active players in the United States, a 44 percent increase since 2001. High-school participation has risen more than 150 percent in the last 10 years. Most telling for the sport's future prospects is that more than half of all American players are under 15 years of age. But lacrosse is not merely attracting participants. At its best, the sport is also filling football stadiums with spectators. This year's collegiate national-championship game between Johns Hopkins and Duke drew a record crowd of 44,920, breaking last year's mark of 43,898.
In San Antonio, however, lacrosse's growth is charted not in miles but in inches, as a small core of diehards battles to build school programs and maintain the city's post-collegiate club league. They're trying to turn a niche sport into a cultural inevitability, an act of persuasion easier to achieve with youthful neophytes than hardened school administrators.
"After the kids get a taste of lacrosse, they get addicted to it," says McCracken, 32, a former Texas A&M lacrosse player who currently coaches the sport at Central Catholic High. "It's a combination of all the best things from the other sports. You've got the finesse of basketball, the speed and endurance of soccer, the strategy and physical contact of football, and it's very similar to hockey in terms of the excitement, but there's more scoring. Every time a high school kid steps on the field, they're like, 'I want to learn more.'"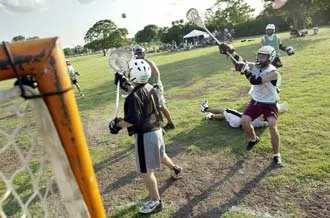 Stick-handling skill tends to be the greatest challenge for inexperienced lax players.
Central Catholic is one of only six local high schools - along with St. Mary's Hall, Texas Military Institute, Keystone, Reagan, and St. Anthony's - to field a varsity lacrosse team, a frustrating reality for enthusiasts who look at the sport's across-the-board presence at public schools in Dallas and Houston and envision the same possibilities for San Antonio.
"We've been trying to spread the sport because San Antonio's been kind of slow with growth," says John Beck, 24, head coach of the Trinity University lacrosse team. "It's usually about politics. A lot of the football coaches tend to be the athletic directors, and the athletic directors don't want to lose their football players to lacrosse."
One of the most appealing aspects of lacrosse has been the way it accommodates its participants' outside athletic interests. Talk to any lacrosse player, and you'll find that they also played soccer, football, hockey, or another sport. Almost certainly, their lacrosse coach voiced no opposition to these endeavors. But in a football-mad state like Texas that sort of accommodation doesn't always go the opposite way.
Beck, who began playing lacrosse while attending boarding school in Avon, Connecticut, notes that the Trinity football team recently lost two of its starting linebackers to lacrosse. He adds that football coaches also worry about the possibility of injuries sustained in a sport played with titanium sticks and built on collisions.
"I've had some serious knee injuries and a couple of concussions from bad collisions with people. Knees tend to be the biggest problem for lacrosse players," Beck says. "It's a fast sport. I'm a really energetic guy, and I love playing it. There's a lot of contact and a lot of crazy things can happen. It's a sport where you never know what to expect."
•
•
•
Laurence Seiterle doesn't hesitate to say that lacrosse turned his life around. The 32-year-old spent his early years in Montreal, Canada, and moved with his family to San Antonio at the age of 5. At 11, Seiterle landed at Eaglebrook School in Deerfield, Massachusetts.
"I went to boarding school because of behavior problems, as did some of these other guys," he says. "I had coaches that really believed in what I was doing, and convinced me to keep trying harder. I wasn't necessarily the best player or the fastest, but I had a huge passion for the sport. When I was a kid, it really saved me. I was usually too tired from playing to get into too much trouble. With the aggression level, you're able to get some of those frustrations out of being a little kid."
Seiterle's self-described passion for the game manifests itself constantly. Even during a summer-league registration-day pickup game at the McCullough/Basse field, he rarely lets up. When he's on the sidelines, with his long auburn hair wrapped in a bandanna, he shouts words of encouragement and advice. On the field, he races from end to end with dogged determination, the epitome of an overachieving sparkplug.
After mastering lacrosse at Deerfield, Seiterle returned to San Antonio, but found little local interest in the sport. As a result, he competed in Austin's summer league for several years.
"Three or four years ago, this league started getting a little more momentum, so instead of going to Austin, I stayed down here," he says. "In 10 years, the caliber of lacrosse players here will be just as good as anywhere else in the country. It's a natural progression. You're seeing a lot more soccer here, and 10 years ago, we were at the same point with soccer that we are with lacrosse now.
"Most of the guys who play on the men's `club` teams are coaches somewhere else, and that's really important. There are more teams being put together than there are coaches."
Seiterle coaches in an unofficial capacity at Trinity, helping Beck and assistant coach Edward Poppe with the fundamentals of lax instruction. Poppe, 25, is slender and dark-haired, with a beak nose and Ross Perot ears. He's quick and athletic, but at 5-foot-8, 138 pounds, he'd be considered too small for most team sports. But lacrosse - unlike football, basketball, or hockey - doesn't demand specific body types.
The object of the game is to use the netting of your stick to catch and pass the ball downfield until you score a goal. Each team fields 10 players, including a goalie, three attackers (who play on the offensive end), three defensemen (who play on the defensive side), and three midfielders (who roam the entire field). Basically, it's soccer with helmets and sticks. If you're athletic, possess great stamina, and can handle the stick with finesse, your size becomes a minor issue.
Poppe grew up in Miami, Florida, and attended high school in Virginia. Like many local players, he learned the game in a highly aggressive, competitive environment where this sport has a history and is taken seriously. While San Antonio lacrosse is only beginning to attain those competitive levels, its underdog status merely intensifies the sense of community among local players.
"The thing that you'll find about lacrosse in San Antonio is that there's a huge passion for it, and lacrosse players are extremely loyal to one another," he says. "They're willing to do whatever they can to make the sport better in their community. A lot of relationships are built by finding out where people played and their history in the sport. So guys like Jay and Laurence have friends in lacrosse all over Texas."
Unlike many of the city's most avid players, McCracken grew up in San Antonio, but he had to leave town to find the sport. A graduate of James Madison High, he played basketball and baseball in high school but knew that he had no chance of catching on in those sports at Texas A&M, where he enrolled in the fall of 1991. "They have a really good club-sports program at A&M, and I started playing lacrosse," he says. "I saw all these guys with sticks beating each other up, and they said, 'Come on out.' I'd never played, but they were real welcoming.
"It takes a little bit of time, but if you've played other sports, positioning and the basic game philosophies are similar. It takes the combination of being a great athlete and having field sense, being able to think on your feet. It's very similar to hockey. If you just stand in the middle of the ice with a hockey puck, you're going to get clobbered."
McCracken says the sport "did a lot for me, getting through college and all that crazy stuff." When he returned to San Antonio, he stayed involved by officiating local men's club games. After one of the games, a parent of a Central Catholic student said, "I really like the way you referee" and asked if he'd be willing to coach the high-school team. After saying no four or five times, he finally relented.
"The high schools are exploding with interest," McCracken says. "The biggest problem with growth is not the level of interest, it's the level of adult support that they need to develop a program. Once their kids get excited about it, most parents will support it. But there's a level of expertise you have to get to."
On registration day for San Antonio's Summer Lacrosse League, McCracken takes the $70 registration fees and hands out jerseys. He looks around and estimates that 10 to 12 of the registrants are current or former Central Catholic players he's coached.
One of his best players, Joel Maloney, 18, played midfield at Central Catholic and plans to attend St. Mary's in the fall. "I was sick of playing baseball coming into my freshman year and I just wanted to try something new," Maloney says. "I liked it and stuck with it. The first year was kind of experimental. I got knocked around in the first year, then the next year I was moved up to varsity and got knocked around some more."
After completing the registration process, players quickly divide into two teams and begin a pickup game. The withering June heat forces plenty of substitutions, with even the youngest, most fit players sucking air after a few minutes. Like the brothers that they are, players alternately reassure and razz each other, ardently cheering good moves and mocking missed goal opportunities.
"That was my assist, asshole!" one player shouts. Another sarcastically responds to a Seiterle steal by yelling: "You're my hero, Laurence." Repeatedly, you hear impatient calls to "just shoot the ball."
After a pass from Beck results in a ricochet goal, Beck - wearing a blue helmet and white jersey, with his face painted with black eye grease - runs to the goal scorer in mock jubilation and jumps into his arms. Within seconds, a handful of their teammates pile on. It's not quite Johns Hopkins capturing the national title over Duke, but for San Antonio's lacrosse community, it'll do for now. •