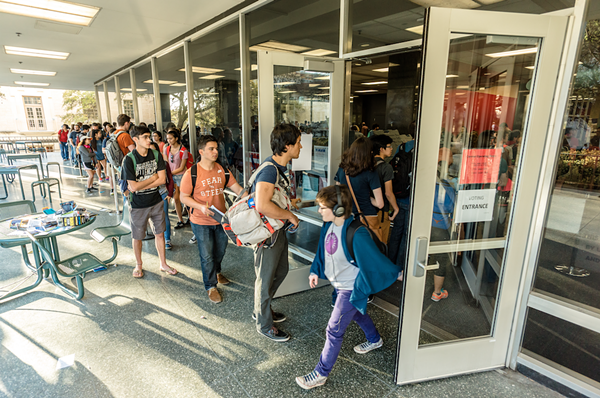 A federal judge has thrown out Texas' contentious voter ID law, arguing that lawmakers "enacted with discriminatory intent" when initially crafting the legislation. U.S. District Judge Nelva Ramos has placed an injunction on both the state's 2011 voter ID law — and the recent legislature's attempt to fix the blatant discrimination woven into the law's text.
"[Lawmakers] knowingly placing additional burdens on a disproportionate number of Hispanic and African-American voters," Ramos wrote. She said the law violated both the Voting Rights Act and the U.S. Constitution.
The law in question blocks people from voting if they can't provide one of seven mandated forms of ID, including a driver's license or passport or a concealed handgun license.
Ramos has already ruled
(twice) that past iterations of the law were intentionally racist, since black and Latino voters are less likely to have one of the seven state mandated forms of ID. Her last ruling asked the legislature to fix this inequity, which they attempted to do with Senate Bill 5 — a measure allowing ID-less voters to sign a letter swearing they are who they say they are before voting (or face strict persecution for voter fraud).
Judging by Wednesday's ruling, this wasn't the fix Ramos was looking for.
Instead, Ramos decided, Texas should get rid of voter ID laws altogether because of their inherently racist roots. "The lack of evidence of in-person voter impersonation fraud in Texas belies any urgency for an independently fashioned remedy from this court at this time," she wrote.
In a press release, Texas Attorney General Ken Paxton promised the state would appeal Ramos' decision to the 5th Circuit Court of Appeals, calling the ruling "outrageous" and mentioning the
White House's recent flip-flop
on the case.
"The U.S. Department of Justice is satisfied that the amended voter ID law has no discriminatory purpose or effect," said Paxton. "Safeguarding the integrity of elections in Texas is essential to preserving our democracy."
Not all Texas lawmakers agree. "What's 'outrageous' is that the [Texas Legislature] continues to pass discriminatory efforts to suppress voting," tweeted Senator Kirk Watson, D-Austin, in response to Paxton's statement.
This ruling
comes a week after
a San Antonio federal judge ruled that Texas lawmakers were also intentionally racist when drawing district lines — which ultimately muted minority votes.