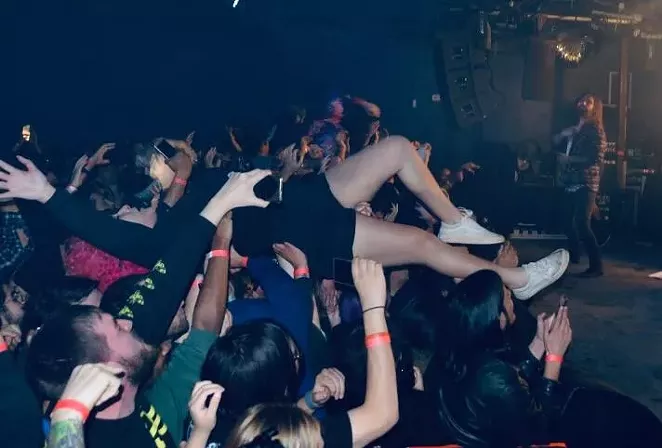 Chris Conde
A girl lands in the crowd after stage diving as the lead singer from Every Time I Die rocks out.
"Don't be mad," I said to my boyfriend through a FaceTime call as he was getting home from work. "But I'm going to Turnstile and Angel Du$t tonight."
He hangs up on me and I laugh out loud 'cause I know he's pissed he can't go since he lives in Austin and has to be up at like 4 a.m.
He calls me back and with a smile tells me to enjoy myself and have fun without him. We both agreed that this lineup is probably one of the best hardcore lineups to pass through Texas all year.
A friend and I got to the Paper Tiger just as Vein was closing out their set. I had seen them live before when they toured with Code Orange earlier this year. They put on a rowdy show, and anyone who has seen them live would probably agree that they are definitely one of the rising powerhouses in hardcore right now.
Being a gay dude and growing up going to hardcore and metal shows, I've had to be more aware of my surroundings than my straight counterparts. I think women and other people of color can agree that sometimes punk rock and hardcore can oftentimes not be a safe space for us. Trust me when I say that homophobia, misogony and racism still exist – even at rock 'n' roll shows.
This didn't feel like the case at all at last night's show.
Spotting another LGBTQ friend in the crowd and seeing a huge amount of women at this show, which featured headliners Every Time I Die, the aforementioned Vein and Trapped Under Ice splinter bands Angel Du$t and Turnstile, it really stood out to me how diverse the audience was.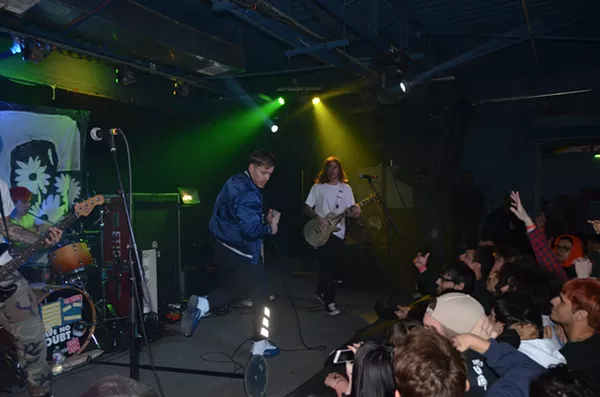 Chris Conde
Angel Du$t
It's hard to describe Angel Du$t without just blatantly saying the dudes, especially heartthrob frontman Justice Tripp, look and sound smooth as fuck for being a hardcore band. A wave of arms and fists ebb and flow through the crowd as the Maryland band pulled the audience through half an hour of their punk rock/hardcore stylings.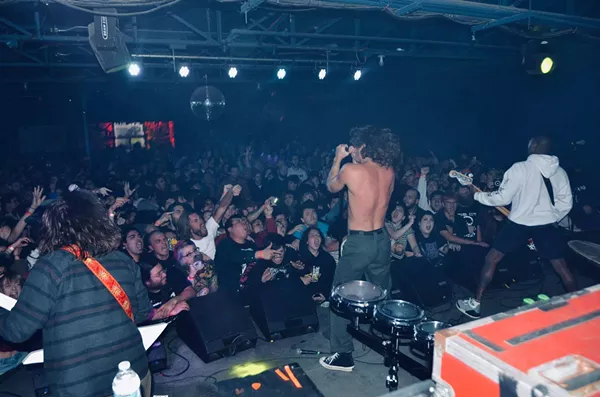 Chris Conde
Turnstile
I made my way to the side of the stage to get some shots and protect my camera because the room was in full-on riot.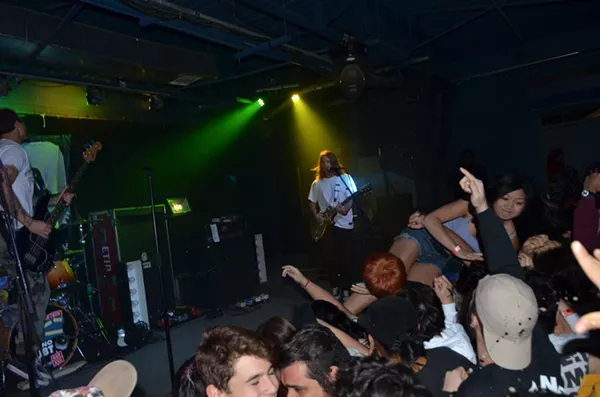 There definitely were some dudes in the mix, but seeing these ladies hold their own, swinging fists in the pit, made me hopeful that this and the next generation of hardcore kids from marginalized communities will claim their space at these shows.
Headliners Everytime I Die, who were on tour celebrating their 20 years as a band, rocketed into their set as the room was bursting at the seams.
Chris Conde
Every Time I Die
The band played a little bit from all of their albums over the course of two hours, stopping between songs to muse at how rowdy the San Antonio crowd was. "There's nothing like a show in Texas! I knew this was going to be the show of our tour after the third song!"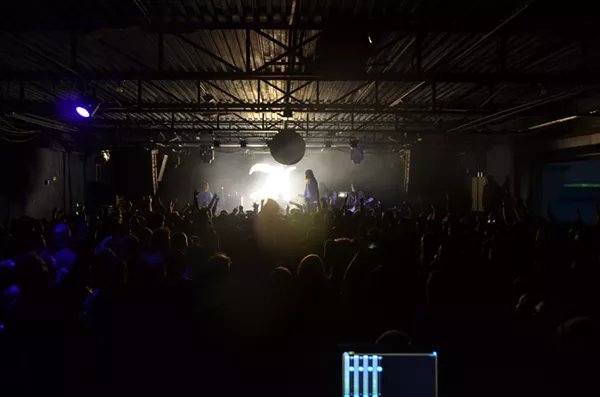 Chris Conde
Every Time I die
We're definitely in a new age of hardcore. Last night reflected that, and it feels more inclusive than ever.
Get our top picks for the best events in San Antonio every Thursday morning. Sign up for our Events Newsletter.