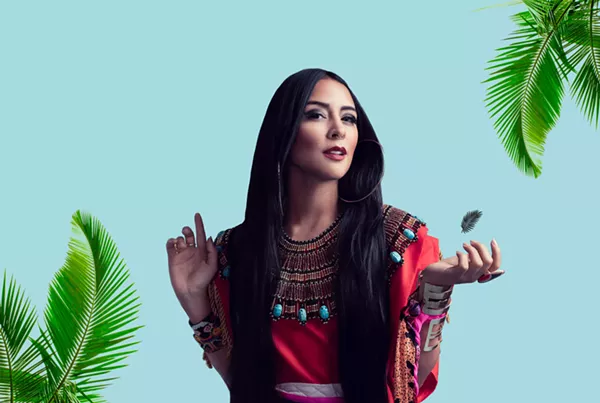 Watching Femina-X gain momentum over the last several years has been exciting. The Latin-rock, alt-pop, trip-hop, world-music group has never tried to be anything but themselves as their sound has matured. They've explored tribal sound textures and Native American tones in their tracks, which grabbed the attention of publications such as
Texas Monthly
and
Vice
.
Spearheaded by Daniela Riojas, who works as a full-time professional photographer and artist, the front-woman explores her own spirituality and native roots through her music, which is clearly on display in the band's latest offering,
KIVA
.
So is Riojas's grief over the death of her mother from cancer in 2017.
"Of course, by the time you record all the songs, you've written them all [long] before," Riojas says. "So it's a little hard to be in all these places at the same time, and say, 'Oh, this is what the album is [about]' because it's a lot of different things. But I think the fact that [the songs] all came together when I was grieving my mom – I kind of grabbed at a bunch of [songs] that I had put aside. But then all of a sudden it became super important to me to document for my mom because they felt like the truest essence of me. Whenever you're grieving a parent, everything you think about is your childhood, your past and all the different experiences that you had with your parent. So I kept thinking about when I lived with my mom, and so it made all these songs more special, like 'Moon Song' – my mom loved that song."
"Moon Song" might also be my favorite
off
the album. The track opens with a descending piano chord progression that plays over a slower salsa beat as Rioja's feather-light, but penetrating, vocals weave around the track and envelop the atmosphere of the song with layered harmonies. It's punctuated with moments in which she uses her voice as percussion.
"I wrote this song after an ecstatic experience, swimming in the San Antonio River by Blue Star during a full moon during a mushroom ceremony," Riojas said. "I was definitely in
ceremony
with the river water and the moon – just a human observing and experiencing the spiritual connection they create and realizing that I was being pushed onto a path of awareness by my ancestors."
Another stand-out track will be the first single from
KIVA,
"Las Caderas."
The
dance track on the album, "Las Caderas" is punctuated with flutes and a driving bass line that pulses over a grooving Latin-inspired beat that encourages listeners to move to the rhythm of the track.
"'Las
Caderas
' is definitely more pop, taking inspiration from tropical dance/rave/folk rhythm," Riojas said. "More South American for sure. I wrote this song on an upturn from grieving. I wanting to step back into the joy of life after feeling the great loss of my mother. Though the lyrics are a bit critical of our divided lives and perceptions of each other created by social media, it's also a critique of the kind of hostility and bullying that happens online and a call to action to forget all these forged identities and just dance and move your hips!"
Overall, the album feels like a sophomore record. From the production to musicianship and cohesiveness of the collection of songs, there's a maturity about
KIVA
that feels different from 2017's
Multiverse
. It's less self-focused and more outward-looking, encouraging listeners to find their own light.
"In
ceremony
, I've always learned that the medicine in the plants that we use will only work if you're ready to explore everything," said Riojas. "You can't be like, 'Oh, I only want it for this' or 'I only want it to show me this part of myself.' It exposes everything. So, I guess, that would maybe be what
KIVA
is."
Femina-X will play their album release show at Sam's Burger Joint on Friday, July 6, with Arte y Pasión and Volcán, directly followed by a two-week tour, which will take the band up the East Coast and down through the Midwest.
For updates on the band and to hear more recordings, follow the group at
femina-x.com
.
Listen to "Las Caderas" below
:
Stay on top of San Antonio news and views. Sign up for our Weekly Headlines Newsletter.