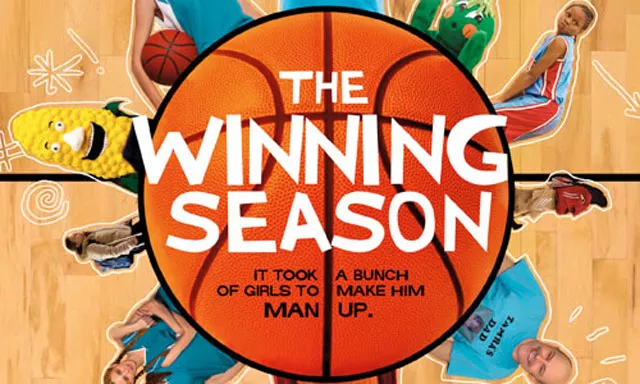 With high-definition video cameras now democratizing the filmmaking process, expect a parade of low-budget films clogging the internet. Lost in the crowd, here are two films with recognizable stars that never gained attention. The first is The Winning Season, starring Sam Rockwell as an alcoholic dishwasher who gets a second chance to coach a girls' high school basketball team. Of course the girls are a cast of loveable misfits (they probably were envisioned as some sort of female Bad News Bears.) And, of course, the coach is a belligerent but well-intentioned drunk. Rockwell owns this movie. Physically, he couldn't look any less like a basketball player, but Rockwell is always interesting and convincing in just about whatever he does, even with material that on second glance seems simple. His life is spiraling downward with a broken marriage and a daughter who now hates his guts. Rockwell becomes a surrogate father figure to the girls' basketball team and grows just enough to give a shit about his life again. The film might not be great, but Rockwell proves his worth with his rogue charms. Consider him a little better than a poor man's Robert Downey Jr.
Whereas The Winning Season is fairly straightforward, I was more impressed with a 2008 film called Lymelife. It's full of great actors: Alec Baldwin, Timothy Hutton, Emma Roberts (who also starred in The Winning Season) and not one but two Culkin brothers, Rory and Kieran. In Lymelife, set in 1979's Long Island, Hutton is suffering from a mysterious condition called lyme disease. This illness starts with a tick bite and, if left untreated, creates depression, psychosis, and other debilitating ailments. This illness could be symbolic of what happened to Hutton's career, but more likely this disease is used to symbolize the bizarre malaise that affects two interconnected, dysfunctional suburban families in the film who seem to always be fighting or getting it on. Baldwin almost steals every scene he's ever been in, yet the real gems of the film, amazingly, are Rory and Kieran Culkin. Lymelife isn't as good as it thinks it is, but the actors keep you entranced.
Cinefile is a random reference guide to help explore the vast catalog of films available on Netflix instant viewing, with special emphasis on the interesting, the unusual, and the ones that got left behind.