With October coming to an end, it's a bittersweet feeling knowing that November is just around the corner. But along with Thanksgiving and the lighting of the Riverwalk, November is filled with plenty of events that will get you excited to take your Halloween costumes off and prepare for what's coming up next.
Ticket Release Party for SACC //
If you're interested in sipping on cocktails from all over the world, than you'll want to be at the ticket release party for January's San Antonio Cocktail Conference. This party involves a night full of cocktails, food, entertainment and prizes.
$45, 6:30-9:30pm, November 1, The St. Anthony's hotel rooftop, 300 E. Travis St., (210) 227-4392, sanantoniococktailconference.com.
Tango of the Vines //
In support of the Amniotic Fluid Embolism Foundation, Tango of Vines will host the fifth annual showcase a diverse selection of San Antonio cuisine, Texas Hill Country wines, local brews, along with live entertainment, a casino, and a silent auction.
$60, 7-11pm, November 3, Witte Museum, 3801 Broadway, tangosatx.com.

Wurstfest //
The annual festival held in New Braunfels is back to celebrate German culture with a lot more then just sausage and beer. This German-filled event begins from November 3 and lasts for 10 days.
Times and prices vary, (guests who arrive before 7 p.m. on November 3 and after 3 p.m. on November 12 get in free), 120 Landa St., New Braunfels, (830) 625-9167, wurstfest.com.

Dia de la Muerta X Festival //
Hosted by Freetail Brewing Co. this festival celebrates the release of the award-winning La Muerta. The day features The Beacon Food Truck and Panifico Bake Shop's 2Sueet food truck.
$15-$30, 9am-10pm, November 4, 2000 S. Presa St., (210) 625-6000, freetailbrewing.com.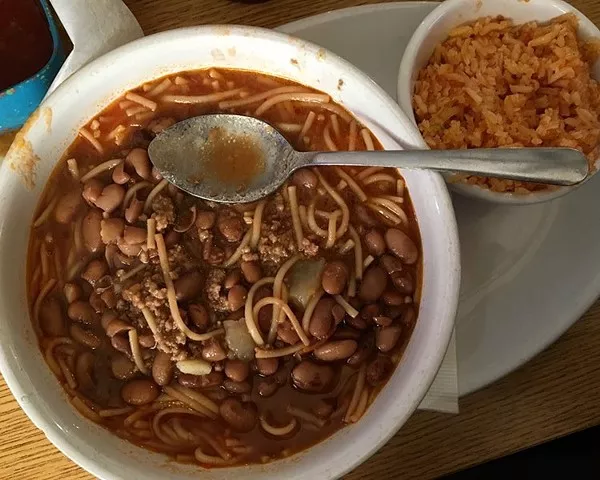 Fideo Loco Fest //
The
Fideo Festival and Cook-off
will give your grandma a run for her money. But if you think she or you have what it takes to join the Fideo cook off, visit their Facebook page to join.
$2-$4., 11am-7pm, November 4, 410 Sports Bar, 9607 Southton Road, (210) 421-9143.


Pinks for Lupus // The Lupus Foundation of America's Lone Star Chapter is hosting an event to raise funds and awareness for lupus, a chronic autoimmune disease that affects approximately 120,000 Texans, and primarily women. Popcorn proceeds from the event will be donated to both organizations. Prices vary, noon to 4pm, November 4, 10501 Huebner Road, (210) 468-5533, pinkspopcorn.com.
<!—————————EndFragment—————————>
Saint Arnold Pub Crawl // If you're looking for another pint glass to add to your collection, this pub crawl is for you. Begin at either The Friendly Spot Ice House, B&D Ice House, Frank, or Stella Public House. There, you will receive a punch card to prove you have made each stop in your route. At the final stop, the Alamo Street Eat Bar, you will receive a free Saint Arnold Pub Crawl pint glass. Free, 2-6pm, November 4, various locations.
<!—————————EndFragment—————————>
Southerleigh Beer Dinner // Enjoy a five-course dining experience including oysters, dry-aged beef, seared turbot and Oaxacan chocolate, paired with exclusive brews at Southerleigh Fine Food & Brewery. The kitchen staff and brewers teamed up to showcase their skills more with this limited seating dinner. $80, 7-10pm, November 5, 136 E. Grayson St., (210) 455-5701,
southerleigh.com.


Free Ice Cream Day
// For all you ice cream lovers, Amy's Ice Cream is giving away free ice cream to celebrate 34 years of 'Making People's Day.' The store will offer one free tiny or small, with or without topping, per person.
Free, 3-7pm, November 7, 225 E. Basse Road, (210) 838-8886, amysicecreams.com.
Paws & Pints // Talk about it! SA will be hosting the free Paws & Pints event where San Antonio residents can drink beer, adopt pets and or obtain spay/neuter vouchers for dogs, 40 pounds and over. Vouchers will be given on a first-come, first-served basis. Bring your friendly furry pooch. Free, Noon, November 11, 202 Lamar St., (210) 872-5589, alamobeer.com.
<!—————————EndFragment—————————>

Hog Dinner at Krause's // Krause's Cafe & Biergarten will be joining forces with Republic Whiskey to host a four-course dinner. Chef "Boomer" Acuna will pair dishes with Republic cocktails. $60, 6:30pm, November 14, 148 S. Castell Ave., New Braunfels, Texas, (830) 625-2807, ticketstothecity.com.
<!—————————EndFragment—————————>

<!—————————StartFragment—————————>
5-Year Anniversary Dinner at The Granary
// Five years is a big effin deal in restaurant world, and The Granary 'Cue and Brew is celebrating their fifth by hosting an "all-you-can-eat, no-utensil dinner" featuring traditional beef cuts. Sponsors, Flannery Beef and Broadbent will provide the food and wine for the event whose proceeds will go toward ChildSafe, which helps treat children traumatized by abuse and neglect. In addition, patrons will receive aprons designed by local artist Cruz Ortiz. $150, 6:30-9pm, November 15, 602 Avenue A, (210) 228-0124, thegranarysa.com.
<!—————————EndFragment—————————>
<!—————————StartFragment—————————>
Weathered Souls // Weathered souls is celebrating their first year anniversary with games, contests, music, food and rare beer tappings that will be released at various times during the event. $18-$35, free for 20 and under, 2pm-midnight, November 18, 606 Embassy Oaks, (210) 313-8796, eventbrite.com.

<!—————————EndFragment—————————>
<!—————————StartFragment—————————>
Vegan Feast at Green // Thanksgiving is around the corner and Green Vegetarian Cuisine is having their vegan thanksgiving feast. Dishes include but are not limited to vegan takes on turkey, glazed ham, herb mashed potatoes and gravy. $30, 11am-3pm, November 23, Pearl, 200 E. Grayson St. and the Alon location, 10003 NW Military Hwy., eventbrite.com.


<!—————————StartFragment—————————>
River Parade Dinner at Biga // Have a two-course dinner at Biga on the Banks, that includes your choice of turkey posole, pressed grilled cheese with cranberry chutney, and sauté of beef tenderloin or roasted and caramelized fall vegetables, before moving to a close-up seat for a Riverwalk Parade experience. $50 for children, $90 for adults, 5-11pm, November 24, 203 St. Mary's St., (210) 225-0722, eventbrite.com.