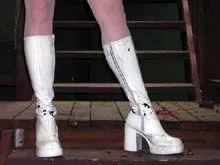 Fiesta faux pas, unless you're a cast member in a Cornyation skit, as this Barbarella look-alike is.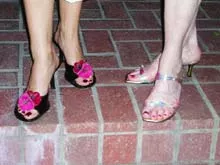 Fiesta fabulous, with flowers, iridescent finishes (this year's best bet), and, of course, a fresh pedicure.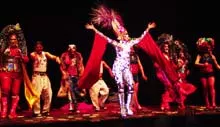 Cornyation: Fiesta's mid-course correction










Tiptoe through the tequila cups
How do the well-heeled prepare for Fiesta? Spring for special heels, of course, a tradition that drives sales at Julian Gold on McCullough, the Texas clothier to San Antonio ladies since 1945. "Oh my god," exclaims Jesse in the shoe department, "we're probably the Fiesta store in San Antonio."
"I noticed the sign advertising Fiesta sandals," I say. "What's in this year?" Kate Spade, the handbag wünderdame turned cobbler, Claudia Ciuti, and Giuseppe Zanetti ("We've just sold a lot of those for Fiesta," Jesse adds.)
If you're planning on faking the look at pocket-book friendly DSW, Deichman's, or Payless (after all, there are few shoe environments as demanding as Fiesta's hot, crowded, sticky-substance-infused asphalt) keep these trendy tips in mind: Pink is still really big, with coral and orange a close second, but if you want to be hot to trot for the Battle of the Flowers parade, go for a metallic wedge with turquoise stones. Jesse sums up: "Anything whimsical." — Elaine Wolff
Didn't get Cornyation tickets?
Drown your sorrows with the cast at Corn Ball
Cornyation, the 50-year-old no-holds-barred spoof that has grown into one of Fiesta's biggest events has begun to spin off franchises. The second annual Corn Ball, held the last Friday of Fiesta after the Battle of Flowers parade, is hosted by CornyX, the Cornyation alumni association. The event celebrates the current casts and production crews and raises additional funds for Cornyation's selected charities. But at the Ball, everyone's a performer. 8pm Friday, April 22, Sunset Station. Admission is $15. For more info, visit cornyation.org/corn_ball.htm or call 733-0201.