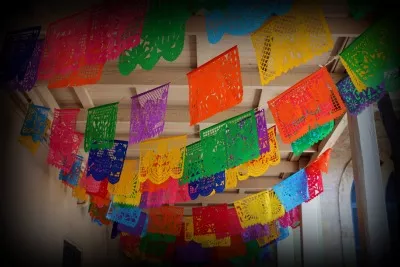 Photo by Elizabeth Chavez
Our San Antonio Fiesta started in 1891 as a way to honor the memory of the heroes of the Alamo and the Battle of San Jacinto. What was once a single parade made up of a group of ladies riding in decorated horse-drawn carriages in front of the Alamo, and throwing flower blossoms at each other, is now an all out festival with more than 100 events and an economic impact of almost $284 million for the city.
Fiesta has been dubbed "The Party with a Purpose."  Every single one of the 100 official events that take place during Fiesta each year is sponsored by a local nonprofit or military organization selected by the Fiesta® San Antonio Commission. The funds that are raised provide services to San Antonio citizens across the city, throughout the year. In addition, small non-profits such as scout troops, church groups, civic clubs, etc. are able to raise funds by selling seats along the parade routes. Each of these organizations raises thousands of dollars each year–about $600,000 combined for the Battle of Flowers and Fiesta Flambeau parades. In a way, Fiesta never ends in San Antonio because those groups are giving back to their neighbors year round. Isn't that awesome?
Here are some of the ways the organizations involved in Fiesta are directly helping San Antonio citizens:
Scholarships
Alamo Area Square and Round Dance Association

Alamo Mission Chapter, Daughters of the Republic of Texas (Pilgrimage to the Alamo)

Association of Old Crows, Billy Mitchell Chapter (FiestaCrow)

Cherice Cochrane Mentoring for Success Foundation (Mr. Teen San Antonio Scholarship Banquet)

Fiesta Cornyation

King William Association (King William Fair)

League of United Latin American Citizens Council #2 (Reina de la Feria de las Flores Reception)

Military-Civilian Club (sponsor of Fiesta military ambassadors)

Miss Bexar County Organization (Miss San Antonio Pageant)

Miss Fiesta San Antonio Scholarship Pageant

NAACP Youth Council (Youth Image Awards Banquet)

Palo Alto College (PACFest)

Pan American League (Fiesta Olé Style Show & Luncheon)

Psi Alpha Chapter, Omega Psi Phi Fraternity Inc. (Fiesta Jamboree)

Queen of Soul Inc. (Queen of Soul Pageant)

Rey Feo Scholarship Committee (La Noche del Rey)

Rolling Hills Academy (Colores de Fiesta Gala)

San Antonio Woman's Club (Teenage Queen Coronation, Fiesta Flower Show, Fiesta Luncheon, Style Show & Hat Contest)

St. Mary's University Alumni Association (Fiesta Oyster Bake)

University of the Incarnate Word (Cutting Edge Fiesta Fashion Show)
Other ways of giving back
Alamo City Rugby Club (Rugby Tournament)—Participation in Elf Louise's Christmas gift drive.

Alamo Council, Navy League (Navy Fiesta Reception)—Supports area Sea Cadets with donations & an annual award ceremony.

Alamo Exhibition Bird Club (Alamo Bird Mart)—Members take exotic birds to schools for a Rainforest Education program.

Alpha Kappa Alpha, Alpha Tau Omega Chapter (Praise Dance Celebration)—sponsors programs for young women.

American Red Cross (supports various Fiesta events)—Disaster relief.

Battle of Flowers Association (Parade & Band Festival)—Oratory & Essay contests.

Blessed Sacrament Academy (Sticky Wickets Croquet Tournament)—Sponsors a Parents Academy, Counseling Center, Child Development Center & Por Vida Academy.

Cherice Cochrane Mentoring for Success Foundation (Mr. Teen San Antonio Scholarship Banquet)—Mentoring program.

Clark High School Band Boosters (Fiesta Funday Sunday)—Proceeds support band activities.

Daughters of the Republic of Texas, Alamo Couriers Chapter (Children's Texas History Forum)—sponsors free living history programs for San Antonio-area schools.

Daughters of the Republic of Texas, Alamo Mission Chapter (Pilgrimage to the Alamo)—Gives four $4,000 scholarships, honors teachers of Texas history & sponsors essay contests for 4th & 7th grade students.

Daughters of the Republic of Texas, Alamo Heroes Chapter (San Jacinto Memorial Ceremony)—scholarship, book & flag donations, history programs at area schools.

Delta Society (Fiesta Pooch Parade)—provides specially trained dogs for visits to hospitals, hospices & schools.

DRT Alamo Inc.—Summer education camp at The Alamo.

El Consejo de Reyes Feos Anteriores (Rey Feo Reception)—Former Reyes Feos raise funds for scholarships that benefit San Antonio students.

Lo Bello de San Antonio Women's Club (Champagne & Diamonds Brunch)—Makes donations to local charities.

Miss Bexar Co. Organization (Miss San Antonio Pageant)—Sponsored a free spa day for recuperating women service members & wives & mothers of military recuperating at Brook Army Medical Center.

Randolph Art League (Exhibit & Sale)—gives a donation to the Battered Women's Foundation.

Retired Senior Volunteer Program (Senior Fiesta)—Takes part in Community Emergency Response Teams, provides volunteers for other needs.

Rolling Hills Academy (Colores de Fiesta Gala)—Strives to graduate students who have integrity, character, a solid knowledge of their faith, & a superior grasp of the humanities & sciences.

San Antonio AIDS Foundation (WEBB Party)—Uses revenue from its Fiesta event to serve AIDS patients throughout the year.

San Antonio Blues Society (Fiesta Blues Heritage Series)—members teach San Antonio students about the blues.

San Antonio Botanical Society (Walk Across Texas)—Connecting people to the plant world through experience, education & research.

San Antonio Charro Association (Day in Old Mexico & Mexican Charreada)—educates local youth about the traditions of Mexican charreria.

San Antonio Conservation Society (A Night in Old San Antonio)—Preserves historic San Antonio buildings, donates books to local libraries, gives bus tours, offers grants, sponsors cultural festivals & presents awards for restorations.

San Antonio Parks Foundation (Fiestas Fantasías at Market Square)—has donated new sod for Travis Park.

Southwest School of Art & Craft (Fiesta Arts Fair)—art classes.

St. Jude's Ranch for Children (Texas Corvette Association Car Show)—Provides a safe haven for abandoned, abused & neglected children in central & south Texas.

St. Luke's Catholic Church (St. Luke's Fiesta Finale)—Church ministries.

Texas Cavaliers (Investiture of King Antonio, River Parade)—Supports area children's charities through its charitable foundation.

Texas Community Health Network (Piñatas in the Barrio)—Improves & extends availability of primary health-care medical services for the indigent, elderly, physically challenged & youths at risk.

The Brighton School (A Taste of the Northside)—has provided services for San Antonio children with disabilities & their families since 1969.

Urban 15 (Incognito: Fiesta's Masked Ball)—Gives area children the chance to express themselves with music & movement.

Witte Museum (Fiesta exhibit)—Innovative programs in history, science, & culture.

Women's Soccer Association (Soccer Tournament)—Promotes soccer for girls & women of all ages in San Antonio.
If you want to read more about the charitable impact of Fiesta check out the Fiesta website. That's where I found all of my data.
Viva Fiesta!