Fires may have left several San Antonio restaurants out of commission last fall, but for one north side eatery, it was just another obstacle to overcome.
King's Bowl's origin story goes as far back as 1975 with the arrival of Chung Tim Tam (or Andy as he was more widely known) and later 1981 when his soon-to-be-wife Siu Ping Yuen (or Sue) arrived in the U.S. The pair married in 1982 and opened Rice Bowl on Fredericksburg and Medical Drive as San Antonio's first Chinese eatery with a drive-thru. After 10 years, in 1992, Rice Bowl's lease ran out and Andy and Sue would go on to purchase a building at 5727 Babcock Road to open King's Bowl Chinese Restaurant the next year. Three years later, Andy lost his battle with cancer.
"It was hard, but all our uncles and family came down to San Antonio to help us with the restaurant," said eldest daughter Amy Tam, who was in her early teens at the time.
Sue teamed up with niece Tung Fei Lee (Shirley) and her husband Bai Hua Chen (Chen) who moved from New York to help keep King's Bowl open.
The shop, which is known for house-made sauces, delicate batters and seriously addicting fried dumplings has seen diners' tastes evolve (Sue mentions guests are into spicy food these days) and have changed the menu accordingly — they began serving bubble tea a few years back to accommodate those changing palates. King's Bowl chugged along until late last fall when a small electrical fire over the eatery's drive-thru window forced them to close. Though only a small portion of the roof needed repairs, smoke damage to the interior of the eatery meant having to close the restaurant for four months, prompting life-long fans to check in on all three Tam sisters via Facebook.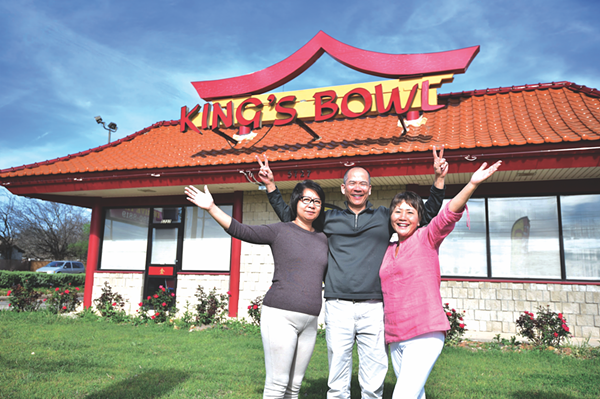 "It's all new ceiling tile. Everything was treated for smoke damage, sent out, cleaned and brought in," Tam said while pointing to new plates and glasses that had to be purchased for the reopening.
An additional hiccup kept the doors closed an extra month after the shops copper wiring was swindled on January 31.
"The theft was a bit of a headache," Tam laughed.
The doors at King's Bowl reopened officially on March 5 with traditional lion dancing and more of those dumplings, and it was back to work for Sue, who still pulls 12-hour days catering to her regular customers. For Tam, reopening the eatery was never a question.
"My dad was always at the restaurant. As you get older you really do appreciate it. It's the American dream. They came here with nothing on their back and they made it," Tam said. "It's something they built together and she wants to see the restaurant continue. 5727 Babcock Road, (210) 690-8819, kingsbowlchinesefood.com.