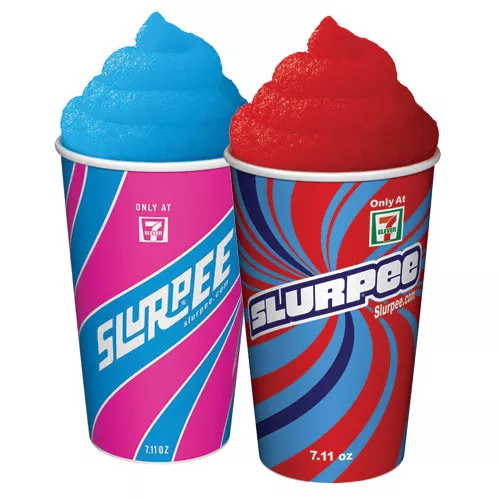 Slurp it up, SA. (Via)
Friday, July 11 is 7-Eleven Day which means 7-Eleven (multiple locations) is giving out free small Slurpee drinks from 11 a.m. to 7 p.m. If that's not tempting enough 7-Eleven is taking a step further and offering food freebies all week. If you download the 7-Eleven app, you can get a freebie everyday from Saturday, July 12 to Saturday, July 19 including a Big Gulp, Twinkies, a Snickers or Twix ice cream bar and a Slurpee.
Del Taco (10926 Culebra) is celebrating their 50th anniversary all summer with a "Throwback Classics Menu" now through Wednesday, September 3. On the menu are three classic items: bun taco, small taco salad and an orange shake. Del Taco will also hold anniversary parties at their 546 restaurants nationwide in Saturday, June 21 at 2 p.m.
Kate's Frosting is combing both locations to the North Main Avenue store to house more ovens, equipment and staff and expand the menu to include pies, read-to-go cakes, cookies and more. Kate's also plans to start opening earlier the fall so you can some that sweet goodness early in the morning.
In sad sweets news hopefully not related to some cupcake drop-off, Crumbs Bake Shop is closing its stores nationwide. The cupcakery opened its doors in 2003 in Manhattan and grew to provide more than 50 varieties from Girl Scout Thin Mints and cookie dough to brownie and carrot.
For all you French foodies, the french holiday, Bastille Day is Monday, July 14 and La Madeleine (multiple locations) is celebrating by offering free mini liberty tarts all day. No purchase is necessary to enjoy these French delicacies.