"A Delivery To Your Senses" at UTSA Satellite Space launched a strong show last night with works by Nikki Anderson and Paul Northway. If you brave the heat and the crowds at tonight's First Friday, make sure to stop by to check it out. Above, one of a handful of Anderson's constructed  scenes, shot in Iceland. Garden trolls from space?
More curious forms by Anderson, seen here in the gallery.
UTSA Satellite Space, Blue Star Arts Complex, (512) 558-2676
At Joan Grona Gallery works on paper by Eduardo Daniel Rodriguez attracted much attention. Drawings  in paint, these are  studies that  feel guileless, lacking in pretension. Good choice for an August show--it's too hot  for bullshit.
Joan Grona Gallery, 112 Blue Star, 210) 225-6334, joangronagallery.com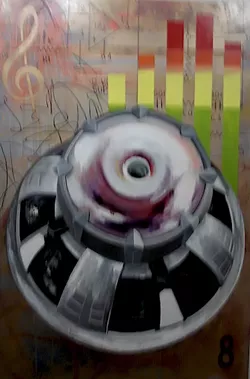 Studio 106B presents works by Rene Rodriguez. Fave of the show is above, a nice confab of expressive brushwork, design and a good drawing hand. Follow this young artist; there is some promise here.
"Sub-Trance Communication"   Studio 106B Blue Star Arts Complex, Building B, studio106b.com
-Scott Andrews