Here's a preview of new First Friday shows for February:
Gloria Trevino at Alba DeLeon Studio B, photographs of Erica Wilson-Perkins and the Erison Dancers.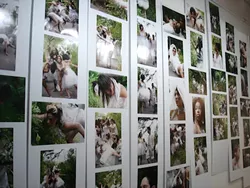 Installation view of photographs by Gloria Trevino at  Alba DeLeon Studio 106B in the Blue Star Arts Complex in Southtown.
Sculpture by Katy Heinlein at UTSA Satellite Space, "Movement into Form."
Painting with wood marquetry by Daniel McFarlane.
Free; 6-9pm Fri; UTSA Satellite Space, 115 Blue Star, (210) 212-7146
Painting by  Julie Shipp at Joan Grona Contemporary Art.
Free; 6-9pm Fri, 12-5pm Tue, 11am-5pm Wed-Sat; 112 Blue Star, (210) 225-6334, joangronagallery.com
"Daddy's Chair, a Corner  Chairperson: To Be Worn By Two Members of the Family," installation by Marilyn Lanfear at Stella Haus at Blue Star Arts Complex.
Performance artist Jimmy James Canales wearing a cactus bra. His video installation, Baile esta Cactus, on view at cactus bra SPACE, documents his affair with a prickly pear cactus.
Free; 6-9pm Fri and by appointment; 106 C Blue Star, (210) 226-6688, cactusbraspace.com
Art to the Third Power at the Blue Star Lab presents video and photography documentation of The Texas Size Print installation of steam roller monoprints at Alamo Stadium.
Free; 12-6pm Thur-Fri; 114 Broadway, (210) 227-6960, bluestarart.org, arttothethirdpower.com
Photos: S. Andrews and Bryan Rindfuss