Here are a few suggestions for tonight's art hike:
UTSA Satellite Space
Black Sites  / Black Sounds
An ominous dark throbbing tone like a waiting locomotive's pulse hits you before you enter the gallery, and once inside, continues to tap impatiently at the back of your neck. "Black Sounds," made by Justin Boyd, is the soundtrack to Ron Bink's linear installation  "Black Sites," places of Nazi terror in Berlin documented in 24" x 96" digital prints. Bink says of the show that it is "organized like a movie." It is also a train ride to hell.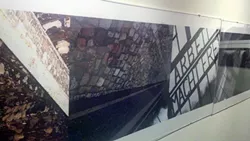 At the front of the space are shots looking upwards between buildings, revealing patterns of cruciforms, barbed wire and swastikas in the open tree laced sky. Further on, rows of claustrophobic tight cityscapes, brick work and anonymous street corners document places filled with torture and death during the Third Reich's 1933-1945 reign. Track 17, the station where the last 43,000 Jews left Berlin for the death camps, is depicted urbanely—proper and clean like the future Hitler promised to children.
112 Blue Star,  (210) 212-7146, art.utsa.edu/satspacegallery
Three Walls
Gary Sweeney: "Take a Chance, Take a Chance, Take a Chance Chance Chance"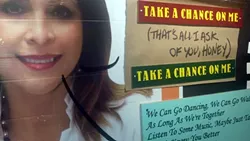 Gary Sweeney has pulled off the impossible. He's made local political candidates look winsome and guileless.  Sweeney often reworks texts captured from signage in his work; last fall he opted for another tact when he saw campaign signs on lawns with photos of big, happy faces. Cut from their posters, they now fill the gallery walls, mixed with the mushy words from ABBA's 1978 pop hit "Take a Chance on Me." Sweeney says that feedback from the local pols, all lawyers who hoped to be chosen judges or DA, has been positive. Seems many are friends, and may show up for a live group portrait in front of their purloined pictures.  Thank you, Mr. Sweeney, for saving democracy!
106D Blue Star, Building B, (210) 219-1562
Joan Grona Gallery
John Cody Williams: "Spectral Play in the Golden Ether"
Mason, Texas native John Cody Williams makes his first foray into the SA gallery scene with mixed media drawings that, he writes, "explores the themes of masculine identity and homo-romanticism within the context of ephemeral moments." The new works by the 2008 University of Houston grad are sometimes humorous, and are tightly rendered, but look closely. What seems to be flirty queer house jewelry is ridden with a nervous twitch, an insecurity that rides both the artist's comment, and the work's over stuffed execution. It's a peculiar sort of bravado.
112 Blue Star, (210) 225-6334, joangronagallery.com
Melinda Martinez Studio
"Monster Show"
Away from the Blue Star complex, just up South Presa, lies the Melinda Martinez Studio which is currently filled with works by Albrechto Alvarez, Alejandro Padilla, Manuel Salazar, and Angela Weddle. The gallery has a Juxtapoz con SA Westside vibe to it; our fave work on view now was an accordion-like book of drawings by Weddle and seven small drawings by Alavarez.
SA native Alvarez chronicles the tough streets and dark moods of the city with a Neo-Baroque drawing style he honed at Rhode Island School of Design, where he studied animation. His cross-hatched drawings leave out mid-tones to create a wood cut effect that mixes dreamscapes with news stories of atrocities and mumbled war confessions together like the compulsions of a 21st century Hieronymus Bosch. See this.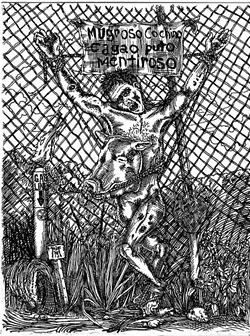 628 S. Presa, (210) 687-6719
-Scott Andrews
sandrews@sacurrent.com