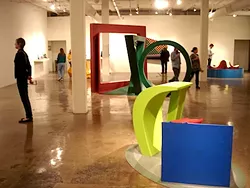 Room view, British sculptor Phillip King, "Four Decades with Colour" at Blue Star Contemporary Art. The exhibition features more than 20 sculptures and prints, made from 1963 to 2011.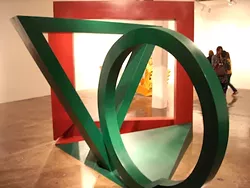 Close up view.
Phillip John Evett was born in Kent, England, and studied art in Cambridge and Belfast. Professor Emeritus of art at Trinity, he currently lives and works in Blanco, Texas.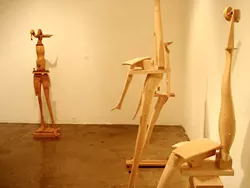 Evett's forms mix figuration and abstraction, showing plenty of leg.
Harold Wood was born in Preston, Lancashire, England.  He arrived in San Antonio in 1978. His recent paintings are expression culled from several decades of aircraft interior design. The Wood, Evett, and King exhibitions are part of the British Invasion at Blue Star Contemporary Art, on view to February 12. bluestarart.org
Now on view at Joan Grona Contemporary Art are paintings and mixed media works by Jason Willome (above), from Mico, Texas, and sculpture by Emily Fleisher.
Willome, mixed media with found photograph.
Fleisher received her MFA at Rhode Island School of Design and currently  teaches at San Antonio College. Both Willome and Fleisher teach at Northwest Vista College. Above, detail of one of her small landscapes at Joan Grona, on view to January 7. joangronagallery.com
Jayne Lawrence's solo show "Subject Properties," at David Shelton Gallery  features drawings and three-dimensional works.
On view to January 7. davidsheltongallery.com A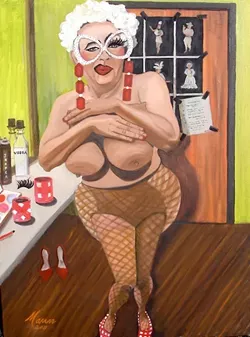 "Queens in Oil," paintings of SA artist Joe Mann at Jump-Start, inspired by local drag queens Jessica St. John, Jimmy James, Courtney Devereaux and Tencha La Jefa. On view through December 26. jump-start.org