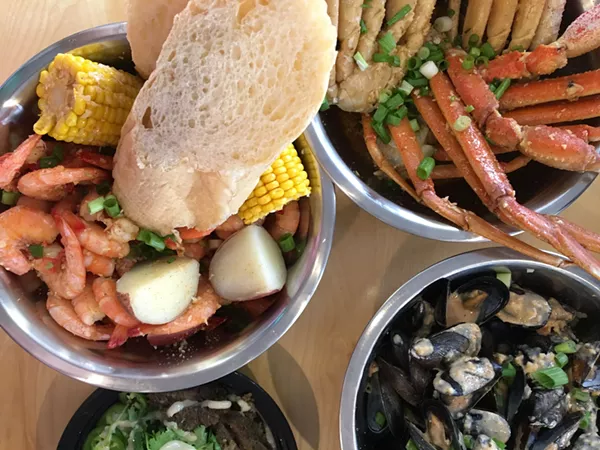 Though construction envelopes the Rand on both Main and Soledad, two restaurants are giving the building new life. Though Rosella's downtown location is still not open, Pinch Boil House & Bia Bar finally opened their doors last Friday, September 8.
It'll be an interesting experiment. The pop-up-turned-restaurant opened by friends Andrew Ho, Sean Wen and Ben Annotti, had a boisterous cloud of young restaurant-goers on Friday night, and a demure few on Saturday afternoon.
The restaurant's menu was limited at the time, but our group managed to sample crawfish, mussels, shrimp and crab legs smothered in OG Garlic Sauce or coconut curry sauce. Aromatic and with just enough heat to guarantee a few sniffles, the boils satisfied. Though still in a soft opening phase until their grand opening later this month, the small menu included glimpses of what's to come including a noodle salad, piles of Pinch fries (hand-cut and topped with crab, garlic butter mayo, Sriracha and scallions), and banh mi bowls (perfect for when you don't want to get messy during your lunch hour) with jasmine rice.
Pinch is a place for friends — boils are available by the pound and mean you should bring a posse to help crack crab legs.
Check Pinch's social for updates on regular hours and specials. Note: Parking is free after 5 p.m. at the Rand building at 121 Soledad St.
124 N. Main Ave., (210) 971-7774.