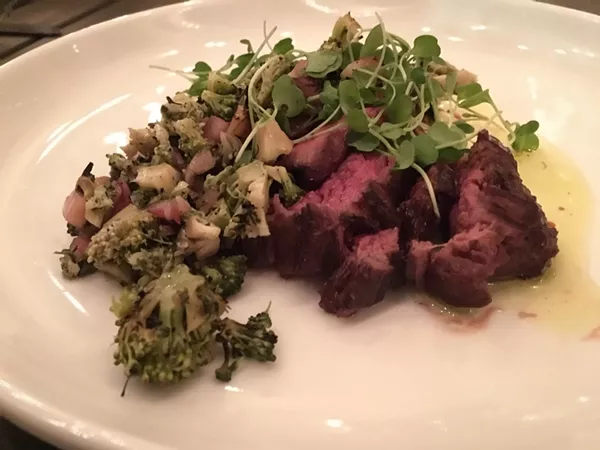 I was finally able to visit
Periphery
, Monte Vista's latest eatery and first solo venture by chef Mark Weaver (a former alum of Tre Trattoria, The Lodge) this past weekend.
The eatery opened in early February inside the former Beat Street Coffee Co. and Bistro and Old Main Assoc. Because of the spot's track record I was hesitant going in, but the food and service have quelled any fears for now.
We started with the buttermilk cornbread, which had a nice crust and moist, but not soggy interiors. Paired with a dollop of whipped ranch butter, the dish kept hanger at bay, but we were most pleased with the crispy lentils topped with almonds and chopped celery — think texture and acidity and you're there.
As for our mains, the chicken liver* bolognese sauce was hearty and rustic, but the pasta was a bit past al dente. But two highlights came by way of the hanger steak with bright broccoli "salsa verde," which styles the cruciferous veggie as a chimichurri sauce with added onion, garlic, red wine vinegar, olive oil and salt. The result is a vibrant sauce that helps cut through the richness of the budget (but well executed) steak and the aji Amarillo mayo. The other highlight was the affordable catfish that replicates flavors found in a New Orleans-style shrimp, while bathed in bell peppers, carrots, bay leaf and Worcestershire sauce. Topped with a green tomato relish, and grilled onion salad the dish is playful, acidic, sweet and surprisingly tasty.
Though dessert fell complete flat (literally and figuratively), we're into the flavors showcased early on in this aggressively casual, affordable, and approachable (no dish is over $20) space. The wine and beer list is still growing, and Weaver promises a seasonal change for it. A simple menu of craft cocktails will come along in the next few weeks, as designed by TBA's former bar manager Michael Miller.
Periphery is open 5 to 10 p.m. Tuesday through Thursday, 5 to 11 p.m. Friday and Saturday, and closed Sunday and Monday.
2512 N. St. Mary's St., (210) 966-0404.


*The article previously stated chicken hearts; the correct chicken part is liver.