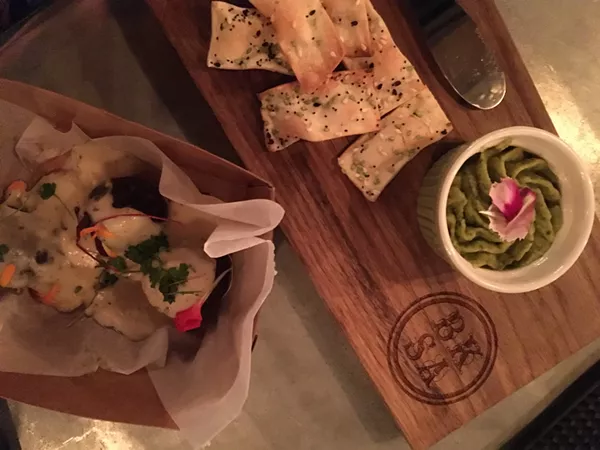 Bar food can often be hit or miss. Whether it's too rich, too pricy, a potluck or a batch of fresh popcorn still in its warmer, bar food is a bit of a gamble.
The Brooklynite's
third attempt at food (first there were food trucks, then gourmet corn dogs) this time is by the catering and event company known as Honeysuckle Teatime, which is taking on savory fare with
Sage
.
Offered Tuesday through Saturday from 7 p.m. to 10 p.m. and 11 p.m. on weekends, the menu is simple enough to navigate. Bar-goers choose from bites, balls and sauce, and sides with prices ranging from $4 to $8. The Brooklynite was relatively hopping during our visit and our bartender informed us we needed to order the food from a server/runner. This was perhaps the only quibble of the night as we didn't want to flag him and there was no post to pin our order to.
Teensy pencils were available to jot down our order one the square menu, and yes, you're supposed to mix and match your balls and sauces. We ordered the beef with brown butter gravy (more on this later) and sage sausage with pesto along with the pepperoni biscuits and herbed mashed potatoes.
Because everything is prepared off site and then served at The Brooklynite's tiny kitchen space, the orders come out quickly. Everything's served on either wooden charcuterie boards (charc is supposedly on the way soon), or brown disposable carry-out boxes. The pepperoni biscuits were fluffy and a way to relive past snack times filled with pizza rolls, while the ricotta was fresh and dreamy with just a hint of lemon zest. The balls, both sage and beef, were still moist and there were at least five sizable balls per order.
If you're going to have a handful of menu items, you better deliver and that's exactly what the Sage crew is doing with their sauces. The rich brown butter gravy could easily go on any of the balls (or even the mashed potatoes if you're feeling indulgent), and the pesto was so bright and fresh one could easily pinpoint basil, mint and parsley added to the mix.
The kitchen did sent out the pea hummus and crisps and mushroom balls for us to try. Though the hummus was delicate and perfectly blended, and the crisps were playful, the mushroom balls were a miss. The flavors of shiitake and earth, were present in a wonderful way, but the consistency was too sandy.
And if you're familiar with the donuts used to top Honeysuckle milkshakes, you'll want to dabble in the $7 donut ice cream sandwich. Flavors rotate, but our lavender donut with Earl Grey ice cream was a hit.
Sage will be available at The Brooklynite through the summer.
516 Brooklyn Ave.