Residents of Monte Vista and Olmos Park (and anyone who keeps up with Industry News, obvi) were savvy to Barbaro impending opening. The neighborhood pizza place, formerly known as The Foundry, quietly opened it's doors Monday and already seems like an industry favorite.
Chad Carey, co-owner of Barbaro and The Monterey, says they're hoping to slowly gain traction over the course of the week and really hit the ground running on Friday. So, give it a few days folks. You can't rush a good thing.
Photos by Lauren Madrid.
Sign went up last week.
Continued on next page.
A view of the kitchen.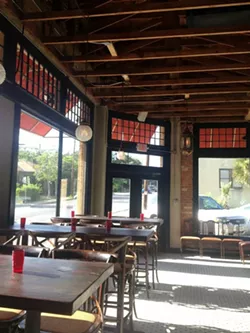 Exposed rafters with added lighting.
The sweet pepper, smoked sausage and charred tomato pizza. The Bakery Lorraine team handles the crust.
One of the nine salads listed in the opening menu.
A view from the interior of Barbaro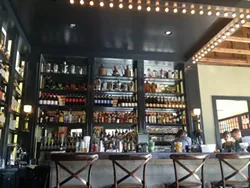 A view of the full bar which features house cocktails, dessert wines, sparkling, rose, white and red wines and draught beers available by the glass or pitcher.