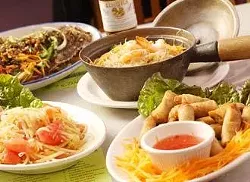 Clockwise from front: Thai spring rolls; green papaya salad; Thai spicy fish and the shrimp clay pot.
Release Date:
2003-03-06
Psst! Here's an insider tip: If, on an ordinary weeknight, you sit at the right table at Sompong's, your culinary/cultural experience will be much enhanced. What is the right table, you ask? The one where the waitresses, when not otherwise occupied, are folding napkins.
I'm not talking about picking up a little kitchen Thai on the sly - although the language does have a certain exotic appeal - rather, it's what they're snacking on while working that is interesting: Dried, almost caramelized-looking fish about the size of a quarter were one example; we didn't ask to taste them. But we did sample some pieces of crunchy green papaya dipped in a mixture of sugar, salt, and ground, dried chiles. Great stuff. And you'll never find it on a menu. What you will find, however, is the green papaya salad, and I highly recommend it. Although this papaya has been shredded, it still retains a satisfying crunch that's an intriguing contrast to the vaguely perfumed flavor, and the dressing of lime juice spiked with tiny Thai chiles adds a refreshing zing. The incorporated tomato and decorative broccoli are almost unnecessary, but they do provide visual contrast to a dish that would otherwise be monochromatic.
Out of a sense of obligation, we also ordered the Lilliputian spring rolls and were more than a little relieved to find them crisp, impeccably fresh, and free of grease. The accompanying dipping medium, afloat with chile flakes and smacking of serious fish sauce, was the real thing.
Only visually does the chicken larb resemble the package-it-yourself chicken lettuce leaf that's a popular feature on Chinese menus. In this instance, the minced chicken (beef is the other option) has been mixed with ground, roasted rice, lime juice, onion, cilantro, and dried chiles, and the contrasting flavors and textures do a little tap dance on your tongue. No lettuce wrapper required - or offered, for that matter.
Although it is served warm, larb is considered a salad. Some of Sompong's other genre-bender salads include the traditional Tiger Cried, featuring seared, very rare beef with an equally searing sauce, and a spunky squid number in another challenging dressing. Occasionally, the palate wants a little break and this is where a dish such as the shrimp clay pot comes in handy.
Okay, it's not really cooked in a clay pot. "We can't afford to do it," admitted our live-wire waitress. "They break too many. But it stays hot in the metal pot," she added - and indeed it did. The steamed shrimp nest in a tangle of glass noodles along with tomato, scallion, and bits of carrot. The resulting flavors are deep and almost sweet, and the bite of chiles isn't missed - although one diner did decide to add in a little of that feisty fish sauce.
Despite the tell-tale presence of dried chile pieces, the pad bhet, stir-fried duck with garlic, onion, scallion, and Chinese cabbage, is a relatively mellow dish as well. The garlic is also low-key in this case, but the subtle hand with strong flavors allows the duck, apparently pre-roasted before being added to the mix, to star.
There is no faintness of flavor in the panang nuah; like the ringing of an Asian gong, it hits the palate and continues to resonate. Coconut milk is the base of the gravy-like curry that bathes the tender beef in this straightforward, yet amazingly nuanced dish. Kaffir lime leaves signal the cool side of the culinary equation, and quartered jalapeños more than hint at an underlying heat. Lacking bread to shamelessly wipe up any remaining sauce, we made do with rice; it's amazing how competitive good friends can get when good gravy is at stake.
Only green mangos were available on this occasion, so the traditional mango over sticky rice dessert couldn't be had. Sompong's mango ice cream only suggests the ripe fruit. But for a full-throttle flavor hit, the house-made coconut ice cream sprinkled with crunchy, roasted peanut can't be trumped. That anything so cold also can be so intense is a minor miracle - the kind flavor junkies live for. Thai cuisine is full of miracles of contrast in taste, texture, and temperature, and Sompong's should stay on anyone's list of miracle mongers for just that reason. •