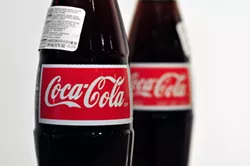 Cool it. Mexican Coke is safe. (Courtesy)
Now that panic has subsided, and we've learned that cane sugar will continued to be the main sweetener in exported Mexican Coke (sucks to be actual Mexicans who's Coke will now be riddled with all kinds of fructose), it's time to put things in perspective.
Yes, I still remember making the trek from my abuela's house to the nearest tiendita with my empty glass litro de Coca, but I would miss the following products a helluva lot more if they were to change and/or be discontinued:
Big Red
BOOM. (Courtesy)
Barbacoa Sundays would be ruined. Hangovers would linger far too long. SA would collapse. Apocalypse RED!
Dr. Pepper (with Cane Sugar)
Yummers. (Courtesy)
During an informal and highly unscientific poll, I came to the conclusion that for every Mexican Coke fan, there's a Dr. Pepper fan that would lose their shit if this went out of commish.
Manzanita Sol
It's like biting into an apple. A sugary, high fructose apple. (CC)
Do you know how hard it is for one of these to come by as is?
Topo Chico (with or without lime)
I'm part of the problem. (CC)
Has anyone else thought about what happens once that awesome natural spring in Mexico dries up? Riots in the streets. Hipster riots, and I'll be there right alongside them.
Shiner
Nobody panic. (CC)
In the unlikely event that the trusty Spoetzl Brewery isn't able to keep up with demand (remember varieties of Shiner are in just about every contiguous state nowadays)...where would that leave us?! I'd imagine curled up in a ball somewhere.