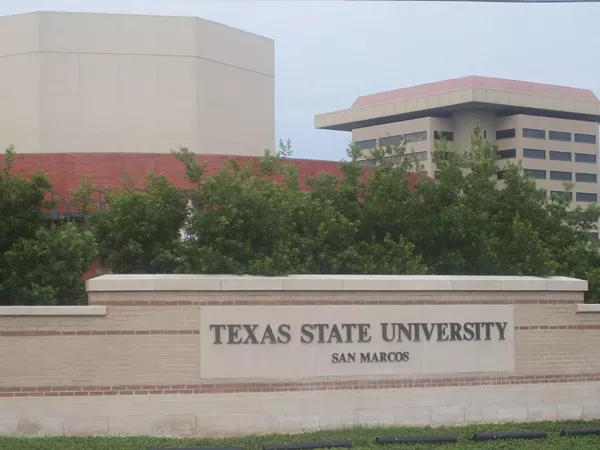 Fliers were found on the Texas State University campus this week urging students to report undocumented people. The message, which features a U.S. Department of Homeland Security seal, says, "We are entering an era of law and order in this country. Do you part to make such a change for good!" It includes a phone number and website where you can give tips to U.S. Customs and Immigration Enforcement.
The fliers, first noted by the
Texas Observer yesterday
, were reportedly found "multiple places" in the school's LBJ student center. "Several fliers encouraging readers to report undocumented immigrants to federal authorities were found and removed from different campus locations today," TSU President Denise Trauth told students and faculty in an email later in the day. "The university, following current law, does not and will not report undocumented immigrants to authorities."
The fliers surfaced as a group of more than a thousand TSU students, faculty, staff and alumni petition university officials to become a so-called "sanctuary campus" where, among other things, school officials refuse to release information on students' immigration status and prohibit campus housing discrimination based on it. The petition came after other fliers were posted around campus the day after the election calling for "tar & feather vigilante squads" to round up and torture "deviant" people on campus "spouting off all this Diversity Garbage." According to the petition, since those first creepy post-election fliers, "a male student was assaulted in a LGBTQIA hate crime just a block from campus. In another incident, the university lost a widely revered campus student leader in a tragic suicide."
Trauth's office, which has been criticized by many on campus for its
tepid response
to those first fliers, later clarified in a statement to the
Austin
American-Statesman
that just because the university won't report undocumented people to authorities does not make it a "sanctuary campus."
As we've reported
, Gov. Greg Abbott has in recent weeks expanded his promise to crack down on sanctuary cities to cover sanctuary schools. While the definition of a sanctuary city or campus hasn't exactly been clear, police chiefs across the state have already bucked against the kind of anti-sanctuary cities legislation that's been filed at the Texas Legislature this year because it could conflict with local policies, like in San Antonio, that prohibit officers from asking about immigration status in routine police encounters.
It's not clear whether Abbott wants to add provisions covering public university officials or staff to that type of law.