Web Exclusive
Rather than spending your tax refund on a fuzzy purple chick that eventually will turn into a cackling rooster and be sent back to the farm, why not put a manatee in your Easter basket? For $25 you can adopt a 10-foot-long, 1000-pound pet through the Save the Manatee Club at Blue Spring State Park, Florida. Once the adoption process is complete, the new parent receives an adoption certificate; a photo of the manatee; a biography describing the manatee's personality, particular habits, and any injuries; a membership handbook with information and pictures; and a one-year subscription to Manatee Zone.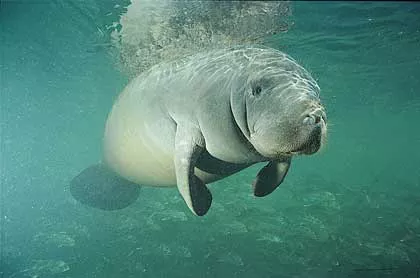 Rose the Manatee
You can choose your adopted pet from three different programs: Blue Springs, Homosassa Springs, or Tampa Bay. Manatee rangers suggest adoption from Homosassa Springs if you expect to visit your manatee often, as they are the only captive manatees in the program. Most of the animals come and go as they please, traveling along the East Coast during the year and returning to the sanctuary during the winter months. The five manatees in the Homosassa Springs program are unable to return to the wild, so they can be found in the sanctuary year-round. The rangers, who spend a great deal of time with the animals, say it is easy to identify the manatees by their habits and characteristics: Some of the manatees are extremely playful, some like to look after the youngsters, and others are very curious and can be found inspecting anything new.
Sadly, due to custody issues, the adoptee is not allowed to leave any of the parks to live with his or her surrogate parents for the year: With 40,000 members in the program and only about 30 manatees to adopt, there simply aren't enough weekends in the year. In addition, the rangers informed us, no bathtub, pond, or pool would be sufficient to house your pet during weekend visitations; manatees prefer to live in natural springs and eat about 150 pounds of water hyacinths, sea grass, and other underwater plants per day. However, parents may visit their charge at any time (at their own cost). There are observation decks in all the parks, and visitors feed the manatees lettuce.
There are only about 3,000 manatees left in Florida waters. The harmless, aquatic vegetarians face numerous human-related threats from collisions with boats to ingestion of fish hooks to entanglement in crab traps and fishing lines. Funds from Save the Manatee Club adoptions and donations go toward numerous conservation and education programs to protect endangered manatees and the ecosystems they inhabit.
For more information visit savethemanatee.org.