Step aside duck, Piatti's pollo is dynamite
It appears I'm on a chicken kick. After shunning it for years in favor of flossier duck or lamb dishes, I have re-embraced the fowl with fervor, and nowhere has the encounter been more explosive than at Piatti with the Pollo ala Mattone. Half of a partially boned Buddy's Natural chicken is topped with a hot brick and grilled, the flesh basted in a citrus-based vinaigrette. The prodigious portion of benighted bird is then served—succulent and fat with flavor—atop crisp sugar snap peas, asparagus, and shavings of sautéed leeks. The Chick Fil-A cows should be ecstatic—I know I was.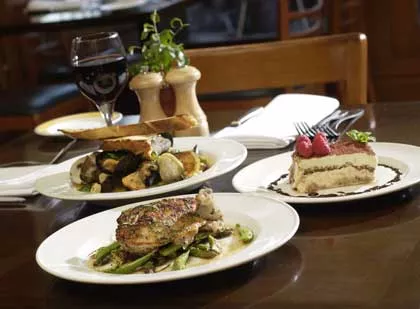 Reviewer Ron Bechtol did not try the tiramisu, right, at Piatti Locali, but, he says, the restaurant's Pollo ala Mattone, front, is an ecstatic experience, and advises diners to use their bread to sop up the saffron-infused broth of the cioppino, back.
(Photos by Mark Greenberg)
Along with poultry, I've been ignoring Piatti, too. Not necessarily because it's part of a chain, but because I've long felt that its brand of Cal-Ital cuisine was, despite the ethnic-sounding names on the menu, more a flirtation with Italian than the real thing. Making out in the back seat as opposed to walking down the aisle, in other words. But system-wide, Piatti has recently become Piatti Locali, and this emphasis on regional differences has two benefits: a menu that is more independent from corporate headquarters and a focus on simply prepared, local products that homes in on the essence of Italian cooking.
Yet, there are some similarities. A quick look at the website reveals, for example, that while Mill Valley may serve Sonoma duck where San Antonio serves Buddy's chicken, many of the pasta dishes are universal. (I also noticed that restaurant décor is not determined by a rigid formula.) But the caprino al forno is an example of a dish that can work well anywhere; it requires only local goat cheese. Baked in a small casserole, topped with chopped olives and vine-ripe tomatoes—a hard act to pull off convincingly at this time of year—and served with toasty crostini, the preparation turns Texas formaggio into a simple but satisfying winter dish. The natural tartness of the cheese is muted in baking, but the tomatoes and olives add essential grace notes. The necessary kicker in the funghi a la griglia is a balsamic reduction, but, apart from some pine nuts, this is the only major non-local component; the baby portobellos are Texas Pride, the melted mozzarella is Lone Star, and the basil chiffonade surely comes from hereabouts. The sun-dried tomato pesto I can't pin down, but I won't hold it against Piatti; the total package is convincing and that's what counts.
Some Piatti Locali outlets make special mention of their beef source. The origin of our seared rare-beef fillet carpaccio was not listed—an inquiry confirmed it to be Texas—but the translucent slices of beef couldn't have been better. Served on a chilled plate, tricked out with a pile of peppery arugula topped with shaved Parmesan and strewn with capers, the dish was flawed only by a bit too much lemon juice—and I wouldn't even mention this if I weren't trying hard to find something to prove I was paying attention. The ravioli alla limone, a longtime menu standard, were hard to fault, too. Most of Piatti's pasta dishes are large enough to act as full-fledged entrées, not as a classic introduction to subsequent fish or meat dishes, but splitting a pasta course is one way I make myself feel more Italian. (Now you know: I've always wanted to be at least a little Italiano.) The alla limone is a perfect candidate for such a ploy. The pillowy pasta is stuffed with a relatively light filling of spinach and ricotta and, though we all know cream is cream, the cream sauce here is lighter for its garlic and lemon components—in this case, just the perfect amount.
Piatti Locali

255 E. Basse
832-0300
11am-10pm Mon-Thu,
11am-11pm Fri & Sat,
noon-10pm Sun
Credit cards
Price range: $19-23
Wheelchair Accessible
By this point in the evening, it became apparent that, even if local foods weren't dominating the dining experience, full flavors definitely were. For this, I'm happy to credit chef Christopher Adams, and his rendition of cioppino (originally a puréed fish soup, called ciuppin, from Genoa) only underlines the contention. Bursting with clams, mussels, shrimp, sliced calamari, and chunks of salmon, the dish is stewed in a bright and bracing broth of lobster accented with pungent saffron. As good as the seafood is, be sure to take advantage of the hefty slices of grilled bread that come layered atop a mound of spinach in the center of the bowl. Let them soak in the broth. Try not to make too much of a fool of yourself grinning while you eat. Our extremely pleasant and professional waiter suggested an Italian white wine, the vermentino, as a cioppino companion, and its figgy aromatics played perfectly against the almost metallic overtones of the saffron, making for even more smiles.
Italian desserts are sometimes little more than a piece of fruit or a chunk of cheese, but Americans usually require more, hence Piatti's tiramisu, chocolate Frangelico torte, and even the toast-em-at-table s'mores. But this time, after so much big flavor, we decided to cool it—just a few bite-size bits of cheese and a modest panna cotta. A Belgian hard cheese made by the monks that produce Chimay beer was especially nutty and appealing, but the Gorgonzola dolce and brie didn't suffer by comparison. And the panna cotta (literally, cooked cream) was just what we needed: delicate, discreet, and decorated only by a sprig of mint and a few, perfect raspberries, it eased us out into the night with a sigh. After which, a shout of Viva Locali! is appropriate. •