At Stinson Airfield, the food is basic but the ambience is out of this world
For my delicate constitution, eating and flying don't mix. When I'm pounding two Dramamine at an airport water fountain, I'm amazed that people can put away slices of cheese pizza, a couple of beers, a tall latte, a deli sub, and nacho chips, then board a flying pencil that for the next three-and-a-half hours will bounce off the chop like a rock skipping on a lake.
On a recent steamy afternoon, my friends and I visited the Stinson Airport Patio Café with no intention of flying, only to grab lunch and take a trip back in time.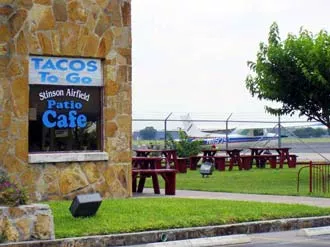 Stinson Airfport Cafe's patio is a peaceful spot to grab a burger and watch planes take off.
(Photo by Julie Barnett)
Established in 1916, Stinson Airfield served as San Antonio's main airport after World War II and in the early 20th century housed the Stinson School of Aviation, the first flying school operated by a woman, Marjorie Stinson. An air-traffic control tower the size of a two-car garage is perched atop the main building, which includes a waiting area, the Patio Café, and a Hertz rental-car office, where a lone agent sat. On a white board one name was scribbled, a reservation for two weeks away. It was eerily quiet, although a child evidently had been playing make-believe with a platoon of toy soldiers in the waiting room. The National Guard once operated out of Stinson and their barracks remain on the property, as does an old U.S. Air Force plane with a mannequin at the controls and an aviation museum in an un-air-conditioned quonset hut.
The café felt livelier, with several tables full of diners digging into burgers and fries. The menu, as you might imagine, plays on the aviation theme, with such offerings as "Jet Set Munchies," "Pilot Plates," and the "Lindburg lunch special," named after Charles Lindbergh, who flew out of Stinson when he was stationed at Brooks Air Force Base.
Stinson Airport Patio Cafe

8535 Mission Rd
923-5969
Hours: 7am-7pm Mon-Fri,
8am-3pm Sat-Sun
Credit cards accepted
Handicapped accessible
We forsook the cool café for the outdoor wooden picnic tables so we could watch the prop planes take off and land. The food arrived a bit tardy, but considering the café has a small kitchen, that's to be expected. Despite its ominous name, the "Stall" grilled cheese was hearty. With its ample supply of cheddar, it's probably not heart-healthy, yet not as heart-stopping as an engine stalling at 20,000 feet. My friends ordered the "Taildragger" turkey sandwich, fries, and a bacon-and-egg taco, which were devoured, although the fries tasted a bit donut-y from an unknown type of oil.
It's no-frills lunch grub, and most people wouldn't drive all the way to Mission Road just for a grilled-cheese sandwich. Yet, the ambience will draw me back. The woods are lush, the land low, and a spookiness hangs in the air, heavier than the humidity. Perhaps it's the proximity of the 18th-century Missions or the remnants of Indian civilizations that used to hunt on these grounds. Nevertheless, it's peaceful, but disarmingly so.
As we ate, on the north side of the runway two large tractors worked the fields, and at the gate, three businessmen waited with cell phones to their ears. Across the road, the bench at the No. 42 bus stop was empty. Or at least it looked that way. •
By Lisa Sorg