Eat your way to fortune in the New Year
"What do you put in your black-eyed peas?" asked Ma Harper of one of her chefs, Charles Pitts, a New Orleans evacuee now cooking at Ma Harper's Nawlins Creole Kitchen on W.W. White Road. "What would you put in there to cure your overnight drunk on New Year's day?"
All the globe over, there is good luck to be had by eating the right food on New Year's Eve: In Japan, Buddhist monks enjoy a bowl of noodles, in Cuba folks ceremoniously swallow the previous year with 12 grapes, and in Holland donuts are a popular treat at the stroke of midnight. In the South, it's black-eyed peas. Georgians believe that each pea eaten earns the diner a dollar in the New Year (at that rate, the magical fruit is more likely to make one windy than rich), but in New Orleans, "black-eyed peas are good luck, and cabbage is money. I don't know why, it's just tradition," said Harper.
In terms of that hangover, ham is the cure, said Pitts, who adds it along with Cajun seasoning, garlic, onion, bay leaf, and bell peppers to his black-eyed peas. In an impromptu telephone conversation, Harper gave me the recipe below, between managing the kitchen—"Ooh, we just burned that roux again"—and plugging her Central Market Cooking class in February, which will focus on Mardi Gras dishes, such as Cajun-spice ham, Creole Gumbo, and red beans.

Ma Harper's black-eyed peas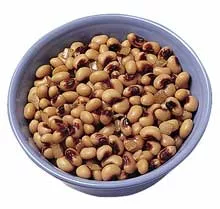 Note: "Don't use celery or too much onion," Harper says. "They will spoil, because the black-eyed peas cook faster than any bean."
1 lb beans
8 c water
Ham hock, cut to a medium dice
Bay leaf
Cajun spices
Butter
Onion finely chopped
Garlic minced
Bell pepper cored, seeded, and diced
Cooked rice
Wash the beans. Put the water on, and when it starts to boil add the beans, bay leaf, cajun spices, and the ham bone, and lower the heat. Cook until tender, about 1 1/4 hours.
While the beans are cooking, sauté the onion and garlic in the butter until the onion has softened. Add the bell pepper and stir for five minutes, then add the meat and a splash of water. Cook until the meat is tender, and then stir the mixture into the beans.
Serve over rice.
What about the cabbage? I was recently surprised to learn that Germans eat sauerkraut on New Year's Eve `see All You Can Eat, page 29`, only to have that notion corrected by my favorite Foodie and resident German at Central Market. "A lot of German people eat pork and sauerkraut on New Year's, but it's a tradition, not good luck," says Lilo Strait. "Luck is a little marzipan piggy."
Ah, but we were out of luck: After searching the holiday candy display in vain for a marzipan piggy, Lilo determined that I would simply have to make my own. "You can do this," she promised, her eyes bright and her quilted holiday vest beaming creative energy. Lilo, in her Neu-Ulm accent, says "marzie-pan." How could I resist?
All it would take is a tube of almond paste and a box of food coloring. "Be careful with that food dye," warned Lilo. "You don't want to make your piggy too red. Just knead a drop into the marzipan with your fingers."
To those sage words, I'll add this: Marzipan is super sticky, so you'll want to roll it out on wax paper or plastic wrap, or dust your work surface with confectioner's sugar. A little vegetable oil will keep your hands clean. I didn't know these things, and lucky pig lost several sets of legs and a perfectly good ear to the cutting board and my not-so-nimble fingers.
Between red dye #3 and his beady, red "Bowl of Cherries" candy eyes, lucky pig looked like a hot pink devil and had all the structural integrity of Mr. Bill (next time, I'll give him a toothpick spine), but with his floppy ears and corkscrew tail, he had his charm.
However, after a few hours in the hot kitchen, lucky pig's hind quarters started to gleam unnaturally. Too soon his legs collapsed under the girth of his belly and his head flopped to one side as though exhausted—I suppose mine would, too, if I thought the New Year rested on my sweet ham hocks. •
By Susan Pagani