Beeman's Wine Spirits Gourmet is a great concept, but will it fly?
The gulf between Leon Springs' laid-back barbecue joints and dance halls on one side of I-10 and its suburban shopping center sibling on the other just got a little wider with the opening of Beeman's Wine Spirits Gourmet, a finely finished palace of wine, beer, liquor, gourmet products, and pre-cooked entrees. The omnivorous emporium consumes the lion's share of the freshly minted Boardwalk retail center, overlooking the expressway and the Dominion. While it would be an ambitious undertaking in any urban center, here Beeman's seems either visionary after all, the city is moving in this direction or foolhardy Leon Springs?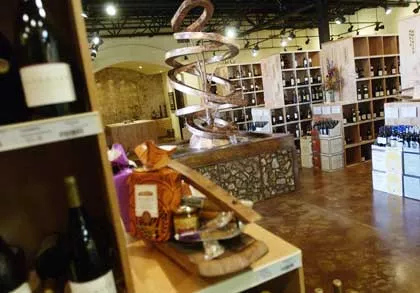 The well-lit interior of Beeman's Wine Spirits Gourmet features a custom-made copper fountain that also serves as a a 45-degree wine chiller.
(Photos by Mark Greenberg)
Let's give owner Peter Beeman a break and call him a visionary and an entrepreneur. Until three years ago, he was running a division of a large technology consulting company headquartered in Amsterdam, and his background is in forest management, statistics, and business economics. "This is a hobby and new career both," he says in classic understatement; he admits to having tweaked and tested the concept for his store almost to excess.
As drastic as the switch from technology to tenderloin might seem, Beeman claims an early introduction to fine foods growing up in Galveston under the influence of parents who cooked and an Armenian grandmother whose baklava he rhapsodizes about to this day. "I learned at a young age to eat very international foods at least for Texas," he says. A love of wine came later, but "I'm not a label guy. I don't have a professional palate ... I drink wine because of the romance."
Romance and commercialism unite in the Beeman-designed copper fountain at the center of the store, which is not only an extravagant decoration but also an extremely effective bottle chiller, capable of cooling a bottle of sauvignon blanc to drinking temperature in five minutes.
The fountain has a magnetic draw, and might pull you right through the gourmet department without so much as a glance at the flossy olive oils, mustards, and chocolates. But for a few interesting cheeses, such as San Simon da Costa from Spain, it would be easy to dismiss the cheese section, which is still a work in progress, but Beeman says there is room for about 100 more selections, so vote for your favorites now.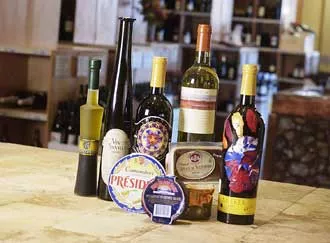 A selection of the large variety of wines, cheeses, and other gourmet items available at Beeman's Wine Spirits Gourmet.
Similarly, the deli meats rely heavily on standard Boar's Head products, though packages of gravlax, pancetta, prosciutto, and serrano ham are available. Beeman is especially proud of his freezer chest of vacuum-packed, flash-frozen meats and seafoods. The selection from single portions of tenderloin to tuna steaks to bevies of boneless quail and baby-lamb rib chops is impressive. "All of these products I've cooked five or six ways," claims Beeman, who admits to not being much of a chef and says he relies on his kids as unjaded tasters because "their palates are alive."
Although the staff is happy to offer cooking suggestions, the other option is to enroll in one of the five-week cooking classes. Taught by guest chefs, they are scheduled to begin in October and include a meal and several wines. They will be "fun as hell, not just a cooking class," Beeman says.
Beeman's Wine Spirits Gourmet

23535 I-10 West
698-5046
10am-9pm Mon-Sat

The wine department is the heart of the operation. It is equipped with a separate room that will serve as a research library once the shelves are installed and the books put in place. A tour of the shelves reveals wines in every price range. Beeman supplements his wine-as-romance approach with the professional palates of experienced local wine guys Bill Perry ("my mentor," says Beeman) and Noel Kaplan. The result is a wine selection that is already 2,100 labels strong and aiming for 3,000. At least 200 of these were suggested by customers, and Beeman expects the selection to evolve on a monthly basis with their help.
One might think Beeman's target market would be the neighboring Dominion development, but that's not the case. "No, they haven't supported us," says Beeman. "We need thousands of people to make this work, not just a few hundred homes.
I want to take the concept of a full-service store with spirits, beer, wines, education, cooking all part of the same thing into mainstream America." With two smaller wine shops in Kerrville and another opposite Fair Oaks Ranch, Beeman is already challenging the local, chain-dominated market in numbers alone. If the full-service concept catches on, perhaps the march toward San Antonio will continue. •
Quick fixes
From the freezer at Beeman's Wine Spirits Gourmet, I purchased a pack of pre-cooked mussels from Chile, a yellowfin tuna steak from Indonesia, and a brace of the recommended lamb chop, along with two heat-and-serve sauces.
The serving instructions on the mussels are a little contradictory everything from boiling in the bag to microwaving is suggested but a brief steaming in white wine with fresh thyme, sautéed onion, and garlic produced good results: Every mussel was a keeper (don't be alarmed if they open during thawing) and the texture didn't suffer from the double-cooking.
The preternaturally pink tuna was sautéed quickly with fresh pepper and fleur de sel, and topped with a dollop of the packaged bearnaise sauce. I only used a tablespoon of the sauce, so I skipped the bain-marie and microwaved it on low. Though the sauce was perhaps a tad heavy on tarragon, the fish was meaty and mild and the two made a good pair.
Although it required a little trimming, the most successful dish was the lamb, cooked under the broiler and prepared with a mixture of rosemary, thyme, black pepper, and garlic pressed into each side. The robust flavor of the lamb made saucing with French-made hollandaise, fruity with the zest and juice of blood oranges, unnecessary, but I tried it anyway. In this case, the hollandaise separated during the microwaving process, but, just as the package said, stirring in a little cold water fixed the problem. In the end, I think I'd prefer fresh mussels, because the longer cooking time means a longer soak in the good sauce, but the tuna would be worth trying on the grill, and the lamb might be better with a whiff of charcoal as well. •
Ron Bechtol