Suffused with honey and spice, Papouli's galaktobouriko is everything nice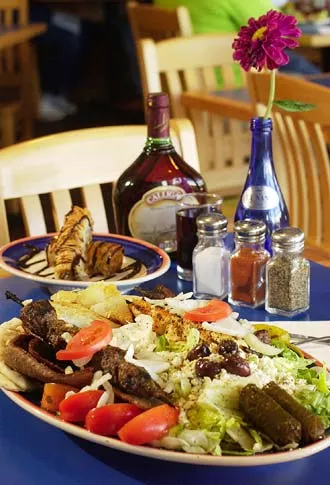 Papouli's feast: Tossed Greek salad, olives, peppers, dolmas, gyro, beef, chicken, and lamb souvlaki, spanikopita, tiropita, tzatziki sauce, topped with onions and tomatoes, and served with warm pita bread.


I
t was inevitable that a Greek restaurant would open on Agora Parkway in The Forum - despite the place being an altogether amorphous shopping center with no sense whatsoever of the civic communion that characterized ancient Greece. Good luck finding Papouli's in the meandering maze, in other words. It's next to Starbuck's and Baskin Robbins, if that helps.
To Papouli's credit, not only is it one of the few establishments that is local (Thai Spice is another), but also it springs from a family tradition of nearly 100 years in the restaurant business in San Antonio. Papouli means grandfather, and the current Anthony clan is honoring its forbears in the best possible way - by continuing the tradition of hospitality. True, the hospitality doesn't include table service; diners are required to order at the counter, which, with a large menu, is death to the indecisive and those behind them in the line. So my advice is to prepare ahead of time by printing out the menu from the restaurant's website, papoulis.com.
On the website there's some talk about traditional and contemporary Greek foods, but sticklers for accuracy are advised to forget the contemporary part; the only non-traditional items I encountered were a Spicy Feta Diablo Dip and a roasted red pepper hummus. The decor, too, features the Greek Island motif in colorful murals that seem as obligatory in Greek restaurants as statues of David once were in Italian-American joints.
The flaky spanakopita, in any case, is true to stuffed-phyllo form and more interesting than the tiropita, which is simply feta in phyllo without the spinach. The grape-leaf-wrapped dolmas are stuffed with modestly seasoned rice, but I almost preferred them without the quite tart egg- and flour-thickened lemon sauce they're served with as an appetizer.
The "Grill" part of Papouli's name applies to the chicken, beef, and lamb souvlakis. All three are beautifully grilled on their skewers, the tender lamb my personal favorite. Yes, a couple of the sirloin tips were tough, but the flavor was fine, and the chicken, though salty, was otherwise perfect - though it would have been even better with the tatziki sauce. That is, if I'd liked the tatziki sauce. Unfortunately, it was thick like unnatural sour cream, lacked garlic, and didn't feature enough cucumber. The dill flavor was on target, however. Wrapping any of the above skewers or the gyro meat (which is good and relatively moist) in pita - fresh, flexible, and flavorful - makes for an instant santouit. ("sandwich," in case you don't know Greek.
Papouli's Greek Grill

8250 Agora Parkway, Suite 120
659-2244
11am-9pm Mon-Thu,
11am-10pm Fri-Sat,
noon-8pm Sun
Price range $5.99-17.99
Credit cards accepted
Wheelchair accessible

There is, I must now admit, a Greek salad variant at Papouli's that features a balsamic vinaigrette, giving them some claim to contemporary chops. The traditional rendition, though, is just what you'd expect: mounds of mostly iceberg with lots of salty feta, kalamata olives, a couple of salonica peppers, tomato, and cucumber. What's not to like? If you happen to order Papouli's Feast, you might be slightly dismayed by the amount of space on the platter, which also includes just about everything mentioned above, occupied by salad, but it's got to be good for you, right?
Moussaka is one of those bellwether recipes that tends to reveal how well a Greek kitchen can do dishes that require a more-than-sure hand at the grill. Often made with lamb, the layered eggplant casserole has many variations, but is almost always topped with a cap of bechamel sauce. The cap at Pappouli's is thick and fairly bland (nutmeg and cheese are often added), the ground beef component is dominated by cinnamon, and the eggplant layer had nearly melted away. In short, not a favorite. A baked fish with vegetable wine sauce and the traditional pastitsio with macaroni, ground beef, and more bechamel are also available.
The galaktobouriko was a favorite. Yes, dessert; I hate it when this happens, but the egg custard was great, the phyllo topping damp but effective, and the honey syrup and sprinkled cinnamon great complements. More honey syrup and cinnamon suffused the walnut-layered baklava, a decent rendition of this enduring favorite. A good dessert will scare the agoraphobia out of you any day. •