How to get the big family meal without the hassle of making it yourself
Ahhhh. It's that time of year again. The weeks before Christmas and New Year's are full of shopping, entertaining, and endless meals where friends and family gather, and the aromas of baking pie and ham fill a warm and decorated house. This is the traditional goal. But reaching this status quo can be a stress-filled endeavor many do not wish to embark upon.
What's the solution? Fake it—the cooking at least.
In recent years, grocery stores and restaurants have helped ease the high-intensity stress that holidays bring on with prepared foods—and not just the traditional Christmas ham: The trend is quick, fresh, easy, and complete.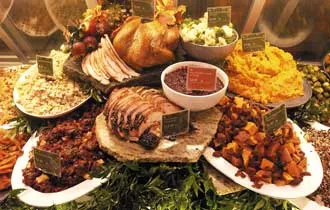 A selection of gourmet-prepared holiday favorites is offered at Whole Foods market.
(Photos by Mark Greenberg)
Central Market offers five holiday menus with a gourmet twist. Instead of Aunt Shirley's mushy green-bean casserole, how about green-beans amandine with whipped organic garnet sweet potatoes and pumpkin chiffon pie? "We think far ahead about the leftovers, too," says Tan Nguyen, Central Market's executive chef. Already on display in the chef's case, the creamed spinach and gruyere potatoes au gratin look more elegant and scrumptious than anything I could slave over on Christmas day. These sides may not even make their way into Tupperware.
Central Market has been preparing holiday meals for five years. Kim Cates, Central Market's food-service director, attributes the rising number of orders to pressures outside the kitchen. "How much does your time cost?" she asks. When you add up the time involved in planning complicated menus, shopping for ingredients, and preparing for large parties, Central Market's holiday ordering hotline sounds enticing. Instead of spending hours in a crowded store darting back to the busy aisles for that blasted can of evaporated milk, "`the customers` can call, order what they want, walk in the store and to the checkout," Cates says.
Where to get it
A guide to take-out and dine-in for those avoiding the hot stove this holiday season.
---
TAKE OUT
Central Market
4821 Broadway
368-8607
Turkey, beef tenderloin, ham, rack of pork with traditional sides. Vegetarian menu offers baked acorn squash.
$79.99-149.99
Pre-orders accepted until Dec. 23
Whole Foods
255 E. Basse
826-4676
Diestel all-natural turkey, turkey breast, and maple-glazed ham with all the fixings. Vegan menu features a celebration field roast of rolled grains and lentils.
$59.99-119.99
Pre-orders preferred
1 week in advance
Bill Miller Bar-B-Q
302-1500
Select from turkey or honey-glazed spiral cut ham.
$28.95-49.95
Pre-orders preferred 1 week in advance
---
HOTELS
Citrus at the Hotel Valencia
150 E. Houston
227-9700
Contemporary American
$25-33
Las Canarias at La Mansión del Río Hotel
112 College
518-1000
Traditional American brunch
$45
Reservations
Caliza Grille at the Westin Riverwalk Hotel
420 Market
224-6500
Traditional holiday plated dinner
$37
Reservations
---
RESTAURANTS
Taipei
2211 NW Military Dr. #123
366-3012
Chinese and Taiwanese
$8-18
Chacho's
7870 Callaghan
366-2023
6757 Poss
520-8717
Tacos, music, margaritas and open all night
$4-8
Whole Foods kitchen manager, Danny Stout, also underscores the appeal of ease. "There are people that don't want to cook, don't know how to cook, or don't want to cook certain things, like a turkey," he says. Whole Foods' pre-cooked fare includes a classic turkey or turkey-breast dinner with traditional sides such as herb stuffing made by their in-store bakery. Stout says Whole Foods' turkeys—free-range, raised on organic land, and hormone-free—are far superior in quality to the average USDA Grade A tom.
Alternatively, Whole Foods offers a vegan holiday dinner featuring a lentil and rolled-grain "roast" that serves a party of four or one. This helps take the pressure off of menu planning when Bubba's radical new girlfriend comes in town to meet the family.
Since Stout arrived in 1993, the grocery-store chain has offered turkey dinners every year. But within the last several years he has noticed a marked increase in demand. "I sold almost 500 pounds of pre-cooked turkey this year," he says of the Thanksgiving rush. It's good business, but Stout laments the death of holiday tradition. "Kids won't get to smell the holiday cooking from the kitchen," he says.
"In today's society we are so busy," says one Bill Miller Bar-B-Q customer, who prefers his name not be used. He buys the Bill Miller turkey dinners for both Thanksgiving and Christmas. "People don't spend too much time doing fancy cooking like at grandma's. `Bill Miller's` is practical and convenient."
With the pressures of picking up family and friends at the airport and hosting picky house guests, some families are chunking the idea of at-home holiday meals altogether. Most restaurants are open Christmas Eve and a growing number are opening their doors for Christmas day `see sidebar`.
Las Canarias in La Mansion del Rio Hotel features an all-day American brunch with prime rib, turkey, and pork-loin carving stations. Head Hostess Gigi Dublon expects an eclectic group of local regulars and hotel guests on Christmas day. The locals have planned far in advance, she says, and reservations are filling up.
"San Antonio residents make it a family-type event," Frank Ramirez, host and bartender for the Westin Riverwalk Hotel's Caliza Grille, says of the restaurant's pre-fixe holiday meals. With delicious desserts like pumpkin crème brulee and chocolate mousse tureen, the Westin makes it easy to impress the relatives and the finicky little tykes.
But for many San Antonians, dining out on Christmas day is not about spending time with family. "We have a lot of clientele that don't celebrate holidays," says Robbie Robertson, manager of Chacho's on Callaghan, which opens for Christmas but does not serve a special meal. "Older couples come in with friends for margaritas," Robertson says of the 24-hour hotspot. And with on-stage karaoke to bring out the inner exhibitionist, Chacho's may be the place to meet visiting out-of-town friends when you just can't take any more of Uncle Joe's political ranting. •
By M.L. Sharpe