International markets offer foods from Europe, Middle East, and India
Enter Habiba and you find culinary world peace. Indian curries carouse with Pakistani pickles. Persian palates talk taste with Turkish delights. Cheeses from Bulgaria, Spain, Istanbul, and Syria go their own whey on cool, even playing fields.
Habiba ("lovely" in Arabic) is one of two new international markets specializing in Middle Eastern-Mediterranean-Indian goods competing with established markets such as Sahara, Ali Baba, and India Store. The store is clean, well-lit, well-stocked and run by friendly people who are happy to guide you through its aisles.
Habiba International Market stocks fresh Islamic Halal-certified beef, goat, lamb, and chicken, and imported Middle Eastern, Mediterranean, and Indian products.
(Photos by Mark Greenberg)
Habiba fills a cook's head with ideas. Start with the display of dried herbs, smelling just a few — aromatic caraway powder, slightly bitter and tasting of anise, bitter-sweet fenugreek, and the enigmatic 7-spice combo — and mentally running through the list of meats, vegetables, and grains they might spice for a special dinner: Fenugreek-rubbed chicken with curried rice or 7-spice shrimp with grilled caraway veggies. Maybe you'll even get the courage to roast lamb for pita sandwiches, using the heady, pre-mixed shawarma spices.
Non-cooks also have fun, trying exotic tea blends, peppery Arabic coffees, quince or fig jams, pickled vegetable medleys, or imported fruit nectars. Habiba also has a vast selection of cheeses, including Egyptian Romy, a hard cheese with a crumbly texture and strong flavor that, similar to Romano, gets better with age. It's ubiquitous in the Arab world, where it is known simply as "old Egyptian cheese." Don't miss the Bulgarian feta made from sheep's milk or Karous-brand soft "Spanish cheese" infused with still-green chives.
What sets Habiba apart from other international markets is the well-stocked butcher counter, which, like the entire store, adheres strictly to Islamic Halal dietary laws, including a ban on pork products and alcohol. Much like Jewish Kosher dietary laws, Halal animals must be killed without cruelty, the blood completely drained, and a blessing performed before the meat is ready for consumption. Every Thursday, Habiba buys fresh Halal-certified beef, goat, lamb, and chicken from a local purveyor. While many of Habiba's customers order whole goats and lambs, the store's butcher is happy to cut and sell smaller amounts of chops, ground meat, and roasts. Habiba also stocks prepared meats, sausages, and the popular Berliner bologna, made with pistachios and garlic.
International stores serve diverse ethnic groups, so product variety is key. For example, Israeli and Greek cuisines use tahini (sesame butter) generously, but each prefers its favorite brand. At Habiba, there are three long shelves of tahinis, six brands, and several sizes, from 16-ounce jars ($2.29) to gallon cans ($16).
Olive oil, a Mediterranean kitchen staple, is another way each ethnic group self identifies. Based on acidity and pressing process, olive oils are often broken into two groups, one for cooking and frying and the other (Extra Virgin) for salads and dipping. You may see one or two familiar brands at Habiba, but don't pass up an opportunity to try something new: Ziyad-brand oil, made from olives from the West Bank, has a deep color and rich aroma; Al Wazir oil from Lebanon layers flavor to take you on a journey from the tree roots to the tip of the leaves; and Greek Calamata oils are known for their smooth and fruity taste. Each has its own personality and the folks at Habiba can discuss the nuances with you.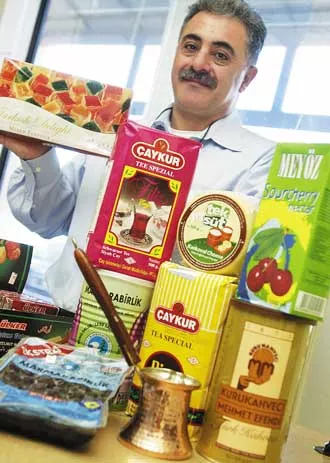 Turquoise Market owner Kemal Cenkci holds a box of Turkish Delight candy, the very stuff that led young Edmund to betray his family in Narnia. The market, located next to the Turquoise Grill, offers an assortment of Turkish products, including teas, cheeses, meats, and the coffee maker pictured above.
Habiba also provides samples from its olive bar, ensuring you get just the right texture and salt-to-brine ratio of your ideal olive. If you can't decide, take home any of the 20 plus varieties of olives in cans, jars, and shrink-wrapped plastic.
On my first visit to Habiba, I bought kefir labne, or kefir cheese. This thick, creamy dairy product is softer than cream cheese but thicker than yogurt or sour cream, yet with a similar taste. Kefir is said to offer more health benefits than yogurt because its enzymes and microorganisms balance the friendly bacteria in our intestines. That aside, I love the flexibility and taste. I mix it with fruit or applesauce for breakfast, spread it on toast and top it with green olives, or top a baked potato with it. I even mix it with hot sauce as a dip. Yup, I'm now a labneholic. Thanks, Habiba.

Habiba International Market
2250 Thousand Oaks (at Henderson Pass)
545-5100
10am10pm daily


Turquoise Market
11220 Perrin Beitel
946-3070
Open during restaurant hours
11am-2:30pm and 5pm-10pm Mon-Fri
11am-10pm Sat-Sun


I didn't find as many compelling items to take home from the tiny Turkish market next to Turquoise Grill. Focused only on Turkish goods, the two-aisle mini-market pales in comparison to other international specialty stores, but has its charms.
The small refrigerated and frozen section keeps a few cheeses, meats, and breads at the ready. Dried mulberries, a typical Turkish snack, are among the small groups of packaged goods on the shelves. You'll also find Turkish honey with intact honeycomb, instant Turkish apple tea, and imported hazelnut and pistachio sweets.
The Turkish market is only open by request through the restaurant, so patrons are accompanied inside by the restaurant owner or anyone else who's handy. While surprising at first, it's actually a benefit, because it means you're likely to receive a personal tour of the aisles, and a taste of unusual items. I was offered a sample of the dried mulberries, which are eaten by the handful in Turkey and reminded me of tiny dried figs, without the over-sweetness. Our "tour" included a sample of a lime eau de toilette that the proprietor says is shaken into the hands of everyone who rides the bus in Turkey to refresh the traveler (and I suspect to kill a few germs). It's a fresh and lasting scent; we liked it so well we bought a bottle to take home.
A good multi-tasker will be seated in the restaurant, order lunch or dinner, then go to the store while the food is prepared. Shopping keeps you from devouring too much fresh, hot Turkish pita before your meal arrives. Besides, the personal tour of the store gives you greater insight into Turkish life, adding cultural enrichment to what might have been simply a meal. •