Cielito Lindo is puro Mexico, from the sábana tarasca to the cochinita pibil
If Cielito Lindo, located in Stone Oak at Huebner, is a long way from the mountains of Mexico, its food is not. Owned by Alfonso Olvera and Louis Ochoa, from Mexico City and Michoacan, respectively, the restaurant, which has just celebrated its one-year anniversary, has some of the most authentic Mexican food I've tasted in San Antonio. "We have taken dishes from all the different regions of Mexico," said Olvera. "It's not Central, Southeast, or North, it's five regional cuisines — and then, of course, we have some Tex-Mex plates, for people who haven't had Mexican food and want something familiar."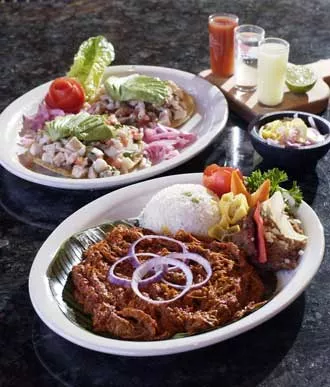 From front: Cochinita pibil — pulled pork cooked in orange juice, achiote, vinegar and habanero pepper; Tostada de ceviche; and a selection of Don Eduardo tequila.
(Photos by Mark Greenberg)
Olvera says the restaurant is named "in memory" of the folk song by the same name. Gaze up: The ceiling is painted to resemble a sky, the pretty blue "heaven," under which no guest will cry, at least not over the tostadas de ceviche — chalupas in the local parlance.
The marinated fish, liberally "cured" with lime and seasoned with oregano, tasted dry, but, aided by marinated onions, fresh pico de gallo, and slices of avocado, perfectly performed its role as a tart and well-behaved topping for the still-crisp tostada shell. Equally appealing was an ensalada de nopalitos consisting of strips of marinated cactus paddle, crumbled queso blanco, chopped tomato, lots of lime, and a garnish of crisp chicharron, which was surprisingly good as a crunchy-fatty contrast to the citric salad. Seafood cocktails, including the exuberant vuelve a la vida, are another appetizer option.
Cielito Lindo's table sauce, a cooked red salsa with a creamy texture, was lusty, smoky, and spicy enough for us to ask for more, and it performed well on both totopos (tortilla chips) and the entrées to follow — not that the main courses really needed extra oomph. The most visually impressive plate was the sábana tarasca, a paper-thin sheet of beef pounded flat to plate size and topped with chorizo, melted queso Oaxaca, slices of avocado, and a chile morita sauce. The steak is delicate, when served quickly seared with only a chile sauce, and for that reason alone I could have done with less chorizo. But the whole package was satisfying nonetheless, especially tucked into a fresh corn tortilla. (We had to ask for corn, the look-of-a-gringo curse.) The dark refrieds that accompanied the steak were of the stiff texture I tend to like and seasoned with either lard or another uncompromising fat.
Our waiter professed that the Shrimp Cielito Lindo was one of his favorite dishes, and it might have been one of ours, too, with fresher-tasting shrimp. As with many plates, there's an air of excess here, including cheese and a bacon wrapper, but the advertised tamarind sauce could have cut through all of that to good advantage had it been less sweet. Even without the expected tartness, the dish was a good stab at something that spoke Mexican without resorting to slang.
Cielito Lindo

19141 Stone Oak Pkwy.
545-6965
11am-10pm Mon-Wed,
8-2am Thu-Sat,
8am-9pm Sun
Price range: $8-22
Credit cards
Wheelchair accessible

Puro mexicano, but with a regional accent hinting of the Yucatan, the cochinita pibil evoked regional cuisine. Cooked in orange juice, achiote, vinegar, and a hint of habanero, the pulled pork was served on a banana leaf with a slice of orange and more of the lightly vinegar-marinated onion that had so successfully served the tostada. Tart, fruity, and earthy, the dish pulsated with flavor.
Desserts were less a reflection of interior Mexican cooking than we might have liked — or maybe they are its apotheosis. Flan, after all, comes straight from Spain and the crepas de cajeta, with the slowly cooked goat's milk that has its roots in colonial convents, are an example of early French fusion. The now-ubiquitous flan turned out to be exemplary: light, creamy, and not cloyingly sweet with syrup. Had the crepes not been leathery, that dessert, too, would have rated relative raves; at least the cajeta studded with pecans held its own.
There's more to explore in the Cielito Lindo menu: the huaraches, for example, or the tostadas de carne deshebrada. Both should be great with beer or margaritas Friday and Saturday nights, when mariachis rule from 8-10 p.m. and the bar reigns until 2 a.m. Almost Mexico City hours. •