The Little Rhein prepares meat in old-school ways
The building that houses the Little Rhein Steakhouse was built in 1847, give or take a year, and the restaurant opened 120 years later. A sense of history, cultural and culinary, lingers in the very bones of the place. The Phelps family, its founder, has endeavored to keep history alive in the restaurant's décor, and even if the various beer labels, posters, light fixtures, and furnishings don't all relate directly to San Antonio, they do give the old stone walls a sense of life lived well and fully. Though of more recent vintage, the cuisine is fixed in time as well.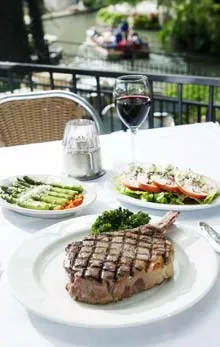 The Little Rhein Steakhouse's 22 oz. Rib Chop with a side of asparagus and a beefsteak-tomato salad.
(Photo by Mark Greenberg)
When I first came to San Antonio in 1973, the Little Rhein was firmly established as the place for prime beef in the city - if you were on an expense account. As one of the city's original steak houses, independent of any chain, there was no pressure to augment the superlative steaks with asparagus the size of Scud missiles or potatoes grown to NFL specifications. Sizzle was never, and is not now, an issue. Plates with Jackson Pollock-like panache have never profaned the place. And though salmon, lobster, and chicken were available for those who find red meat a red flag, the menu was, and remains, focused on four-footed fare, including lamb.
"It's the same damn stuff from childhood," commented Dining Companion upon the arrival of a brace of lamb chops with a ramekin of kryptonite-hued mint jelly. And there you have it, in a nutshell.
Fortunately, the mere appearance of the jelly from everyone's childhood - everyone of a certain age, that is - doesn't render the dish powerless. Though I would argue strongly for a more contemporary (and appropriate) accompaniment (real mint, if nothing else), the lamb chops were the best I've had in years, perfectly cooked to just the medium side of medium-rare. The rib-eye steak, on the other hand, comes only with a curl of green stuff and a warning: "The rib eye is a flavorful cut of beef. It is well marbled with fat. Please do not order it if you want a lean cut of beef." In this fat-conscious age, we can assume there have been complaints, but my advice is to get over it. It could have used a little more trimming, but the steak was superb and, frankly, oozing with the flavor only fat can provide. It's also fair to mention that we didn't finish these plates and not because of the quality or quantity, but just the sheer sybaritic excessiveness.
Another reason we flagged before evening's end was all that had come before. We started, as everyone does, with a small but extremely well-seasoned bowl of black-eyed peas heavily flavored with cumin and a tubular loaf of sweetish brown bread. The appetizer platter, for two or more, comes on a prodigious bed of shredded lettuce (not iceberg!) and includes many items available individually, as well as cheese-stuffed, breaded and fried jalapeños. The jalapeños are only a modest cut above the Cysco-style standard-issue model but, thankfully, not greasy. The crab claws are quite good and not at all watery. The boiled shrimp? Fresh, but in need of the spiky cocktail sauce. The marinated mushrooms, generously stuffed with a delicious crab filling, are the most ambitious item on the platter. Unfortunately, the mushrooms were more watery than plump - as they might have been - with good oil and spice marinade. A classic steakhouse salad of sliced beefsteak tomatoes with red onion, Roquefort, romaine, and a creamy dressing followed and was exactly as we expected it to be, which is sometimes a very good thing.
Little Rhein Steakhouse
231 S. Alamo
225-2111
5-9:30pm Mon-Sun
Price range $20-42
Major cards accepted
Wheelchair accessible
We did order asparagus as an a la carte side dish, and they were of modest proportions and even more modest aspirations: crisp with a little chopped red bell pepper for color, some bread crumbs for texture, and lots of butter. I'd at least add lemon. A heaping mound of sautéed button mushrooms, on the other hand, was equally simple but had flavor to spare. No additions required.
Asparagus is always difficult to pair with wine, but the mushrooms and the meats were all bang-on with our bottle of elegant M. Chapoutier 2001 Les Meysonnieres Crozes Hermitage from the Wine Spectator award-winning list Little Rhein shares with neighboring Fig Tree. My only disappointment here was in the glassware - apparently, $50 doesn't get you the good stuff. Either that or our otherwise accommodating waiter couldn't be bothered; we did see better glasses at other tables. True, there are standard-size bottles on this list that approach $600, but that's all the more reason to eighty-six the Libbey-like glassware and tailor each glass to the wine.
Dessert was the only consciously plated dish of the evening. Its plate was large and looked designed - a lot of attention for a wedge of house-made pecan pie. True, we're only talking a scattering of cocoa powder and a squirt of aerosol cream, but still, it's a tiny toe teased into the mainstream. As for the pie, it shouldn't have been nuked to the degree that it was, but once it cooled down it was the paragon of pecan pulchritude, mostly nuts with a county-fair crust. Always leave 'em lusting for more is as valid a motto today as it was in 1967. Some things don't need to change. •