The ever-evolving Texas Hill Country Wine & Food Festival
At the Grand Tasting of the Texas Hill Country Wine &Food Festival, Jesse Perez of Francesca's puts the finishing touches on his shrimp trio in mirasol chile sauce.
(Photos by Ron Bechtol)
T
he Texas Hill Country Wine & Food Festival was launched by a dedicated group of visionaries, winemakers Ed and Susan Auler of Fall Creek among them, and quickly progressed from a homemade affair to a festival of national prominence. Super-chefs such as Dean Fearing, Robert del Grande, and Stephan Pyles were regulars in the early days, and many of us got our first tastes of New Southwestern cuisine and the nascent Texas wine industry at those yearly roundups.
The festival celebrated its 20th anniversary this year, and with age comes the ability to reflect, accounting for this year's Retro Texas theme, along with the desire to reinvent and keep things fresh. Reinvention also spawns disaffection, however, and there has been much grumbling in Austin food and wine circles about the recent titular takeover by Saveur Magazine and the ceding of festival operations to the Capital Sports & Entertain-ment group. Those of us in the festival biz (As a matter of disclosure, I am the past co-chair of the San Antonio New World Wine & Food Festival, now entering its 6th year) know how hard and time-consuming it is to put on such an event, and would give a large number of taste buds to have the clout and expertise of a Saveur behind us. But we also recognize when an event is struggling to find its identity, and Village at the Shores, the tasting and demonstration portion of the Hill Country Wine & Food festival, is doing just that.
Begun as a simple Sunday fair that rotated among Hill Country wineries, the event originally centered on enjoying Texas and, increasingly, international wines, and Texas food and agricultural products in a quintessentially Texas setting. In recent years, the fair found a congenial home in the Salt Lick pavilions near Dripping Springs; there was less driving involved, but the get-out-and-enjoy-the-country experience still prevailed.
Not so at Auditorium Shores, the new, in-town home of Village at the Shores, where the old Sunday fair has now become a two-day affair. In the move, it has lost both its literal and figurative heart. The various stages and tents were strung out around a vast and largely empty field - I kept imagining contests for Frisbees decorated as pizzas and kites in the form of lettuce leaves - and as a result the Big Taste tent was a mob scene. Imagine NIOSA with unlimited wine and much less interesting food and you'll get the picture: chaos. Because of the hefty $175 booth fee, I'm told, there was very little food to balance the alcohol, and because of the chaos, there was very little wine education happening in the tent. In an apparent attempt to control consumption and force attention on the various cooking demonstrations and presentations, the Big Taste closed for three hours in the middle of both afternoons, which resulted in yet another hole in the middle of things.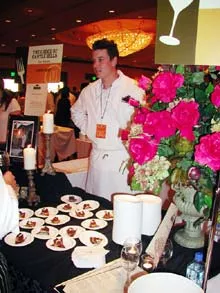 Jason Dady stands proud over tasting plates of Surf & Turf with smoked diver scallop, red-wine-braised oxtail, and foie gras crème anglais with American white sturgeon caviar.


Conversely, the wine seminar I had selected was underattended. The somewhat loose "Then and Now" theme provided an excuse for the panelists to talk about family winemaking history, and this was a thoroughly enjoyable presentation featuring a range of winemakers from the erudite (and 12th-generation) Jean Trimbach of the eponymous Alsatian winery to droll Laurence Sterling of Iron Horse and iconic Joel Peterson of Ravenswood. Overall, the seminar deserved a bigger audience: The wines were good - look for Trimbach's 1999 Cuvée Frederic Emile Riesling and Iron Horse's 2001 Green Valley Pinot Noir - and the speakers, moderated by sommelier Richard Betts of Aspen's Little Nell, were informative.
Saturday Night's Stars Across Texas Grand Tasting, held at the Austin Hilton, had it all together: It started on time, adhered to the the all-Texas culinary theme, and the food and wine lived up to its $100 price tag. Traditionally, this is where the big guns of Texas cuisine strut their stuff for the masses (limited only by the hefty ticket price), and though the founding fathers and mothers have largely assumed emeritus status, the new generation was there in fine form, though not without some notable absences. Current readers will be happy to know that the local boys were more than up to the challenge. By his own admission, Jason Dady's Surf & Turf with smoked diver scallop, red-wine-braised oxtail, and foie gras crème anglaise with American white sturgeon caviar was "over the top," but it still did the Lodge proud. The trussed shrimp trio in mirasol chile sauce from Jesse Perez of Francesca's was a particular standout. And La Mansión was well-represented by pastry chef Mickey McPhail's margarita pie.
On the basis of my tasting, there are some new restaurants in Texas that may be worth a trip, notably the Little Texas Bistro in Buda, Café 909 in Marble Falls, David Bull's restaurant at the Driskill Hotel in Austin, and Kent Rathbun's Abacus in Dallas. This sense of discovery is what it's all about in the long run: May the festival board never lose sight of that in the desire to expand. •