The Future of Food reveals the dangers of genetically modified crops
In 1980, there were no genetically modified crops grown in the United States; by 2005 there were 125 million acres of GMO corn, soy, cotton, and canola.
Is that good news or bad? That depends on whether you believe that GMO crops will end world hunger and produce better-tasting food or that GMO crops endanger our food safety, threaten biodiversity, and ultimately will destroy the American farmer.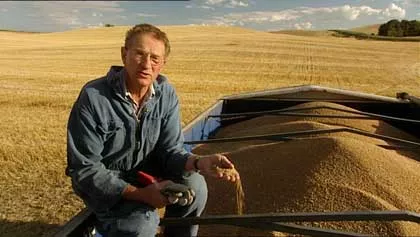 Percy Schmeiser sits on a truck bed of wheat on his farm outside of Bruno, Saskatchewan, Canada. In 2004, after Monsanto GMO canola drifted into Schmeiser's non-GMO fields from a neighbor's truck, Monsanto successfully sued him for patent infringement. In order to avoid further litigation, Schmeiser destroyed 1,000 pounds of seed he and his wife had developed, which he feared had been contaminated by GMO canola.
The latter scenario is the premise of The Future of Food, a documentary by Deborah Koons Garcia that uses interviews with farmers and agricultural experts, archival and new footage to convincingly argue the case against GMO foods. The Future of Foods unwinds like Fahrenheit 9/11, taking us step-by-step through a wide-ranging conversation, drawing a line from the advent of pesticides to the terminator seed, from the patenting of seeds to the extinction of salmon species, from America's government-subsidized crops to starving Third World countries.
For 200 years, the U.S. Patent Office and Congress did not allow private companies or individuals to patent food crops; plant breeders were allowed to patent their work, but the patent didn't extend to subsequent generations of seeds. In Future, Garcia shows how Monsanto was allowed to patent its GMO seeds and then began buying seed companies and raiding seed banks, patenting non-GMO seeds that had existed for ages. Monsanto now holds patents on 11,000 seeds.
Garcia illustrates the issues surrounding seed patents with the case of Canadian farmer Percy Schmeiser, who for 53 years saved and developed his own canola seeds. After spraying the drainage ditches in his canola fields with the Monsanto pesticide Roundup, Schmeiser noticed that certain canola plants were unaffected by the pesticide.
Without Schmeiser's knowledge, Monsanto officials investigated and found Monsanto GMO canola in his fields. The company then sued the farmer, saying he had obtained the GMO canola illegally, without a license, and had infringed on the company's patent.
Schmeiser's neighbor, meanwhile, admitted that as he was driving by Schmeiser's farm, the wind blew enough GMO canola off his truck and into Schmeisers' field to seed 2,000 acres. Monsanto withdrew the claim that Schmeiser had stolen the seeds, but, in 2004, Canada's Supreme Court ruled that Schmeiser was guilty of patent infringement; it didn't matter how the canola had landed in his fields.
Seventy-five percent of the world's farmers rely on saved seed, and GMO crops threaten their heritage, but GMO foods may also endanger our health. Flavr Savr tomatoes were allowed to go to market even though, in FDA studies, rats that ate the tomatoes developed lesions in their stomachs; a Cornell study fed caterpillars Bt-Corn, genetically enhanced to kill corn borers that eat any part of the plant, and found that 40 percent of the caterpillars died unexpectedly.
Yet, GMO food is virtually unregulated — here's where it starts to feel like a conspiracy theory. Garcia shows the free flow of employees between Monsanto and the U.S. government agencies meant to protect food safety — including the USDA, EPA, FDA, and Department of Agriculture, which in 8,000 GMO applications did not require a single environmental assessment. Linda Fisher, who was an executive at Monsanto for seven years, is the Deputy Administrator for the EPA, and George Herbert Walker Bush, Clarence Thomas, and Donald Rumsfeld all have ties to Monsanto. The U.S. government co-owns the patent for the Terminator seed, which is genetically programmed to destroy itself after one growing season. What if it, too, migrates into neighboring fields, contaminating the gene pool and causing other seeds to commit suicide?
Then again, what if it doesn't? Garcia does not interview Monsanto executives, U.S. government agencies, or farmers who support the use of GMO seeds, but an opposing viewpoint would make the film even more engaging. The only word Monsanto gets is a quote from a New York Times article: "Monsanto shouldn't have to vouchsafe the safety of biotech foods," says Phil Angell, director of Monsanto corporate communications. "Our interest is selling as much of it as possible. Assuring its safety is the FDA's job."
In the end, Future is a call to action, asking consumers to take control of food safety by supporting sustainable organic farming, which by definition does not include GMO foods. Even without an opposing argument, the film raises enough questions about the safety of GMO foods to compel even the most jaded viewer to eat organic, at least until conventional foods start labeling GMO content. •
By Susan Pagani
---
Texas loves its biotech crops
The majority of the world's genetically modified crops are harvested in the United States. In the decade since GM crops were first produced, the number of biotech varieties available to farmers has grown modestly, while the acreage planted with those crops has mushroomed. According to the International Service for the Acquisition of Agri-Biotech Applications, in 2005 more than 125 million U.S. acres were planted with genetically modified corn, cotton, soybeans, canola, squash, and papaya — 110 million acres more than our neighbor and closest competitor, Canada. Globally, the acreage planted with biotech crops increased by 11 percent from 2004 to 2005.
And Texas is no piker. Sixty-three percent of the state's 2005 cotton crop was genetically modified to resist insects, tolerate herbicides, or both. Approximately half of the state's corn crop was GM, and 80 percent of its soybeans. Texas is not a major producer of the latter two, but it makes its mark with cotton, accounting for one-third of all cotton plantings in the country. The Texas Agricultural Statistics Service couldn't say where the Texas GM cotton ends up, but two-thirds of all U.S. cotton is exported.
Herbicide-tolerant cotton is the most popular GM cotton in Texas, followed by insect-resistant, or Bt, cotton and "stacked gene varieties," which are engineered for more than one trait. Travis Miller, of Texas A&M University's Soil and Crop Sciences Department, says that widespread use of GM cotton has significantly reduced pesticide applications. "It isn't 10 percent of what it used to be," he says. "I was stationed in the Rio Grande Valley in the late '70s-early '80s, and I would say the average number of applications of insecticide on cotton was between 12 and 14. Now it's an average of one or two."
Critics of GM technology note that four different regulatory agencies including the Environmental Protection Agency and the U.S. Department of Agriculture oversee biotech crops, depending on the engineered traits, and safety precautions often leave much to chance. To provide a Bt-free "insect refuge," farmers are required by the Environmental Protection Agency to plant a portion of non-GM seed — usually 20 percent — with their biotech crops, but in 2003 the Center for Science in the Public Interest reported that as many as 20 percent of Midwest farmers were not complying with this rule.
Miller admits that concern about Bt corn plants killing Monarch butterflies, for instance, are not entirely unfounded, but, he says, without human intervention the Bt trait can only be passed to plants similar enough to cross-pollinate. Monarchs feed primarily on milkweed, he argues, not corn. But the Bt gene has mutated to wild corn in Mexico, providing fuel for critics' arguments that aided by wind, rain, and fauna, GM crops will wreak havoc on the delicate environmental balance.
But while GM critics have had notable success in European Union countries, which have enforced label and import restrictions, and with some African countries, which have turned down crop donations because they contained GM varieties, in the U.S. and Texas opposition to GM crops remains something of a fringe cause. A 2000 survey by the Texas Agricultural Experiment Station found that 80 percent of respondents support the development of GM crops if they can solve world hunger and provide better-tasting and more nutritional food and lawns that don't have to be mowed. Other surveys have found public support for biotech foods as high as 65 percent. Optimism and faith in technology aside, 75 percent of the Texas respondents believe scientists should be closely regulated, and 95 percent want GM food products to be clearly labeled. •