Warm bread early and often makes up for shortcomings at Mariposa
In the small Minnesota town where I grew up, the mall was a one-story collection of modest shops anchored not by a major department store, but by Andy's OK Hardware. No matter the whims of fashion on either coast, pastels ruled the racks in Owatonna; the first shirt I bought with my own money was the first primary-color-blocked top I saw at Cedar Mall.
Once a year, as the leaves turned yellow and red, my mother would herd me and my five siblings into the car for a trip to the Twin Cities to buy new school clothes. But even then, an unwieldy family of eight, we only trudged past the twinkling, perfumed entrances of the grand department stores. Lunch, if we were very, very good during an interminable morning of dressing rooms and plain-pocket jeans, might be at Long John Silvers.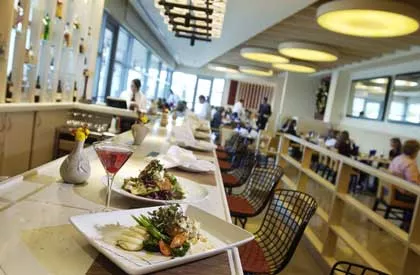 Crab Cake Thermidor-style, front, and Olive Oil Poached Salmon, back, are two of the adult lunchables available at Mariposa, Neiman Marcus' sleek in-house restaurant.
(Photos by Mark Greenberg)
So it was with very rose-colored glasses indeed that I surveyed Mariposa, the sleek, posh restaurant perched on the second floor of San Antonio's new Neiman Marcus at the Shops at La Cantera. There's not a plain-pocket jean in sight as you glide up the escalator under a veil of feathered butterflies and through the sumptuous housewares department. Mariposa's entryway leads past a cozy, underused bar and widens into a brightly lit, midcentury-modern dining room warmed up with a little oil-money gaucheness.
As foil to my Mr. Smith naiveté, I invited a lady friend recently arrived from New York to lunch with me. Accustomed to brushing past Pucci dresses on her way to tea or cocktails, she announced that she didn't understand the big fuss over Neiman's. Texans know better, of course: Stanley Marcus, son of co-founder Herbert Marcus, put the state on the couture map from his flagship Dallas store by wooing clients with fashion huevos to match their wallets. The pioneering N-M Christmas catalog (followed later by the book) defined this "nothing is over-the-top" approach with the infamous His and Hers gifts, which at their most grandiose included matching planes. (Yes, dear, airplanes.)
What if Texas fashion hasn't evolved much since Jerry Hall? We have the book, and we have the popover. The popover is a Colonial-era bread with a simple ingredient list: eggs, flour, water, a pinch of salt, and, at Neiman Marcus, baking powder. Baked in deep muffin cups in a super-hot oven, popovers expand into warm, eggy, crusty treats that emit steam when you tear them open. Mariposa serves each guest a demitasse of chicken broth and a warm popover with strawberry butter just after they are seated, and at that first luncheon, the restaurant barely a month old, both were perfect: warm, generous, and refined, just like Mariposa diners imagine themselves to be.
The Seared Rare Ahi Tuna salad was less fulfilling. The tuna was sliced too thinly and lacked flavor and texture. The underlying napa-cabbage salad, however, was crisp, fresh, and very lightly dressed in its lime-cilantro vinaigrette. My New York friend, won over by the complimentary starters, declared the luncheon a success and promptly went shopping - a tribute to Mr. Stanley's vision in creating the first N-M restaurant, Zodiac: "a sated shopper is a happy shopper," as the Neiman Marcus Cookbook puts it.
On a second trip, I brought along a skeptic of a different sort - my 13-year-old son. The inexperienced waitstaff looked nonplussed when he announced, "This chicken broth is really good. It tastes just like the canned kind," but he minded his manners and ordered the Black Angus Cheeseburger, sans cheese, which he declared delicious. Inspired by the mother-daughter duos lunching with their purchases stuffed under their seats, I ordered the Mandarin Orange Soufflé, which is composed with party-planner finesse on a plate with the Neiman Marcus Chicken Salad, seasonal fruit, and fruit bread.
Mariposa

Holiday hours:
11am-4pm Mon-Wed,
11am-8pm Thu-Sat,
Noon-4pm Sun,
11am-6pm, New Year's Eve
Price range: $5-23
AmEx, Neiman Marcus credit cards
Handicapped accessible
The soufflé is not the largest item on the platter, but like the young Shirley MacLaine, it is the vivacious, sweet, endearing star - a little less sweet, and the orange-infused cream gelatin would really shine through. But it was the perfect complement to the salad, made with large chunks of tender chicken in a well-seasoned, if uninspired, mayonnaise dressing. This plate would be a repeat favorite - it goes so well with white wine and Mariposa offers several nice selections, including a Barberoni Orvieto Castagnolo that's as reserved and dry as an English butler - if it were served with a watercress or arugula salad, or something else sharp and green rather than the fruit bread and yet more fruit.
Disappointingly, the popover was cold and overbaked, and the broth was not hot (and the tiny, savory, Cheddar-cheese biscuit that accompanied it has disappeared, never to return), both symptoms of service kinks that the restaurant is still working out. But it was a gorgeous day to be seated on the outdoor patio, where a light breeze wafted placemats gently over the railing and carried the faint screams from the Fiesta Texas rollercoaster to our table.
Recently, I returned once again, this time in the company of two elegant women who are on a surname basis with the store's management. I wanted to try the Ahi Tuna once more, convinced that it is the perfect thing to eat just before or after examining your posterior in a fitting-room mirror. The service had improved dramatically, although the waiter had a very affected accent. "Like he's auditioning for a part," observed one friend. Such as companion to a wealthy lady, I thought. But the popovers were warm and the tuna was of a thicker, sushi-style cut, rich and buttery on the tongue, able to hold its own with the napa cabbage. At the end of the luncheon, a Vegetable Salad & Caprese and a Roast Seabass having been devoured as well, we sipped cups of assertive coffee and chatted until two hours were well wasted - another measure of a good meal. •
By Elaine Wolff