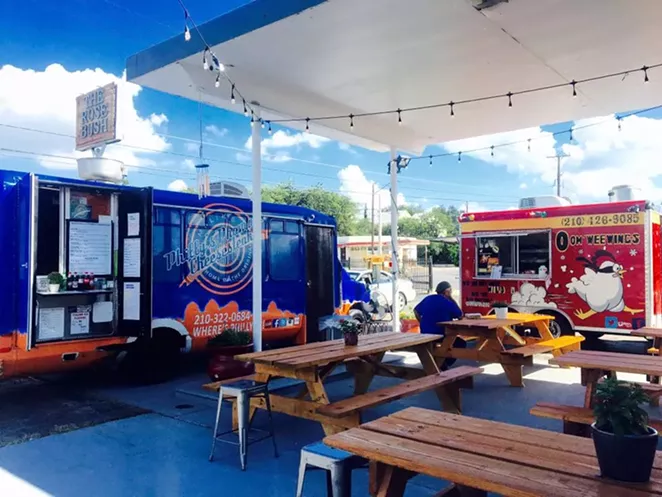 Courtesy of the Rose Bush
The Rose Bush Opens

If you've driven or walked on San Pedro within the last five months, you may have noticed a cluster of food trucks on a semi regular basis. Owned by Robert and McKayla Rose, owners of Philly's Phamous Cheesesteaks, The Rose Bush serves as a food truck park with indoor/outdoor seating options and it's BYOB so you can pair your cheesesteak with whatever craft brew or red wine you're into these days.
Found at the corner of San Pedro and Huisache, The Rose Bush already plays host to Phillys (naturally), Take 5 Pasta, Taste of Victory, Bad to the Bone BBQ, Vero Wood Fired Pizza, Lada Ladies, and the occasional visit by Big Aloha Kitchen (SA's first Hawaiian food truck, which coincidentally launched at The Rose Bush in September).
Hours for the park are 5 to 10 p.m. Friday-Saturday and 5 to 9 p.m. Tuesday, Wednesday, Thursday and Sunday. The Rose Bush is closed Mondays.
2301 San Pedro Ave., (210) 621-8908.
More Seafood

Sam's Boat, a Houston-based casual, seafood joint is readying for the opening of its first San Antonio location. The Galleria-area fave describes itself as offering "a full complement of fresh Gulf Coast seafood and Tex-Mex favorites coupled with daily specials, refreshing libations, mastery of sports bar excellence, in an exciting dining environment."
The San Antonio spot will join locations in Austin, Cypress, Lake Conroe, Seabrook and the original Richmond Ave. location on January 30. Expect to find lunch staples such as fish and shrimp baskets for lunch, along with Tex-Mex, burgers, sandwiches and Gulf-inspired specials.
For now the location is still hiring servers, hostesses, barbacks and bussers.
1827 N. Loop 1604 E., Suite 103, (281) 924-2758.
Pizza 101

I'll spare you the cheesy pizza/school puns, but you'll want to reserve your spot for this class. Led by chef Jason Garcia at Il Forno, the hour-long course on January 31 from 6:30 to 7:30 p.m. will teach students how to throw their own dough and make fresh mozzarella.
This is the second class of its kind by Garcia, who helped open Aroma in Austin and later worked with Doug Horn at Dough Pizzeria Napoletana. Well-versed in all things Napolitano and with pronunciation that rivals Giada's, Garcia leads a fun, laid-back but thoroughly informative and hands-on session.
Guests will be able to nosh on the fruits of their labor after it's fired on Il Forno's signature hand-made oven. Cost ($40) includes class, recipes and dinner.

122 Nogalitos St., (210) 616-2198.
Valentine's Day Listings

While we might still be in the throes of January, it'd behoove significant others across the land to get a feel for what area restaurants will be serving up as a V-Day feast.
To that effect, restaurants and bars hosting Valentine's Day dinners and/or events have until February 1 to share details on their plans. Send menus, pricing, times and what-nots to food and nightlife editor, Jessica Elizarraras at
flavor@sacurrent.com
to be included in this year's Valentine's Day listings.
Grand Kolaches
Dignowity Kolaches is launching their official grand opening celebration, and it's going to be a lengthy one. The month-long soiree began last week and runs through February 11. But the long celebration seems just right for founding sisters, Silvia Alcaraz and Lupita Rivero, who opened their bakery last year and wanted to get everything just right before embarking on their "get-the-word-out" campaign.
Located on East Houston, just east of 281 in the storied Dignowity Hill neighborhood, and right across the street from the celebrated Dignowity Meats sandwich hangout, Dignowity Kolaches has been building a name for itself by shaking up the staid kolache status quo with its juicy barbarcoa kolaches, available every Friday along with the prerequisite Big Red soda pop (in glass bottles, no less). The barbacoa, cooked in-house and hand-rolled into the flaky kolache pastry by Rivero, is quintessentially San Antonio, making Dignowity Kolaches a breakfast stop that should be on every local's list.
Open Tuesday through Saturday, you can get your fix of the old standards, too: meat, cheese and fruit kolaches, as well. The bakery also features a menu of cakes, cookies and quiche. Large orders and catering, a specialty of Alcaraz and Rivero, themselves the founders of the award-winning catering house of authentic interior Mexican cuisine, Cocina Heritage, are also available.
The schedule of deals (one per purchase/transaction) is as follows: January 24-28 ~ Buy one of anything, get a second one free; January 31-February 4 ~ Free drink with a purchase; February 7-11 ~ Take your Dignowity Kolaches receipt to any participating East side business (TBA) for $1 off your $5+ purchase.
Dignowity Kolaches, 1629 E. Houston St., (210) 320-1050.