Here's what to expect during tomorrow's Restaurant Week on the Move event at Travis Park, 301 E. Travis, from 11 a.m.-2 p.m.
Cheesy Jane's (Choice of)
$8: 1/3 lb ground chuck cheeseburger or grilled chicken breast sandwich Fries or tots and a drink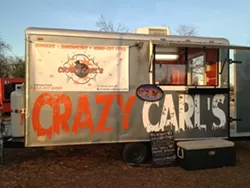 Crazy Carl's
$8 combo will be an order of hand-cut fries, half a smoked turkey caprese sandwich and a chocolate peanut butter brownie for desert
DUK Truck
$8 LUNCH Mixed Greens & Choice of Entree $15 Dinners include Mixed Greens, Buffalo Dip, & Choice of Entree throughout Restaurant Week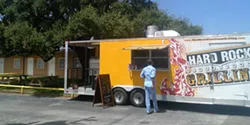 Hard Rock Directional Grilling (Choice of)
Paula's Amazing Street Tacos Topped with Cilantro & Onions
Grilled Fish Tacos with Chipotle Mayo Sauce & Topped with Shredded Cabbage
Grilled Pesto Shrimp and Veggie Skewers on a bed of White Rice
 -Gourmet mini tacos with the choice of 3 different meats grilled steak, xtreme chicken or al pastor (marinated pork).
- Burrito : you can choose any type of meat from the three options listed above and its mixed with onions, tomatoe, cilantro, cheese, jalapeños and secret sauce. Wrapped in a 12 inch flour tortilla.
- Mexican gourmet salads: lettuce, onions, tomatoes, cheese, cilantro, refried beans, jalapeños & your choice of any meat. Served over a flour fried tortilla.
Tres Leches, Vanilla, Triple Chocolate, Chocolate Filled Ganache, Chocolate Salted Carmel, Banana Split, Lemon Drop, Red Velvet, Chocolate Covered with Coconut or Vanilla with Coconut, Strawberry and introducing a new Turtle Cupcake
- Bruleed Fresh Fig and Organic Arugula Salad
-An OG Akaushi Beef Slider with a side of Duck Fat Fries
- a Challah French Toast Bite with a Local Craft Brew Fresh Berry Compote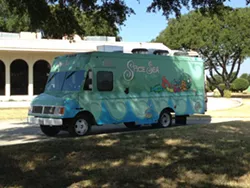 SpiceSea Gourmet
1st course:  Mixed greens salad with sugar snap peas and tomato.    Topped other shrimp. Pomegranate dressing.
2nd course:  Catfish Po'boy - fried catfish, lettuce, tomato, slaw. Sriracha aioli. Hoagie roll. Chips.
3rd course:  "York Peppermint" Brownie with whipped cream.