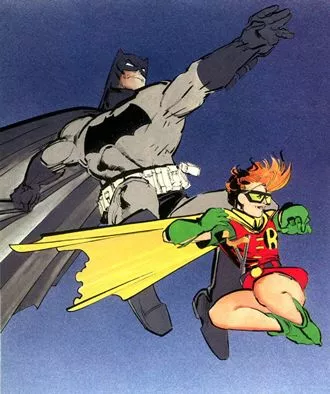 Dynamic Duo: Batman and Robin return to a save a hellish Gotham City from itself in Frank Miller's seminal 1986 graphic novel

The Dark Knight Returns

.
We know that not everyone on your shopping list this holiday season is a comics fan. But you might be surprised — especially after checking out the range of options on bookshelves now. Let the mind-expansion begin with these stocking-friendly new releases.
For the geo-politically curious: Shenzhen by Guy Delisle (Drawn and Quarterly); To Afghanistan and Back and Silk Road to Ruin by Ted Rall (NBM): Readers of altweeklies know Rall's work quite well. His smart-ass, authority-questioning voice uses these two volumes to go beyond armchair critique and try hands-on journalism for a change, in some of the world's most dangerous places. Delisle's memoir, on the other hand, risks boredom instead of beheading; this chronicle of one tour of duty in a Chinese animation studio captures the mixed emotions of having too few skills to engage with an exotic locale.
For the egghead: Strips, Toons, and Bluesies, D.B. Dowd & Todd Hignite, ed. (Princeton Architectural Press); Dante's Divine Comedy adapted by Sandow Birk and Marcus Sanders (Chronicle Books): In the first book, a collection of authors provide scholarly takes on everything from the comics/animation link to leopard-skin jungle-adventure comics. In the latter, celebrity illustrator Birk reimagines the Underworld as a slice of California, replete with Holiday Inns and Subway sandwich shops. The text (which gets the nod of many classics scholars) has been translated into contemporary surfer lingo.
For the newspaper-strip enthusiast: The Complete Peanuts 1961-1962 by Charles Schulz (Fantagraphics) and Walt and Skeezix 1923-1924 by Frank King (Drawn and Quarterly): No surprises here. If your loved ones care about the history of strip cartooning they'll want to dig into these beautifully reproduced tomes, which leapfrog past mere nostalgia to focus on the brilliantly idiosyncratic authors.
For the short-attention-span hipster: Premillennial Maakies by Tony Millionaire, Let Us Be Perfectly Clear by Paul Hornschemeier (Fantagraphics), and Toothpaste for Dinner by Drew (HOW Books): Exhibit A offers hardbound immortalization for the drunken-pirate weirdness that preceded Tony Millionaire's rise to fame. Exhibit B allows a cartoonist with a much more varied style to play with a dozen or two idioms in pursuit of weird laughs and unexpected tender moments. Exhibit C offers 200 single-panel gags in which crude drawings meet drudge-job existentialism — which has earned the kind of internet following that demands a printed anthology, T-shirts, mousepads and the like, but you may need to visit Toothpastefordinner.com to find it.
For the near-fanboy: Concrete, Volumes 1-7 by Paul Chadwick (Dark Horse): For those (like me) who kept their distance as Paul Chadwick's series hit shelves in periodical format years ago — it just looked too much like a super-hero series, didn't it? — this quirky little saga of a stone man with a soul has been reprinted in seven accessible trade paperbacks. Yeah, the big lug spends a lot of time rescuing people, and there's more than a dash of sci-fi in the premise, but Chadwick's broad thematic palette (refreshingly heavy on ecological concerns) carries it far beyond the realm of spandex heroes.
For pretty much anybody: Absolute Dark Knight by Frank Miller and Absolute Sandman, Volume One by Neil Gaiman et al (DC/Vertigo): Hate to say it, but we've kinda saved the best for last. DC is showing remarkable taste in the material it's choosing for giganto-hardback-deluxe treatment. In Miller's case, it's a no-brainer: Pair The Dark Knight Returns, a bona-fide late-'80s masterpiece, with its sometimes-intriguing, sometimes hilariously bad sequel of a few years ago; add sketchbook selections and nice extras and watch the collectors drool.
With the Sandman, though, we have something that nearly transcends the realm of comics. Neil Gaiman and a cadre of illustrators invented a new mythology — something comic books were created to do, but rarely tried after the '60s — and polished it through a series whose finite length was part of its creator's plan all along.
This volume is the first of four that will present the entire saga, and it is freaking gorgeous; any sci-fi fan who has loved Gaiman's bestselling novels and been curious about his origins should cough up the dough for this lovely book. They're guaranteed to come back for volumes two, three, and four. Those who read the thing from the get-go have probably already put in pre-orders on Amazon.